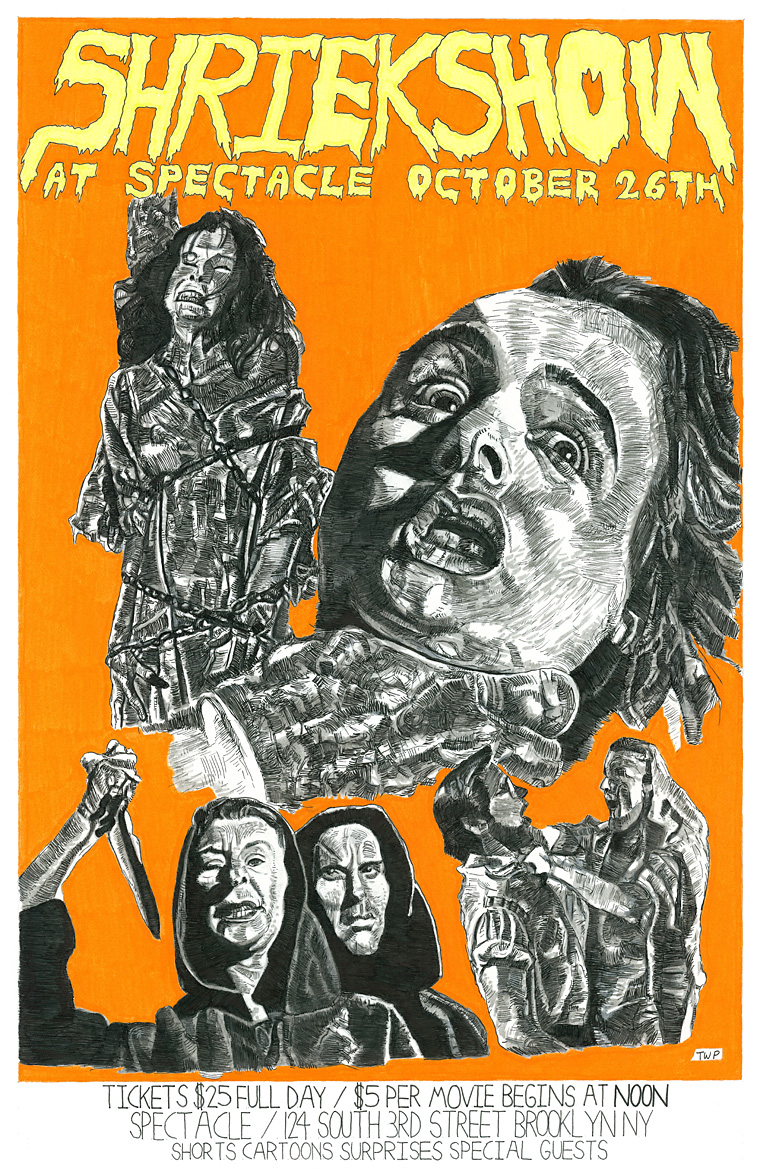 SATURDAY, OCTOBER 26TH – ALL DAY!
For the third year in a row, Spectacle pays humble tribute to one of the most sacred of Halloween traditions – the horror movie marathon – with THE THIRD ANNUAL SPECTACLE SHRIEK SHOW! This year we have another fine spread of various genre staples and a couple wildcards that defy all categorization, a couple special guests and a smattering of shorts, cartoons, promos, tunes, and more to celebrate the best holiday of them all.
As always, we'll start promptly at noon and keep rolling all through the day and into the witching hour!
Tickets are $25 for the full day or $5 each movie!
---
THE ABOMINATION
Dir: Max Raven (Bret McCormick), 1986
100 min. USA.
SATURDAY, OCTOBER 26TH – NOON
Presented by Massacre Video
Someone once said "Texas regional horror is the best regional horror." It's a bold statement, but it would be difficult to disagree. With a close community pushing the boundaries in pretty much every aspect of the genre, the output is impressive to say the least. Bret McCormick made THE ABOMINATION on Super-8 and edited it on 3/4″ and the result is a heartfelt, lo-fi, gut munching success. Disconnected sound, hallucinatory loops, chanting, droning, and a world of practical effects pepper this nightmarish vision of the Lone Star state.
Cody's mother is very sick. Lung cancer, and it's bad. At least that's what the seedy televangelist Brother Fogg told her. In fact, she's so sick that one night – in what can only be deemed a miracle from God – she coughs up the tumor that's been ailing her. Naturally, she throws it in the trashcan. That night while Cody sleeps, the tumor crawls out of the trash, into his bed…and into his mouth. The tables have turned, as his mother regains her strength, Cody gets worse and worse. He coughs up blood and eventually hacks up a mass of gunk that he hides under his bed. Now, possessed by the titular Abomination, Cody must seek victims to appease his new master. The creature grows and grows until it fills up most of the house, a network of teeth and tentacles, always hungry for more!
THE ABOMINATION is presented by our pals at Massacre Video who have previously presented 555 (at our very first marathon) and DEMON QUEEN – a favorite from last year!
---
HORROR HOTEL
(aka The City of the Dead)
Dir: John Moxey, 1960.
76 min. UK.
SATURDAY, OCTOBER 26TH – 2PM
Horror films don't come much more atmospheric than John Moxey's dark, fog drenched HORROR HOTEL (The City of the Dead). Shot in Britain and set in the eerie, forgotten Massachusetts town of Whitewood, this tale of witchcraft, murder and ghosts bares a striking structural resemblance to Alfred HItchcock's radical horror film PSYCHO, released the same year, but combines the narrative rupture of Hitchock's film with a more familiar set of atmospheric horror tropes taken to their most dreamlike extreme – the result is one of the most gorgeous and unsettling horror films of all time.
Nan Barlow is studying the history of witchcraft and looking to do some firsthand research. Her professor (Christopher Lee) points her toward a small forgotten Massachusetts town, Whitewood, which was the site of witch trials in the 17th century. Nan checks into a ghostly old inn and begins to investigate the story of an accused witch, Elizabeth Selwyn. When Nan doesn't return from her trip to Whitewood her brother joins forces with a local shop owner and heads to Whitewood for answers.
HORROR HOTEL represents a high point in atmospheric horror, giving Val Lewton a run for his money and standing as an anglo analogue to Bava and Margheriti's gothic Italo-epics. Moxey's film is unfailingly assured in composition, pace, tone and design, and stands as an early testament to its creator's adroitness in handling the creepy and atmospheric supernatural detective story, as Moxey would do again and again throughout the 70s in such paradigms of made for TV horror such as THE NIGHT STALKER and A TASTE OF EVIL.
---
SPLATTER: ARCHITECTS OF FEAR
Dir: Peter Rowe, 1986
77 min. Canada.
SATURDAY, OCTOBER 26TH – 4PM
Presented by Slasher // Video
SPLATTER: ARCHITECTS OF FEAR can probably best be described as the DAY
FOR NIGHT of SOV horror. At first glance this no budget curio seems to be a post apocalyptic action fantasy, however it quickly reveals itself to be a behind the scenes documentary about the wild world of SFX splatter wizards. There's something not quite right about this "documentary" though, and before long it becomes clear the movie we're behind the scenes of,
does not exist, and characters we're following are somewhere between the realistically banal and the unbelievably ridiculous – FANG, the hunchbacked, rat-eating Gory Productions mascot.
Is this strange mishmash of narrative vistas intentional? Probably not, but is this
sort of like F FOR FAKE for VHS creeps? DEFINITELY! SPLATTER: ARCHITECTS OF FEAR is an SOV fever dream that satisfies and stultifies on a few fairly interesting levels, AND it's just really WEIRD and filled with tons of gore, synth and awesome Canadian accents!
Enjoy this absolutely bizarre, meta entry into the SPECTACLE SHRIEK SHOW!
---
SILENT MADNESS (in 3D!)
Dir: Simon Nüchtern, 1984.
93 min. USA.
SATURDAY, OCTOBER 26TH – 6PM
Most slasher movies fall somewhere in between bad jazz and good pizza – at their worst they can be an uninspired interpretation of a familiar standard, and at their best they make an art out of filling you up with things that aren't very good for you. SILENT MADNESS does both…AND IT'S IN 3D! That's right, hot on the heels of FRIDAY THE 13th PART 3 comes this odd and largely forgotten gem about a homicidal maniac, Howard Johns, who is accidentally released from a nightmarish mental hospital. Once John's is out he makes a b line to the sorority house where he perpetrated a sepia toned, nail gun massacre years before and it's up to a no nonsense Doctor, Belinda Montgomery (Man From Atlantis, TONS of other 70s TV), to stop him! Dragon's Lair, animated axes, steam pipes, sledge hammers, exercise equipment – all are employed in a 3D killing spree that's a MUST for any 80s horror or slasher fan!
Shot in Staten Island and Jersey City, SILENT MADNESS is an east coast, autumnal slasher with a mean streak. Not surprisingly this grim little film was made by Simon Nuchtern, a sleaze veteran who shot additional footage for the notorious SNUFF (try and shower that one off) and almost compulsively seems to suffuse the proceedings with an unsettling aggression that threatens to transform into something even darker at every turn. SILENT MADNESS has the folkloric tropes which make the genre what it is (the murder turned urban legend, the homecoming, the insane parent), but also enough unique weirdness to make it unforgettable, including some really out of place naturalism thanks to Viveca Lindfors (Creepshow, Exorcist III) and Sydney Lassick (One Flew Over the Cuckoo's Nest), looking strikingly similar to a GHOULIE in a Sheriff's uniform.
ONE dimension's worth of substance in THREE DIMENSIONS!! (Glasses provided!)
---
SATAN'S STORYBOOK
Dir: Michael Rider, 1989.
85 min. USA.
SATURDAY, OCTOBER 26TH – 8PM
Presented by Horror Boobs
What do a well known porn star, the writer of THE HOWLING, and a former back-up dancer for Debbie Gibson have in common?
Satan.
This anthology film follows what is certainly the whiniest version of Our Dark Lord to ever grace the hallowed slabs of analog media. SATAN'S STORYBOOK claims to be 3 stories but that's including the wraparound. Hey, get it how you can, you know? The first actual story (told to soothe a cranky Satan) is about a serial killer named The Demon of Death who picks his victims at random out of the phonebook (kind of like the William Lustig film RELENTLESS but with different haircuts). He meets his match in the form of a metal babe named Jezebell who summons some demons of her own! The other story is about an alcoholic clown who offs himself and comes face-to-face with Death himself…though not in his traditional form.
SATAN'S STORYBOOK comes to us hot off the presses as out longtime friends and guest programmers – those loveable knuckleheads at Horror Boobs – have just re-released this beauty on glistening white VHS tapes in a fresh new case. Be sure to pick one up!
---
HEADLESS EYES
Dir: Kent Bateman, 1971.
78 min. USA.
SATURDAY, OCTOBER 26TH – 10PM
You know how it is for starving artists, right? I mean, look at your clothes. Anyway, it used to be even harder! So hard that some of them turned to a life of crime. This is especially true in the case of Arthur Malcolm. Down on his luck, Arthur is caught robbing an apartment and loses his eye in the process. Once he's healed he's out on the streets and, brother, he is HEATED. Arthur sets about on a mad killing spree, gouging out the eyes of his victims with a spoon. He collects the eyes for his artwork, you see. This continues for some time with mixed results.
This film was directed by Kent Bateman, father of Jason and Justine, in the streets of a now long gone version of NYC. According to this film, it was a time when a hooker would approach a man covered in blood in the middle of the day in order to turn a trick. The good old days. In addition to this movie being totally batshit insane with a FIERCE mutant soundtrack, it's a veritable snapshot of a city as nasty as they come. The performances are hammy and intense, like Easter dinner in a mental institution.
Not to be missed!
---
THE WNUF HALLOWEEN SPECIAL
????, 1987.
82 min. USA.
SATURDAY, OCTOBER 26TH – MIDNIGHT
Presented by Alternative Cinema
Chris LaMartina in person!
Is the legendary WNUF HALLOWEEN SPECIAL a heart warming time capsule of Halloween past replete with local commercials, holiday charm, and awkward news anchors? Is it the evidence of a strange and terrifying, occurrence caught on tape almost 20 years ago? Is it a sick hoax? Whatever it is, it's one of a kind and IT'S ONLY AT THE SPECTACLE SHRIEK SHOW!
Taped off of WNUF TV-28 on Halloween Night, 1987, this strange broadcast follows local news personality Frank Stewart and a team of paranormal researchers as they set out to prove that the abandoned Webber House – the site of ghastly murders – is actually haunted through a fascinating live on-air program featuring shocking EVP recordings and one-of-a-kind Call-In seance.
This is a one of a kind,outrageously fun and unique Halloween treat! Is it real? You be the judge!
"It's a legendary broadcast. Even though most collectors haven't even
seen it, they've heard about it. With each passing year its cult
status grows." – Robin Bougie, Cinema Sewer
"Holy crap – I remember this airing when I was a kid! Craziest thing
I've ever seen on live TV!" – Eduardo Sanchez, co-creator of The Blair
Witch Project