THE SHINING BACKWARDS AND FORWARDS AND INWARDS AND OUTWARDS IN HIGH DEFINITION ANAGLYPH 3D (CHAOS MIX)
1980/2011/2013.
146 min. USA.
The Shining Backwards and Forwards Returns in a Soul-Searing 3D Re-Remix!
SATURDAY, JULY 27 – 8:00 PM – ONE NIGHT ONLY!
This event precedes REMIX TO COGNITION, a weeklong retrospective of remix work born at Spectacle running August 15-21.
Dark Side of the Rainbow for the 21st century, THE SHINING BACKWARDS AND FORWARDS is a hallucinatory palindromic mindfuck, an accidental profundity resulting from a literal reading of MSTRMD's comment that "The Shining is a film meant to be watched both forwards and backwards."
Conceived by John Fell Ryan and executed with Spectacle's Akiva Saunders behind the controls, it became one of the most successful events in the sprouting days of the theater, and it returned October 2011, when it was performed live with Saunders mixing multiple additional layers of superimposition with realtime audio manipulation by Tony Lowe and Jason McMahon.
In the meantime, it has become instant legend, followed by stagings at Fantastic Fest and the Seattle International Film Festival inspired by the attention of Shining obsessives doc ROOM 237, in which JFR is one of the primary participants and Spectacle receives a hearty shout-out. In fact, the footage shot inside Spectacle appears to be the only non-archival live footage in the film.
And now TGHNEISNHIIHNSIENHGT has been radically re-rendered by Spectacle's Jon Dieringer as THE SHINING BACKWARDS AND FORWARDS AND INWARDS AND OUTWARDS IN HIGH DEFINITION ANAGLYPH 3D (CHAOS MIX), in which The Shining Backwards and Forwards now also movies Inwards and Outwards in High Definition Anaglyph 3D. The superimposed channels now intersect not only chronologically but depth-wise. Each forward and backward channel has been individually post converted to 3D. Subsequently, they are both mixed overall at different depths so that the superimposed backwards channel(s) initially appear to float above the forwards track(s). The depths then gradually converge to meet each other in the center, and the forwards channel(s) then rises to the top. This configuration foregrounds the more sinister latter half of the film over its tranquil beginning like a spectral premonition of violence; therefore, we're calling it the CHAOS MIX. This diagram elaborates: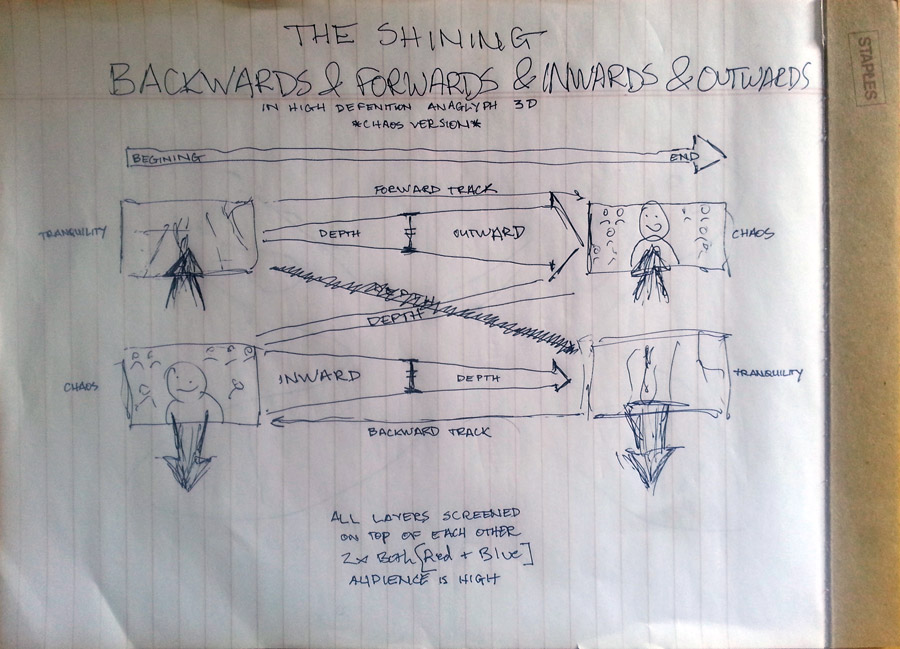 On top of that, the entire thing will be manipulated in real time with additional video tracks and live sound. Update: there will be no additional live mixing. Hope that's cool with you all.
This July, for ONE LIGHT ONLY, Spectacle returns to the Overlook Hotel for its most hallucinatory trip yet.
For those wishing to experience the Shining live score experience on 4 screens all around with no escape, the pop-up video cube at Monkeytown will be presenting an all night extended remix one week later, on August 3rd.