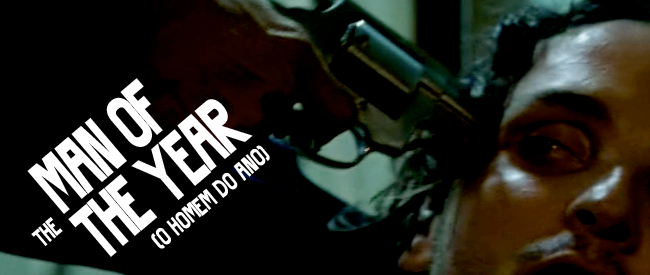 THE MAN OF THE YEAR
Dir. Jose Henrique Fonseca, 2003
Brazil. 116 min.
In Portuguese with English subtitles.
Special thanks to Film Movement
FRIDAY, JULY 12th – 10PM
SATURDAY, JULY 20th – 10PM
SUNDAY, JULY 28th – 7:30PM
Produced (and neglected) in the same wave of favela-flavored arthouse hits as City of God, Carandiru and Lower City, Jose Henrique Fonseca's The Man Of The Year might trump them all. Barbedly honest and based on a novel by Patricia Melo, Fonseca's film is a ripping yarn, closer in spirit to the slum noirs and queasy moralities of the American 1950s. Murilo Benicio stars as Maiquel, an easygoing slacker in Rio de Janeiro whose entire life hinges on one banal twist: his decision to bleach his hair. Emboldened by his friends but still something of a blank slate, Maiquel is propelled towards his longtime crush (a spicy, life-loving hairdresser) with newfound gusto.
But when his dye-job provokes a local thug to chide Maiquel in front of his date, the situation spirals into a direct confrontation of classes. When Maiquel kills the man – in a mix of self-defense, pent-up rage and scared-shitlessness – he's received by the city's fatcats and police as a stone cold hero. Soon enough, they start asking him for "favors". What follows is an odyssey sequenced as tightly as a Swiss watch, but never predictable or browbeating – a steady plunge into wealth and fame for Maiquel and his crew, with Faustian repercussions.
Drenched in color and anchored by unforgettable performances The Man Of The Year goes down like a perfect summer thriller. But Fonseca's brutally funny inquiry also plugs disquietingly into the price of success – indeed of neoliberal economics in total, in keeping with works like Polanski's Chinatown and Li Yang's Blind Shaft. This summer, Spectacle and Film Movement are thrilled to present an unsung classic in a special 10th anniversary release. 'Before you're born, maybe God decides how to fuck your life!'
TRIGGER WARNING: This film includes images of murder, spousal abuse, drug abuse and alcoholism.
Fonseca employs interior monologue and Breno Silveira's impressive visuals to create a convincing dream-like expressionism, describing a world where arbitrary violence and the absence of judicial retribution have stoked a pervasive, godless malaise, wherein all moral, ethical or religious boundaries have dissolved. – Time Out London
Brilliantly shot and filled with an iconoclastic sense of humor, Jose Henrique Fonseca's O Homem do Ano is the first feature film by a very talented young  Brazilian director. Following the story of a man who becomes a killer in the suburbs  of Rio de Janeiro, The Man of the Year depicts, in a very original manner, a society in convulsion. – Walter Salles
Imagine if the kids of City of God lived beyond the age of fifteen and became everyday citizens. Now imagine if Quentin Tarantino was Brazilian. The result might be Man of the Year, the debut feature from director José Henrique Fonseca, that opens with so much ballsy attitude and stylish verve that you could be forgiven for thinking you were about to watch not only the man, but one of the films of the year. – Jamie Russell, BBC