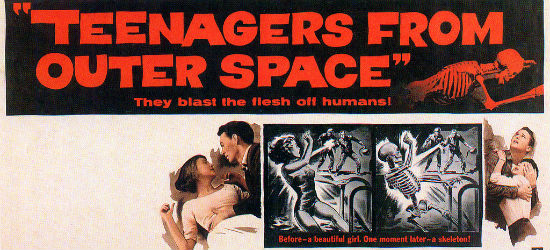 TEENAGERS FROM OUTER SPACE
Dir. Tom Graeff, 1959
USA. 86 min.
SUNDAY, MAY 5 – 7:30 PM
FRIDAY, MAY 17 – 7:30 PM
SUNDAY, MAY 26 -10:00 PM
In this 1959 pulpy sci-fi low-budget classic, a spaceship manned by human-lookalike teenage aliens lands on Earth to find a grazing ground for their food source the "gargons" (lobster-lookalike air-breathing monsters). One of the aliens in the crew, Derek, is secretly part of an underground rebel faction with "humanist" ideals; he doesn't believe the aliens have a right to colonize this new Earth-land! He flees from his crew to warn the humans, and the rest of the spacemen led by bad-guy Thor search for him to protect their mission. Derek rents a room from Betty and her Grandpa Joe to blend in. When Betty discovers Derek's mission she joins him to fight the spacemen who are armed with x-ray gun vaporizers! Can Derek, Betty, Grandpa Joe and Betty's clueless boyfriend Joe Rogers (played by director Tom Graeff) save this community before it's too late?
*Rumor has it that director Tom Graeff (who wrote, directed, edited, produced and acted in TEENAGERS FROM OUTER SPACE) employed guerrilla cost-cutting tactics to save money on the film such as posing as a UCLA student. Following the film's total failure at the box office, Graeff suffered a breakdown and proclaimed himself as the second coming of Christ. After an arrest for disrupting a church service, Graeff disappeared from Hollywood and committed suicide in 1970.