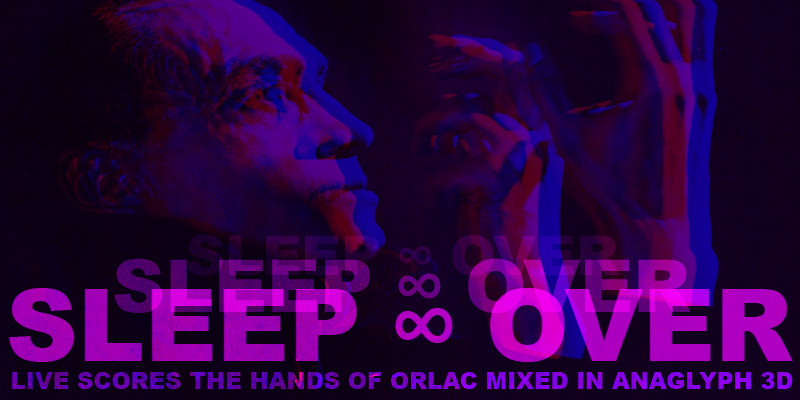 MONDAY, APRIL 15TH – 8:00PM and 10:00PM
TWO SETS!
ONE NIGHT ONLY!
THE HANDS OF ORLAC (IN 3D)
Dir. Robert Wiene, 1924
An abstract re-rendering by Spectacle's Jon Dieringer
Music by SLEEP ∞ OVER
Paul Orlac (Conrad Veidt) is a world famous concert pianst. En route home from being on tour to the waiting arms of his loving wife Yvonne, Orlac is gravely injured in a train wreck that threatens the loss of his titular hands. Yvonne begs Dr. Serral to save them and the good doctor obliges. He replaces Orlac's ivory ticklers with those of condemned murderer Vasseur. The surgery is a success but Orlac immediately senses something not quite right. When he discovers where his new hands came from he vows never to touch his beautiful wife again. They fall into poverty with Orlac unable to play and Yvonne seeks help from her father-in-law. He is cruel to her an denies her any support. Yvonne returns home and asks Orlac to go speak with his father. When he arrives to see his father, he is dead. Vassuers fingerprints are everywhere and what follows is a harrowing tale of blackmail and murder. Is Orlac the killer? Or are more sinister forces at work?
Four years after working together on THE CABINET OF DR. CALIGARI, director Robert Wiene and Conrad Veidt reunite and set the screen ablaze. Join us for an evening featuring a special anaglyph 3D re-cut from Spectacle's Jon Dieringer and a live score from Austin's psych/dream/ether/lo-fi/true-mage pop band SLEEP ∞ OVER as they pass through our fair borough on their most recent tour.
Glasses will be provided.
One night, two sets, three dimensions – not to be missed.