FRIDAY, SEPTEMBER 6: EL ÚLTIMO KAMIKAZE
SATURDAY, SEPTEMBER 7: MANDATORY MIDNIGHTS presents THE CANDY SNATCHERS
FRIDAY, SEPTEMBER 13: SHAKMA
SATURDAY, SEPTEMBER 14: THE PYX
FRIDAY, SEPTEMBER 20: SHATTER DEAD
SATURDAY, SEPTEMBER 21: INVASION OF THE BEE GIRLS
FRIDAY, SEPTEMBER 27: SIXTEEN TONGUES
SATURDAY, SEPTEMBER 28: SFX RETALIATOR
---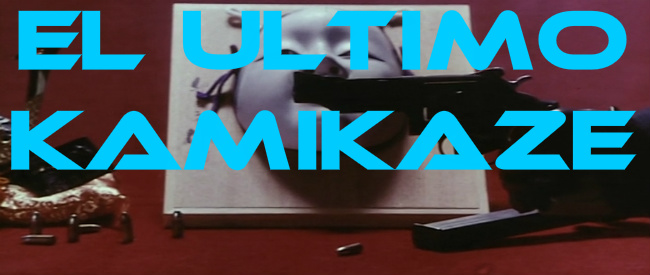 EL ÚLTIMO KAMIKAZE
Jacinto Molina, 1984.
In Spanish with English subtitles.
FRIDAY, SEPTEMBER 6 – MIDNIGHT
NOCHES DE NASCHY is dedicated to showcasing the films of Spanish horror icon and horror cinema's most prolific Wolf Man, Paul Naschy.
The beloved, barrel chested Naschy was a renaissance man who turned his childhood love of gothic horror and fantasy into his life's work. Naschy painted his monsters with a sense of romantic tragedy, leaving behind a wonderfully rich and surprisingly personal filmography.
In the 1980s Paul Naschy made his way to Japan where he directed and produced a number of well received documentaries for Japanese television, eventually leading to some unique and interesting Spanish, Japanese co-productions, most notably The Beast and the Magic Sword and El Último Kamikaze – a gritty, hyper-violent action thriller which explores a different kind of monster: a ruthless, psychologically tortured contract killer.
Paul Naschy plays El Kamikaze, a Spanish killer whose methods and body count are the stuff of legend.  Danton, a suave, leather gloved (just one!) rival hit man is contracted to snuff out the Kamikaze; a bloody, globe trotting chess game follows between the world's two top killers, and these vicious combatants will use every trick in their sadistic books to ensure they're the last killer standing.
El Último Kamikaze is Naschy at his super-violent and melodramatic best and as always he imbues his tragic antihero with a sympathetic sadness in order to pose the question: what's a monster's capacity to love and be loved? El Último Kamikaze is a unique transposition of familiar Naschy themes to an uncharacteristically non-supernatural scenario which in the end helps create maybe the writer-director-star's most complex and painful statement on the nature of love and redemption. BUT the pathos don't get in the way of granny disguises, poolside massacres, dirt bikes and Nazi flashbacks! An unmissable and unique treat for Naschy fans and fans of violent, low budget Euro action!
---
MANDATORY MIDNIGHTS

Feeling left out? Can't find common ground with your kids during those long, awkward dinners of meatloaf and self-loathing? Criminally unversed in the works of David A. Prior? Missing all those CANDY SNATCHERS references around the water cooler? Be honest, would you even be able to recognize an INTREPIDOS PUNK if you saw one?
Feeling woozy, it's getting dark, this is the end…
NOT QUITE.
The Spectacle presents MANDATORY MIDNIGHTS (aka MIND CURFEW)! Fall in love for the first time or all over again with the best of Spectacle Midnights! Every month The Spectacle is showcasing one of our beloved midnight classics like ROCK N ROLL HOTEL, KILLER WORKOUT, HOLOGRAM MAN and so many MORE!!! Don't yawn your way through another screening of Rocky Horror, half-heartedly throwing rice and lip syncing through tears of boredom. Come get kicked in the chest by the AMERICAN HUNTER and lose a quart of blood to a BLOODSUCKER FROM OUTER SPACE!
You haven't seen a Spectacle Midnight until you've seen it twice! Come Get Weird Tonight and Stay Weird Forever at MANDATORY MIDNIGHTS!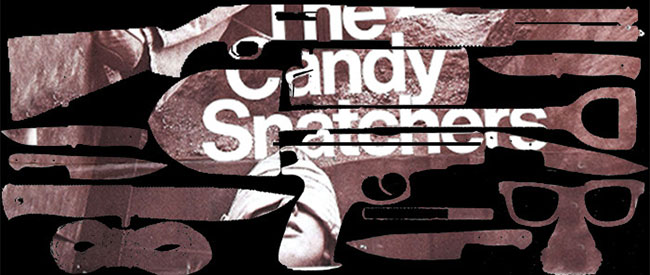 THE CANDY SNATCHERS
Dir. Guerdon Trueblood, 1973
USA, 94 minutes.
SATURDAY, SEPTEMBER 7 – MIDNIGHT
You know, we're all about fun here. Good fun. Pie-in-the-face fun. But, to be honest, we've got a bit of a mean streak too. And this Mandatory Midnight is one of the meanest films we can come up with. Vicious, even. In fact, let's just get this out of the way right now:
Trigger Warning: This film contains scenes of sexual violence, child abuse, and an adult contemporary theme song.
Still with us?
Three would-be criminal masterminds decide to kidnap Candy (Susan Sennett) and blackmail a diamond merchant named Avery (Ben Piazza), and though they try to cover all their bases – they didn't count on one thing: he doesn't want her back. If Candy dies, Avery (who isn't Candy's father but her stepfather) stands to inherit quite a chunk of change. So he tells the thugs to keep her. Now they're in real jam so they do the only sensible thing they can – bury her in a hole with an air tube and plan their next move. Paranoia sets in and things go from bad to worse to…well…even worse than that. There was a witness to this crime, but they're also trapped in a different way and things are looking bleak for Candy.
We love a good heist movie and we love it even more when a heist goes wrong and absolutely nothing goes right for anyone in this film. As dark and venomous as any Jim Thompson material, THE CANDY SNATCHERS escapes the trappings of other mean-for-the-hell-of-it grindhouse outings by keeping you on your toes…or at the very least – the edge of your seat.
---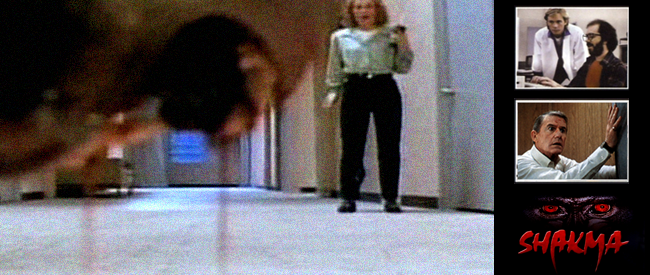 SHAKMA
Dir. Tom Logan / Hugh Parks, 1990
USA/UK, 101 minutes.
FRIDAY, SEPTEMBER 13 – MIDNIGHT
"The world's angriest primate just got mad!"
What better time than midnight for a failed experiment? Moments after using a power drill to graft a microchip onto a baboon's heart, it's Friday – and so a plucky group of horny and misguided researchers decide to go after-hours LARPing in the lab. Trouble is, the baboon's heart has been flooded with steroidal enyzmes, and he's out for revenge!
Leading a sundry cast of lowercase-E expendables, Roddy McDowell lends simian blessings to a guesome, hardheaded terror-romp equal bits "man vs. nature" and haunted house. But the real star is the indestructible Shakma, played by a small company of real (and presumably authentically angry) baboons.
SHAKMA (Logan / Parks, 1990) from Spectacle Theater on Vimeo.
---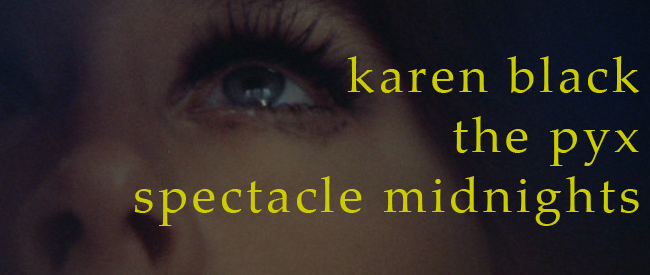 THE PYX
Dir. Harvey Hart, 1973
Canada, 108 minutes.
SATURDAY, SEPTEMBER 14 – MIDNIGHT
"You know my name."
Somewhere between Rosemary's Baby and Klute, this Canadian supernatural mystery offers plenty to satisfy police procedural fans as Dr. Sgt. Jim Henderson (played by Christopher Plummer) investigates the murder of Elizabeth Lucy (Karen Black), and as the film moves back and forth between Henderson's investigation and Lucy's last days we learn of her connection to a cult of devil worshipers.
While other films would try to drive up the tension, there's a quiet, sullen feel to this film, from the grubby rain soaked streets of Montreal to Lucy's manipulative madam to the minimal orchestral score, supplemented by Karen Black's songs, all of which build a slower sense of inescapable dread.
Lucy's conflagration of sex, heroin and Catholicism drifts through the entire film, a counterpoint to the increasing paranoia and futility of the detectives seeking to understand what remains beyond them as both storylines mirror the downward spiral of the other. Concluding with a backwards-chanting black mass and Henderson's showdown with cult leader Keerson (Jean-Louis Roux), it's a film that perfectly showcases the late Karen Black's singular presence.

---
MIDNIGHTS WITH SCOOTER MCCRAE!
Scooter McCrae in attendance September 20 & 27!

SHATTER DEAD
Dir. Scooter McCrae, 1994
USA, 84 minutes.
FRIDAY, SEPTEMBER 20 – MIDNIGHT
The Zombie sub-genre has been been tired for decades. Back in 1994 a young filmmaker named Scooter McCrae brazenly assaulted that tired template when he combined his obsession with the sublime, obscure euro-sleaze of filmmakers like Jess Franco, the cold art-house visions of Andrei Tarkovsky, and his own disenchantment with humanity in general, to create one of the '90s most transgressive works, SHATTER DEAD. From scene one, wherein The Angel Of Death impregnates a human woman, causing planet Earth's dead to rise, it's clear Shatter Dead is a non-stop kaleidoscope of fresh, uncompromising imagery. A no-budget, shot on video, apocalyptic nightmare-world where trust and humanity's desire to understand the meaning of its existence is constantly subverted, SHATTER DEAD is a milestone in both the the Zombie genre and the world of SOV.
---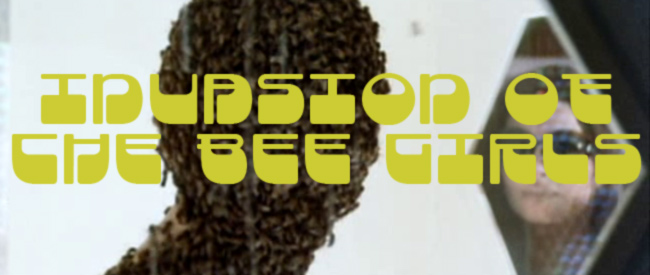 INVASION OF THE BEE GIRLS
Dir. Denis Sanders, 1973
USA, 85 minutes.
SATURDAY, SEPTEMBER 21 – MIDNIGHT
TRIGGER WARNING: Scene of attempted rape and a lot of gratuitous nudity.
"The doctor's diagnosis in each case is that the men seemed to be suffering from extreme sexual fatigue at the time of their deaths. I am not entirely sure how this diagnosis is made in an autopsy, but then perhaps I do not really want to know." -Roger Ebert
A series of scientists at Brandt Laboratories are turning up dead from heart failure. State Department agent John Agar follows the clues to a secret laboratory where women are turned into bee girls and sent to kill all male enemies through "overexertion". Whether you take it as drive-in sleaze or a knowing satire on 70s relations between the sexes, INVASION OF THE BEE GIRLS offers an update to 50s style mad science and government paranoia with big-ass sunglasses, bloopy modular synths and more compound lens shots than The Hellstrom Chronicle. Written by Nicholas Mayer (who later wrote the even-numbered Star Trek films) and directed by Denis Sanders (best known for 1964's Shock Treatment) and starring William Smith (from pretty much every TV show ever) and Anitra Ford (Messiah of Evil, The Big Bird Cage), INVASION OF THE BEE GIRLS offers plenty for exploitation fans, from angry mobs to secret sex rooms to a transformation scene that'd make Matthew Barney buzz. That said, the science-gone-mod approach never gets overly tongue in cheek; it has the same pacing and construction as a made-for-TV movie of the same time (if such films had an uncredited cameo by porn legend Rene Bond).

---
MIDNIGHTS WITH SCOOTER MCCRAE!
Scooter McCrae in attendance September 20 & 27!

SIXTEEN TONGUES
Dir. Scooter McCrae, 1999
USA, 80 minutes.
FRIDAY, SEPTEMBER 27 – MIDNIGHT
WARNING: Explicit sexual content and violence
So many films claim to address the oversexed, technological nature of our modern age, but barely any ever take their content to the extreme necessary to actually communicate a serious, original idea. SIXTEEN TONGUES, Scooter McCrae's follow-up to his classic SHATTER DEAD, is perhaps the most significant film ever made on the subject of porn and technology – it's certainly the most intense and the most original. Made in 1999, SIXTEEN TONGUES takes place in a make-shift future world where graphic, dehumanizing, porn is constantly at our fingertips (seems unbelievable, right!?). In a dream-like blur we follow our hero and villains down their action-film trajectory, witness to as well as their harrowing dreams and visions. This is an inspired, low-budget work so aggressively personal and visionary that we're essentially forced to redefine the overused term "transgressive art."
---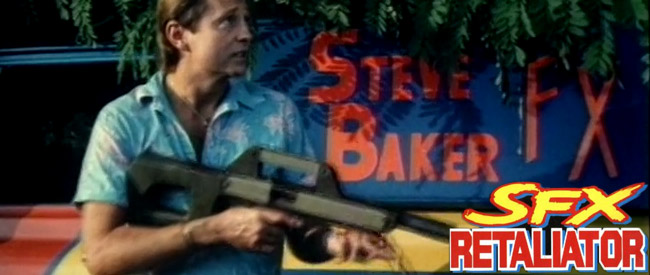 SFX RETALIATOR
Dir. Jun Gallardo (as "John Gale"), 1987.
Philippines. 84 min.
SATURDAY, SEPTEMBER 28 – MIDNIGHT
The American Hunter himself, Chris Mitchum, makes his triumphant return to Spectacle's screen on September 28 as the SFX RETALIATOR.
Steve Baker (Mitchum) has it made as one of the Filipino film industry's go-to special effects and demolition artists. And yet his own world suddenly explodes one day when he's chillin' riding around in his sweet Special Effects Van and runs into (literally — it's hilarious) none other than Linda Blair, also slumming it in the Southeast Asian action film industry. Blair has just made out with a shitton of cash from her mobster boyfriend's safe, and it's revealed that she had been two-timing him all along as the true girlfriend of his competitor. After Baker does the right thing and drops her off at the Filipino Motel 6 'cause her own car was destroyed in pursuit, her crazy ex-boyfriend decides it would somehow be simpler to hunt down Baker, kidnap his wife, and hold her hostage in order to force Baker — who is basically just a Jimmy Buffet fan with fireworks — to track down Blair and recover the cash rather than simply apply his resources to locate Blair himself.
Anyway, even obvious reasons aside, this is a BIG MISTAKE, because Baker is certifiably PISSED and he doesn't QUAKE, he RETALIATES. Instruments of retaliation include a house rigged with creepy remote-controlled skeletons, a shitty van that shoots missiles (it's like some kind of second-hand Batmobile), a spring loaded cobra-in-a-basket with a discreet machine gun turret inside its mouth, some sort of gun that can take down a helicopter with a single shot, fake grenades, real grenades, remote controlled whatsits and more. The dude is basically an electric wizard of spectacular vengeance with lots of SWEET Hawaiian shirts. Which will be your favorite? Come to the screening to find out!
And did we mention the sweet power ballads whose lyrics basically explain what's happening on screen? The aimless labyrinthine dockyard shootout that plays as an unintended homage to the classical Trance Film tradition of avant-garde cinema? The scene where two random people get shot for no apparent reason, and the camera lingers way too uncomfortably long on their awkwardly crying daughter? Chris Mitchum's irrepressible parrothead charm? THE SCENES OF RIGHTEOUS SPECIAL EFFECTS RETALIATION?