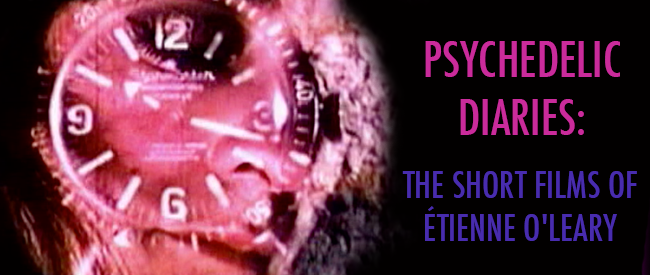 PSYCHEDELIC DIARIES: THE SHORT FILMS OF ÉTIENNE O'LEARY
Dir: Étienne O'Leary, 1966-1968.
Total program time: 68 min.
SATURDAY, APRIL 5 – 10PM
SUNDAY, APRIL 20 – 5PM
MONDAY, APRIL 28 – 10PM
Special thanks to ICPCE
Despite an entire filmography of only three experimental short films, Étienne O'Leary's work is a vibrant, majestic reflection of late 60s youth culture and avant-garde film techniques, including some pioneering editing tricks that still seem fresh and invigorating today.
A 60s French dandy by way of Montreal, O'Leary became intoxicated by the sights and sounds of bohemia and formed an alliance with the Zanzibar Group (his films are populated by French underground luminaries like Pierre Clementi, Jean-Pierre Bouyxou, and Michel Auder). A student of the New York underground and surrealism, O'Leary uses a variety of notebook-style shooting, image layering, and fast cutting to capture the era's heady decadence and political possibilities. Adding to the trippy visuals, O'Leary composed his own singular soundtracks with a myriad of found instruments and tape recorders, a new music genre in and of themselves.
O'Leary's shorts were shown at various European galleries and happennings (French artist Jean-Jacques Lebel was a big champion of his work), but since the late 60s remained lost until they were recently rediscovered in the vaults of the Cinémathèque québécoise. A product of his time in the best possible way, O'Leary's films are the cosmic nexus aligning Warhol's Factory, Jonas Mekas's home-movie poetics, and Kenneth Anger's pop subversion.
Read the last known interview with Étienne O'Leary here.
---
DAY TRIPPER
Dir: Étienne O'Leary, 1966.
France, 9 min.
O'Leary debut is a staccato black-and-white impression of shared intimacy and late-night mind expansion. A tapestry of party and beach scenes are inter-cut with a lover's stoned, seductive dancing. The soundtrack mixes screeching, crashing pianos with cut-up tape effects and samples from Nancy Sinatra, The Who, and Screaming Jay Hawkins's manic "I Hear Voices."
"May Ray said that Day Tripper was a film he wished he had made. I was flattered." -Etienne O'Leary
---
HOMEO
(aka Homeo: Minor death: Coming back from goin' home)
Dir: Étienne O'Leary, 1967.
France, 38 min.
A travelogue of sorts, O'Leary second work blends cityscapes, nature, summer holidays, and charismatic portraits all together, with everything awash in radiant colors. The droning harmonium soundtrack provides a continuous pulse, with occasional flutters that match the quasi-spiritual vision quests. Most significantly, Homeo foregrounds O'Leary's radical approach to in-camera editing, with rapid-fire cuts bringing photographs and magazine ads to vibrant life alongside friends's eternal wanderlusts.
"An object-lesson in the cinematic intensification of images drawn from day-to-day reality, in which home movie footage is rendered rock'n'roll poetry through montage." -Cork Film Centre
---
CHROMO SUD
Dir: Étienne O'Leary, 1968.
France, 21 min.
O'Leary final and most fully realized short is a hallucinogenic nightmare of May '68 riots, sadist fantasies and drug-fueled freak outs. The friendly faces and playful eroticism from before have now grown threatening and perverse. This is O'Leary at his most subliminal and transcendent, with flashing edits and dense layers of juxtaposed dissolves creating entire universes in just a few frames, all of which are augmented by a sonic collage of disembodied moaning vocals, prepared piano, and tinkering electronics.
Taking Chromo Sud as a whole, one can't help draw parallels to the future psychedelic art and music of experimental band Black Dice or even the 80s work of Toshio Matsumoto, who all seem to be tapping in to the same far-out mainline O'Leary rode for 21 mesmerizing minutes.
"Chromo Sud, his most sinister work by far, owes as much to Kenneth Anger as to Mekas, presenting the libertarian impulses of the time in as orgiastically morbid and sadistic a vein as Anger's Scorpio Rising biker culture… a testament to the transformative powers of editing and the control it gives the filmmaker in shaping his own reality from the world around him." —Experimental Film Club