TUESDAY, AUGUST 6TH – TWO SHOWS – 8PM & 10 PM
(SOME) ARTISTS IN ATTENDANCE!
ONE NIGHT ONLY!
"& Other Works" is a series of screenings focusing on works from contemporary artists organized by C. Spencer Yeh. "& Other Works" cools down in an informal communal viewing experience, away from the dry walls and passwords.
It's August, and time for some SUMMER FUN. AUG!!! A selection of work from v-v-v-various artists are gathered up from under the sweltering sun and slobber-screened in the air-conditioned confines of the goth bodega. Think of the rockets launching in the distance, of ascension, isolation, vacation, summer whites. Wet air leaves us light on words, but heavy on excitement. Soooo load up the van and head to the extreme opposite of the beach – "& Other Works" at Spectacle Theater !
We welcome Rachel Mason, Frank Heath & JJ PEET, and Robert Beatty.
ECONOLINE 1
Dir. Frank Heath & JJ PEET, 2007.
27 min. USA.
Smearing a healthy grip of hardheaded mischievous streak across I-95 in the middling aughts, artists JJ PEET and Frank Heath (as seen on &OW earlier this year) suited up as visor-ly anonymoustronauts for their micro-epic lo-fi spaceplay fantasy Econoline 1. The half-hour vessel propelled by invention and ideals first launched at Videotage Gallery in Hong Kong, Econoline 1 has never landed on these shores…  until NOW:
"Traveling in a Ford Econoline van retro-fitted as a mock spacecraft, two astronauts journey to the surface of the moon and back. This depiction of space travel is superimposed over an actual trip down the east coast of the United States and an illegal speedboat jaunt to the Cuban coastline. The trip was made in eight days, mirroring the timetable of the first Apollo moon landing." – courtesy of the artists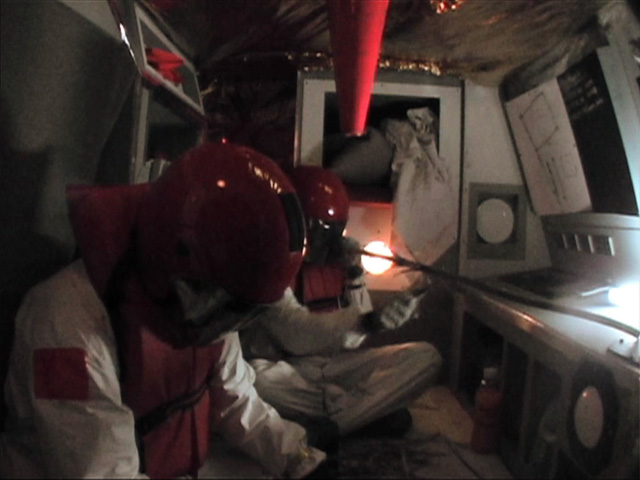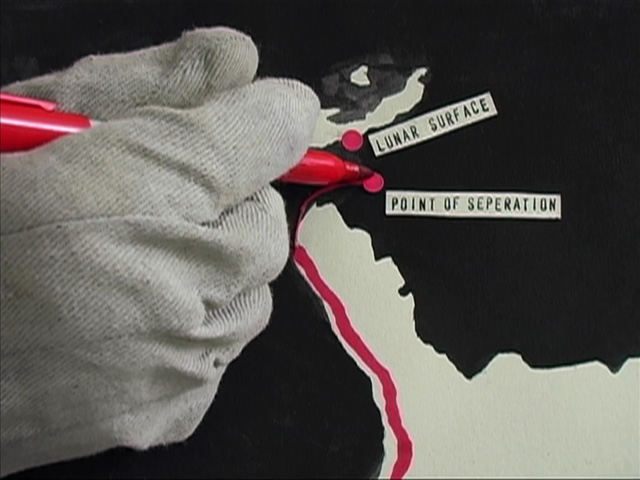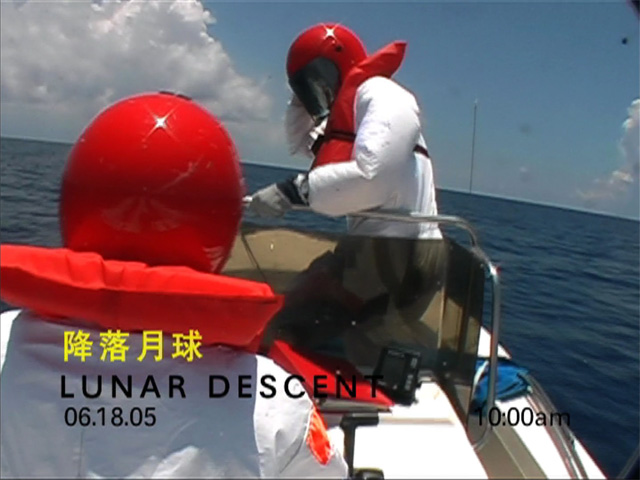 –
WALL
Dir. Rachel Mason, 2001.
6 min. USA.
TERRESTRIAL BEING A TANGELO
Dir. Rachel Mason, 2001.
4 min. USA.
Rolling back to 2001 (the projected year of famed aspirational odyssey) artist Rachel Mason close-encountered a persona dubbed the Terrestrial Being. Ivory-white domed and bodysuited, the Being was first captured on video free-climbing a tall structure on the campus of UCLA (documented in the harrowing and succinct stunt titled Wall). Is the TB a superhuman? An alien? Harbinger? The accompanying 16mm feel-piece Terrestrial Being A Tangelo rears its rear; read the paper:
"Not long before planes attacked the World Trade Center in New York City, the twenty-one year old Rachel Mason was temporarily expelled from school after scaling an eight story building in Los Angeles. The building was Dickson Art Center at UCLA, a building which was thereafter replaced by the Broad Art Center. Mason scaled Dixon without ropes – in the character she would continue to work with for the next decade and beyond: the white helmeted figure called 'The Terrestrial Being.' Numerous videos and live performances exist but have rarely been shown. Wall, from 2001 and a 16mm film, also from 2001 entitled Terrestrial Being A Tangelo, a film which has not been presented publicly until now." – courtest of the artist
–
LANDLINE
Dir. Robert Beatty, 2011.
6 min. USA.
UNTITLED
Dir. Robert Beatty, 2011.
3 min. USA.
Who is Robert Beatty? His is a name known in a few circles – circles which he has perverted into his own Venn diagram spelling ROB for quite a few years. Here, &OW admits finding any excuse to show one of Beatty's earliest forays into video, his own Untitled. Sure, it's an edit – an aggregation based on simple formal guidelines (of a popular cartoon, no less); but to build such a haunted arc and atmosphere! Untitled is telling us that wind will blow, leaves will wilt, streets will empty – this moment isn't forever.  As for the puzzle piece Landline, found loosely conspiring with visions of mask obstruction, let's turn again to the copypaster:
"The terror of contamination through communication." – courtesy of the artist
–
Robert Beatty (b. 1981) is a Lexington, Kentucky based artist and musician. His multi-disciplinary work in the fields of drawing, digital art, sculpture, video, graphic design, and sound often use outmoded technology to yield organic results. Beatty performs experimental electronic music as Three Legged Race and is a founding member of psychedelic noise band Hair Police. He is also a frequent collaborator with artists as diverse as Takeshi Murata, C. Spencer Yeh, Ben Durham, and Robert Schneider of the Apples in Stereo. He has created album art and posters for countless artists in the worldwide underground, and was featured in the latest edition of Kramers Ergot, published by PictureBox Inc., for whom he is working on a book scheduled for publication in late spring 2014. Beatty has exhibited at Institute 193 in Lexington, Land of Tomorrow in Lexington and Louisville, and in group exhibitions in Baltimore and Los Angeles. He has performed at such places as the Ullens Center for Contemporary Art in Beijing; Haus der Kulturen der Welt in Berlin; the Gene Siskel Film Center at the Art Institute of Chicago in Chicago; the Contemporary Arts Center in Cincinnati; the All Tomorrow's Parties Nightmare Before Christmas Festival in Minehead, England; and numerous venues and institutions in New York including the New Museum, Deitch Projects, Issue Project Room, Nicole Klagsbrun Gallery, and Canada gallery.
Frank Heath, born in St. Joseph, MO in 1982, lives and works in New York. Last spring, he made his first solo exhibition in New York at Simone Subal Gallery. Two-person shows include Bcc:, with Brendan Meara at Roots and Culture, Chicago (2011), and Econoline 1, with JJ PEET at Videotage Gallery, Hong Kong (2007). Past group shows and screenings include Matter Out of Place at The Kitchen (2012), Someone Has Stolen Our Tent at Simon Preston Gallery, New York (2012), Single Channel at Soho House, Miami FL (2011); Forcemeat at Wallspace, New York (2011); and Suddenly: Where We Live Now at Cooley Gallery, Reed College, Portland, OR; and Pomona College Museum of Art (2008, 2009).
Rachel Mason is an artist from Los Angeles who lives in New York. Her most recent project is a rock opera and film called, The Lives of Hamilton Fish. She is also currently a resident of the Lower Manhattan Cultural Council. She has toured, exhibited sculpture, video, and performance at galleries and museums internationally. Her work has been exhibited and she has performed at the Whitney Museum, Queens Museum, Detroit Museum of Contemporary Art, School of the Art Institute in Chicago, Henry Gallery in Seattle, James Gallery at CUNY, University Art Museum in Buffalo, Sculpture Center, Hessel Museum of Art at Bard and Occidental College, Kunsthalle Zurich, Museum of Contemporary Art Detroit, The New Museum, Park Avenue Armory, Art in General, La Mama, Galapagos, Dixon Place, and Empac Center for Performance in Troy, among other venues. Reviews include New York Times, Village Voice, Los Angeles Times, Flash Art, Art in America, Art News, and Artforum.
JJ PEET received his MFA from Yale University School of Art in 2006 and his BFA from the University of Minnesota in 1999.  Recent solo exhibitions include Redling Fine Art, Los Angeles, CA (2013); On Stellar Rays, New York, NY (2012); Gallery Diet, Miami, FL (2013). These exhibitions received numerous reviews, in publications such as Art in America, Artforum.com, ArtPulse, Bomb, Frieze, The Last Magazine, The New Yorker and TimeOut NY. PEET currently lives and work on Earth.