WEDNESDAY, JUNE 26TH – TWO SHOWS – 8PM & 10 PM
ARTIST IN ATTENDANCE!
ONE NIGHT ONLY!
JUSTIN LIEBERMAN: THE DISHWASHER'S SONG & OTHER WORKS from Spectacle Theater on Vimeo.
"& Other Works" is a series of screenings focusing on video and film from contemporary artists, organized by C. Spencer Yeh.
"& Other Works" seeks out artists' efforts which invite and evoke the cinematic experience, yet are typically looped on crowded walls or locked up in online isolation. "& Other Works" screens beginning to end, in an informal but focused communal viewing experience. In other words – "film, folks, fun."
For June, we welcome artist Justin Lieberman, who will be in attendance.
—
THE DISHWASHER'S SONG
Dir. Justin Lieberman, 2002.
17 min. USA.
THE DISHWASHER'S SONG was created over a nine month period while Lieberman worked at the Maharishi Spiritual Center of America in North Carolina. Employed as a  dishwasher (surprise!), Lieberman was tasked with discarding the leftover food from the center's meal services each night, a ritual he began documenting on video. The resulting culinary downpour conjures thrills from volatile modernist sculpture, to the inventive viscera of gonzo gore movies; an aggregated topography of consumption and meditative essay on the backside of the enlightenment machine.
To cook up the perfect kitchen radio soundtrack, Lieberman plundered via Napster (remember, it's the early 2000s), collecting and collaging pop music instances of "yeah," "baby," and "no." These three exclamations weave in and out of the fore, composing a colorful choir of cultural cacophony.
Originally presented as a multi-channel audiovisual installation, THE DISHWASHER'S SONG has been adapted into a single-channel work in collaboration with the artist especially for this screening. The mantric excretions of THE DISHWASHER'S SONG build to sustained climax from this presentation; your appetite won't.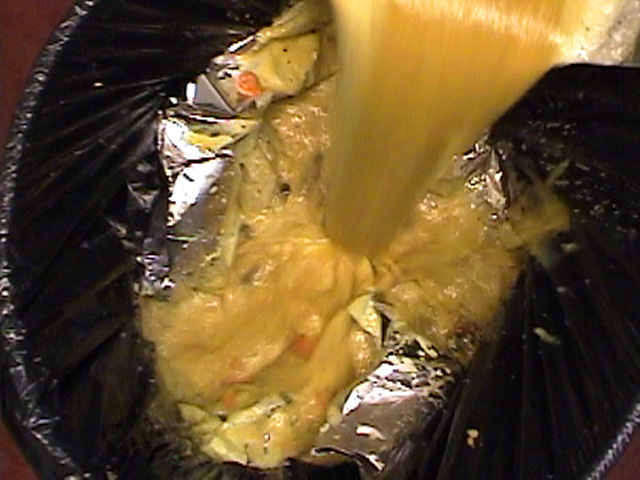 THE VISITOR
Dir. Justin Lieberman, 2004.
10 min. USA.
THE VISITOR casts Lieberman as a diapered brain alien crash landing straight into a backwoods summer fantasy informed by Easy Rider, El Topo, Fire in the Sky, and the Joseph Beuys joint I Like American and America Likes Me. A cameo from Brion Gysin's Dream Machine consummates this compact fable of loving a visit, but hating the life.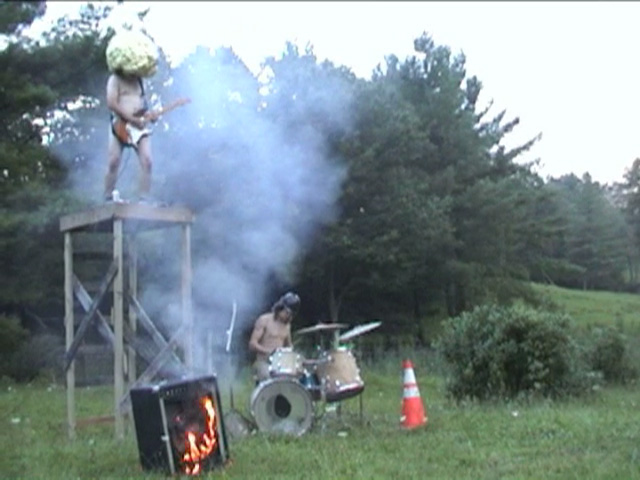 FIRST THOUGHT, THEN SUSTENANCE
Dir: Justin Lieberman, 2007.
11 min. USA.
FIRST THOUGHT, THEN SUSTENANCE is described by Lieberman as "something of a structuralist narrative made in collaboration with the artists Jacques Louis Vidal and Kembra Pfahler." A homeless man in a wheelchair, an SS officer, and a performance artist (Pfahler in full Voluptuous Horror garb) take turns tossing books into a shared oil can fire, while tossing off lines plundered from Bartlett's Familiar Quotations.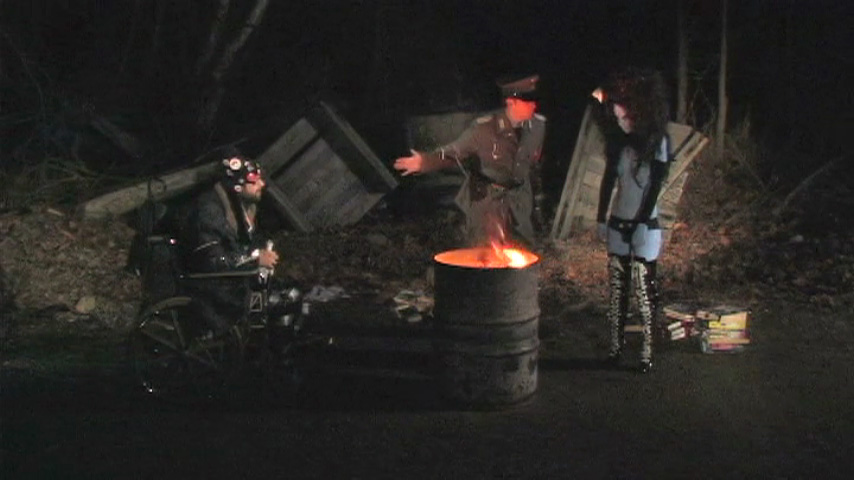 THE BATH 2051
Dir. Justin Lieberman, 1997.
10 min. USA.
THE BATH 2051 = Aluminum foil Tetsuo cosplay vibes waft through a Jack Smith-haunted bathroom performance document, in Lieberman's first official video effort.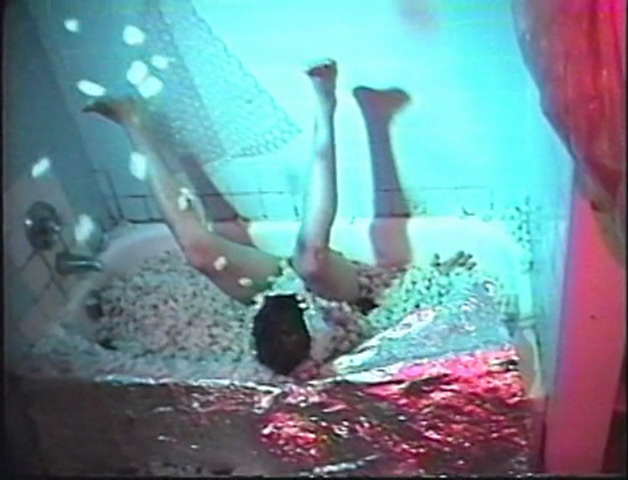 Justin Lieberman is an artist, teacher, activist, curator, and critic who has worked extensively in the US and Europe. He has held faculty positions at the School of the Museum of Fine Arts, Boston, Queens College, New York, and Brandeis University, Waltham. He has presented numerous solo exhibitions of his work in New York, Los Angeles, Chicago, Boston, Miami, London, Paris, Brussels, Geneva, Athens, and Klagenfurt, among others. His work has been reviewed in publications including Artforum, Art in America, The Poetry Project Newsletter, Triple Canopy, Frieze, Useless, Art Review, The New York Times, Bomb, Le Monde, and Le Journal, and is the subject of a monograph published by JRP Ringier.