FRIDAY, OCTOBER 4: SPECTOBER ROULETTE: HALLOWEEN EDITION
SATURDAY, OCTOBER 5: SHINOBI INFERNO
FRIDAY, OCTOBER 11: MANDATORY MIDNIGHT: BLOODSUCKERS FROM OUTER SPACE
SATURDAY, OCTOBER 12: HORROR BOOBS
FRIDAY, OCTOBER 18: DR. BLOODBATH (BLEEDING SKULL MIDNIGHTS)
SATURDAY, OCTOBER 19: OGROFF (BLEEDING SKULL MIDNIGHTS)
FRIDAY, OCTOBER 25: A POLISH VAMPIRE IN BURBANK
SATURDAY, OCTOBER 26: THE THIRD ANNUAL SPECTACLE SHRIEK SHOW

---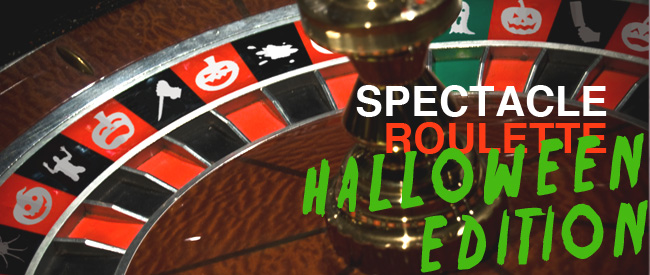 SPECTACLE ROULETTE: HALLOWEEN EDITION
Dir. ???, 19??/20??.
????. ??? min.
In any number of languages.
FRIDAY, OCTOBER 4 – MIDNIGHT
If there are two things we love at The Spectacle they've got to be desperate games of chance where there can be no winner AND Halloween! So with that in mind…
IT'S SPECTACLE ROULETTE: HALLOWEEN EDITION!
Here's how it works this time, similar rules EXCEPT, everything must be HALLOWEEN and or MONSTER related! Aerobics tapes for poltergeists, Yetti skate videos, Zbigniew Cybulski as Dracula, America's Funniest Home Exorcisms – YOU BRING THE CRAZY, WE BRING THE CANDY CORN!
Here's the the breakdown:
The first 6 people to show up with a movie will be given the chance to lobby by showing 5 minutes of that (HALLOWEEN AND OR MONSTER RELATED) film. After all 6 are shown, everyone votes and that's what we watch!
If you want to participate, please do the following:
1. Show up at least 15 minutes BEFORE midnight with your proposed film. (Either a DVD or digital copy!)
2. Be prepared to introduce your 5 minute clip and lobby hard for your candidate.
3. COME CORRECT. Bring the craziest (HALLOWEEN and or MONSTER related) thing you can find, no half-steps!
4. Tell your friends/ have a jack-o-lantern carved in your soul!
Come get HALLOWEEN STARTED EARLY at SPECTACLE ROULETTE: HALLOWEEN EDITION!
---

SHINOBI INFERNO (AKA THE SHINOBI INFERNO: NINJAS IN HELL)
Dir. Hibachi Chicken Films, 1997
USA. 57 min.
SATURDAY, OCTOBER 5 – MIDNIGHT
"SHINOBI INFERNO tell(s) the tale of a man turned ninja who is forced to fight his way out of hell. Along with the ninja clan, he eventually must confront Satan in order to save the planet. These are the times of high adventure!" – courtesy HCF
They say "time heals all wounds." They also say "beauty is in the eye of the beholder." They clearly were thinking about the MIDNIGHT programming at the SPECTACLE THEATER as they etched those sayings into the sides of caves and temples – particularly when we unearthed (i.e. finally unpacked that last U-Haul box in storage) and presented DEVILHELM. Yes, DEVILHELM, only one of two shot-on-video epics about ninjas vs. demons to come out of pre-Y2K Southwest Ohio. Why one out of two? Because DEVILHELM has a damn PREQUEL and it's COMING TO SPECTACLE THIS SPECTOBER!!!!!!!!!!!!!!!!!!!
ZOMG it totally makes sense we're showing this. Because it's like DEVILHELM except like it's all way more scrappy crappy, but like they go apeshit even harder and like !!!. Dude it's like some shirtless bro-cult suburban backyard ethnographer's WET DREAM. Checklist: the rundown EP MODE image quality desaturates and dreamily smears like Gen X's version of sepia-tone; the WTF sampling of various uncited genre films and popular music pops ecstatic dissonance between the homemade and the million-dollar made; the macabre chewed-paper duct tape panty hose costumes evoke Rebecca Horn armed with smokeless tobacco and Black Cat firecrackers.
Why bother spending your garbage-bagged precious teenage years raiding and re-enacting someone else's magnum opus? Blow that shit up and CREATE YOUR OWN ADVENTURE. Just don't call it THE SHINOBI INFERNO: NINJAS IN HELL because that shit is TAKEN.
Warning: Scenes contain use of strobe lights.
---
MANDATORY MIDNIGHTS
Feeling left out? Can't find common ground with your kids during those long, awkward dinners of meatloaf and self-loathing? Criminally unversed in the works of David A. Prior? Missing all those CANDY SNATCHERS references around the water cooler? Be honest, would you even be able to recognize an INTREPIDOS PUNK if you saw one?
Feeling woozy, it's getting dark, this is the end…
NOT QUITE.
The Spectacle Presents MANDATORY MIDNIGHTS (aka Turkish Netflix)! Fall in love for the first time or all over again with the best of Spectacle Midnights! Every month The Spectacle is showcasing one of our beloved midnight classics like ROCK N ROLL HOTEL, KILLER WORKOUT, HOLOGRAM MAN and so many MORE!!! Don't yawn your way through another screening of Rocky Horror, half heartedly throwing rice and lip syncing through tears of boredom. Come get kicked in the chest by the AMERICAN HUNTER and lose a quart of blood to a BLOODSUCKER FROM OUTER SPACE!
You haven't seen a Spectacle Midnight until you've seen it twice! Come Get Weird and Stay Weird at MANDATORY MIDNIGHTS!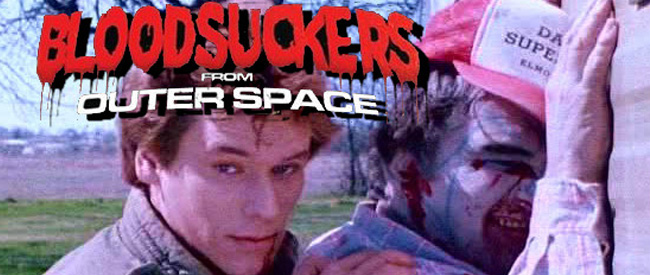 BLOODSUCKERS FROM OUTER SPACE
Dir. Glen Coburn, 1984.
USA. 79 min.
FRIDAY, OCTOBER 11 – MIDNIGHT
In BLOODSUCKERS FROM OUTER SPACE a strange and eerie wind is blowing across the plains of Texas, and not the metaphorical kind. Local folks are being transformed into depraved, insatiable bloodsuckers by an extraterrestrial force found in the very air they breath and it's up to a young would-be artist and his Camaro-driving cohort to stop them — in between hits of nitrous oxide, of course.
Texas has long been a hotbed for weird and inspired horror (Tobe Hooper) and low-budget insanity (Larry Buchanan) and BLOODSUCKERS FROM OUTER SPACE is no exception. Combining lonesome landscapes of Nowhere,
Texas, with parodic humor, sex, recreational drug use, martial arts, splatter, a rocking title song, and the occasional aside to the camera, Glen Coburn's Bloodsuckers From Outer Space is low/no-budget regional horror at its finest. Come check out the film that put Texas on the map!

---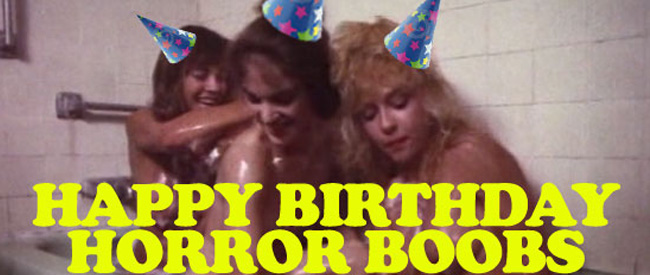 HORROR BOOBS BIRTHDAY BASH
Matt D's 32nd Birthday
SATURDAY, OCTOBER 12 – MIDNIGHT
Spectacle Theater welcomes their favorite group of perverts back with open arms and full palms… we're talking about us and we're talking about jerking off, duh! This October 12th marks the 2 year anniversary of Horror Boobs Hosted Midnights at the Spectacle Theater as well as Horror Boobs main man Matt D's 32 Birthday and this time we promise a viewing experience unlike none other! A loving tribute to one of our favorite forms of film the Horror Anthology with… The Ultimate Horror Anthology! We've taken some of our favorite segments from some classic (and some not so classic) horror anthologies and sewn them together into one big lumbering Franken-FILM! Monsters, Murder and Maybe a bunch of BOOBS… Who are we kidding? There will definitely be a bunch of BOOBS! So come down and celebrate the beginning of Horror
Boobs' Terrible Twos at Spectacle with a never before seen mind melting original composite Horror Anthology. Bring presents or forever be a dick!

---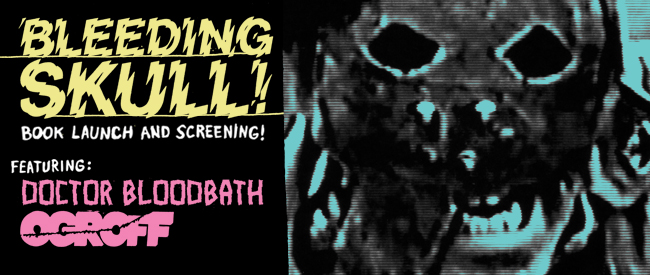 BLEEDING SKULL WEEKEND!
Book Launch & Screening: DOCTOR BLOODBATH and OGROFF
October 18th & 19th! MIDNIGHT
This weekend's witching hours are very special indeed, creeps! Spectacle is proud to team up with BLEEDING SKULL (BLEEDINGSKULL.COM), the authority on trash-horror cinema from the VHS gutters, as they host 2 special screenings to celebrate their new book, BLEEDING SKULL! A 1980s TRASH-HORROR ODYSSEY.
Join authors Joseph A. Ziemba and Dan Budnik in person as they present DOCTOR BLOODBATH and OGROFF, projected from VHS!
BLEEDING SKULL! A 1980s TRASH-HORROR ODYSSEY features 300 in-depth reviews of movies that have escaped the radar of people with taste and tolerance. BLACK DEVIL DOLL FROM HELL, A NIGHT TO DISMEMBER, HEAVY METAL MASSACRE, THE LAST SLUMBER PARTY — this book gets deep into no-budget horror, from shot-on-video revelations (DOCTOR BLOODBATH) to forgotten theatrical casualties (FROZEN SCREAM). Jam-packed with rare photographs, advertisements, and VHS sleeves (most of which have never been seen), BLEEDING SKULL! is an edifying, laugh-out-loud guide through the dusty inventory of the greatest video store that never existed.
DOCTOR BLOODBATH
Dir. Nick Millard, 1988
VHS

FRIDAY, OCTOBER 18 – MIDNIGHT
Gordon runs a health clinic that specializes in abortions. After each operation, Gordon visits the patient's home and murders them. Nick Millard's methods (terrible compositions, non-stop jump cuts, complicated plotlines about nothing in particular) reject convention and the world-at-large. This 60 minute SOV opus caps off a long legacy that repeatedly transformed mundane elements into exhilarating, anti-human events. Did you know that abortions are achieved by waving an ear-flushing kit in front of a vagina?
OGROFF
Dir. Norbert Moutier aka N.G. Mount, 1983
VHS

SATURDAY, OCTOBER 19 – MIDNIGHT
Ogroff is a WWII veteran who wears a metal mask and ski cap. He murders anything that enters his magical forest. This includes a lumberjack and a Volkswagen Bug. A plotless slasher perversion from the foothills of France, OGROFF is a benchmark in the halls of accidental, no-fi surrealism caught on Super 8/video/whatever. If you agree that the epitome of life-enhancing cinema may lie somewhere between Eric Rohmer's MY NIGHT AT MAUD'S and Doris Wishman's A NIGHT TO DISMEMBER, Ogroff is your man.
---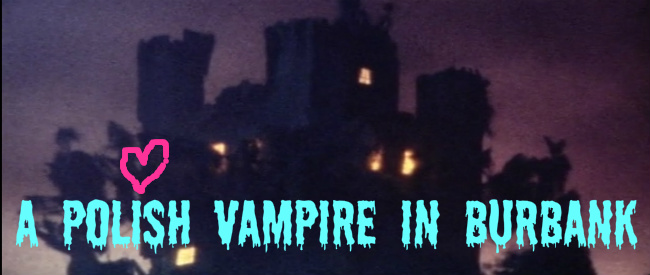 A POLISH VAMPIRE IN BURBANK
Dir. Mark Pirro, 1985
USA, 84 minutes.
FRIDAY, OCTOBER 25 – MIDNIGHT
In the Mad Libs tradition of film titling, A _____ _______ in __________ is one that usually yields some great, or at least memorable, results ( A Connecticut Yankee in King Arthur's Court, An American Werewolf in London). So it's no surprise that A POLISH VAMPIRE IN BURBANK is about as memorable and great as a Super 8 feature film can get. Part early Woody Allen gag film, part Playboy cartoon, part Nathan Schiff and Nanni Morretti, and owing an openly expressed debt to the work of John "The Schlocktapus!" Landis, Pirro's POLISH VAMPIRE is a Petrie dish full of horror film, B movie and comedic cross contamination which faces vampire cinema inundation and takes the next logical step: reflexive vampire film with vampire protagonist.
Oh, and it's very, very cheap. Like $2,500 cheap. Like so cheap EDDIE DEEZEN walked off the set. Yeah, too cheap for Eddie fucking Deezen.
At first glance A POLISH VAMPIRE IN BURBANK appears to be another filmic curio so abominably cheap that it's enough to stare at the big beautiful super 8 grain and contemplate the phenomenological there-ness
of it all (see DRACULA DIRTY OLD MAN for more). But like all great no budget films, the coarseness of the materials and method fuse with authorial ingenuity and passion, and quickly Pirro reveals himself to be a filmmaker with a voice and A POLISH VAMPIRE ends up being an oddly tender film experience. And maybe what's even more odd, this film was seen by A LOT of people and made a A LOT of money (relatively speaking) owing to the then hungry and booming home video market.
Mark Pirro ( taking over after Mr. Deezen split) plays Dupah, a young vampire who's content to watch TV all night in his bat spangled pajamas. Dupah's hollow cheeked vampire daddy decides it's time for Dupah to start fending for himself though and make that painful transition into vampire-adulthood. So Dupah cruises LA and meets a nice young lady, Delores, who just happens to LOVE vampire movies! But Dupah isn't the old school lady killer his dad is, he's sensitive and just can't seem to bring himself to bite Delores. A gag-filled misadventure follows in LA's moribund world of swinging singles as Dupah tries to follow his heart and his fangs, all before sunrise!
This is no budget super 8 horror comedy at its finest! The legendary A POLISH VAMPIRE IN BURBANK! Only at The Spectacle! Only at MIDNIGHT!