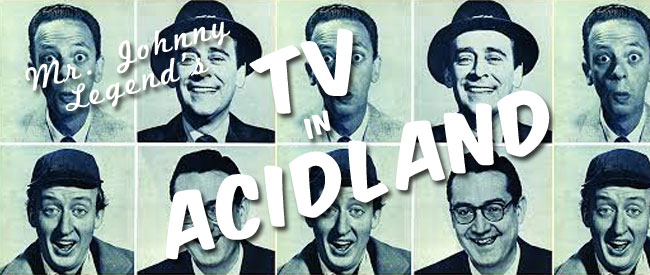 TV IN ACIDLAND
Program 1: In the Beginning… (the birth of "live" TV late 1940s – 1955)
Program 2: The Modern Age (1955 – early '70s)
Dir. Johnny Legend, collected footage, 2012
USA, 153 min. with intermission
SUNDAY, NOVEMBER 3 – 8:00PM
One night only with Johnny Legend in attendance!
GROUCHO MARX AND THE PROFESSOR OF HIPOLOGY
BETTY WHITE'S TIRED HOUSEWIFE BLOOD
MILTON BERLE WIGGLES WILDLY
"A hand-made montage of the most shudderingly strange and awesomely revealing moments early television could offer… the damndest thing you ever saw!" –Boho Beat
Mr. Johnny Legend is a savior of forgotten horror films, wrestling promoter, Rockabilly Hall of Famer, and director of documentaries, improvised happenings, hot tub pornos and collected ephemera. But of all his unruly projects in several decades of haunting Hollywood, Mr. Legend considers TV IN ACIDLAND "undoubtedly the most ambitious and incredibly entertaining of them all. The majority of the footage here has never been shown theatrically and has remained virtually unseen by most viewers for over half a century."
This astounding time capsule of the golden age of "really live" television is a non-stop collection of classic variety shows, skits, commercials, and indescribable oddities featuring the biggest (and strangest) stars of the era, many making their broadcast debut. It is an unabashed cinematic "love-letter" to the first quarter century of televised insanity!
Starring Marilyn Monroe, Jack Benny, Peter Lorre, Ernie Kovacs, Steve Allen, Frank Sinatra, Elvis Presley, Liberace, Groucho Marx, Lucy and Desi, Buster Keaton, Jonathan Winters, Rod Serling, Edward G. Robinson, Judy Garland, Jackie Gleason, James Dean… and many, many more!
PLUS…
Johnny Legend really live and in person to share his personal stories of Hollywood stardom and madness!