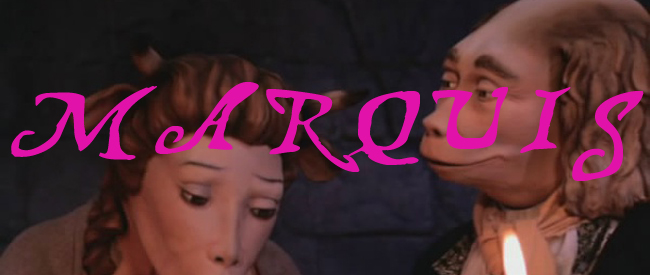 MARQUIS
Dir. Henri Xhonneux, 1989.
France. 78 min.
In French with English subtitles.
FRIDAY, MARCH 4 – 7:30 PM
MONDAY, MARCH 14 – 10:00 PM
FRIDAY, MARCH 18 – MIDNIGHT
SATURADY, MARCH 26 – 10:00 PM
THURSDAY, MARCH 31 – 10:00 PM
Clumped in your history book between the chapters on French Revolution and pioneering 18th century erotic fiction grows a horny, pornographic mold called MARQUIS.
Immersed in a world in which uncanny animal masks mirror the spirit of the character within, a canine Marquis de Sade serves a prison sentence for allegedly raping the bovine Justine… but the situation may be more complicated than it seems. In between bouts of banter with his anthropomorphic, meter-long penis Colin, the Marquis gets down to writing a few of his more infamous scenes—many depicted in surreal claymation. Before too long the Revolution has begun, but where will it leave the Marquis?
Co-written by Henri Xhonneux and Roland Topor—animator of 1973's inimitable surrealist classic "Fantastic Planet"—MARQUIS's bizarre tone swings at will between irreverent perversion and clear-headed satire, never failing to entertain and utterly confound.
"This is one of the strangest movies I have ever seen. I found it to be discomforting and just weird. It makes you squirm in your seat and wonder what the people making this are like in real life. It's definitely entertaining and it sort of sucks you in, especially if you don't know French and have to read subtitles. It is certainly not American and it is certainly very peculiar. I have never seen a movie where everyone is wearing life-like animal costumes and acting like humans in very abnormal ways. This movie gives me the chills. However, I would watch it again just because it is so fascinatingly WEIRD." —IMDB user 'ethylester'
"NOT FOR THE PRUDISH." —Variety