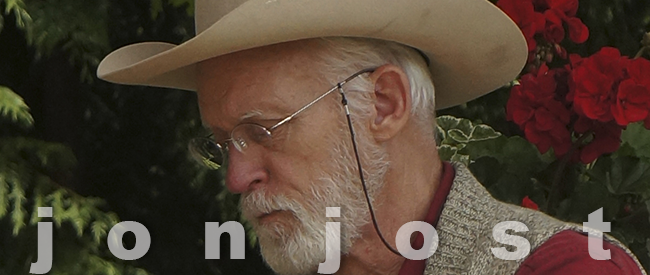 "Perhaps Jost's work doesn't reach a wider audience because he works in an uncompromising fashion and on a shoestring budget with nonprofessional casts. The perverse irony is that although his films aren't readily accessible in theaters, they are in themselves highly accessible." -Kevin Thomas, LA Times
Despite theatrical releases of his films All the Vermeers in New York (1990) and The Bed You Sleep In (1993), Jon Jost remains virtually unknown to moviegoers. A founding member of Newsreel, the leftist filmmaking collective, and a hardcore experimentalist in his early career, Jost has made 34 feature films, all of which he has written, directed, shot, and edited (and most he has also produced). His films are about what drive people, about psychology and society, and about expressing the interior of individual thought. In many ways, his films are about communication.
Jost is foremost a visual filmmaker, using images to express the inner thoughts and feelings of his characters. His cinema possess a type of naturalism rarely seen in narrative works, and through the occasionally rough delivery of his actors, as well as his own technical experimentations, he consistently foregrounds the cinematic process. His practice is "more concerned with evoking a place, time, and milieu than with a dramatically shaped story" (Jonathan Rosenbaum) and has been compared to John Cassavetes, Jim Jarmusch, and Robert Bresson.Though he has worked abroad, the majority of Jost's films are broadly concerned with the American experience, and in particular the pressures that can be created by notions of masculinity in this culture. We're extremely thrilled to welcome Jost to Spectacle present two vintage Jost films from the decade leading up to his first theatrical release, as well as two recent works that return to Jost's experimental roots.
---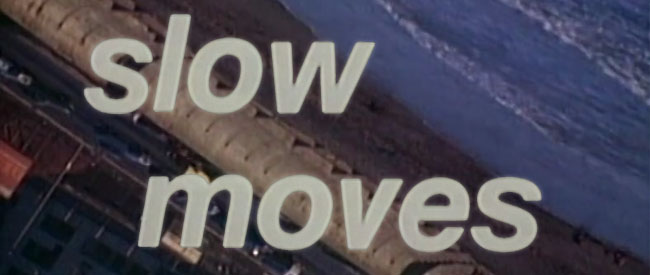 SLOW MOVES
Dir. Jon Jost, 1983
USA, 93 min.
SATURDAY, FEBRUARY 22 – 10PM
DIRECTOR IN ATTENDANCE!
SLOW MOVES chronicles a love story about two somewhat forlorn characters, both of them loners. Julie (Roxanne Rogers) is a native Californian who has been living in San Francisco for about four years. a highly disciplined, hard-working young woman. Jeff (Marshall Gaddis) is an out of work construction worker specializing in handling steel girders at great heights who's lost his nerve after a minor injury. The two meet on the Golden Gate Bridge and after a brief and awkward courtship, live together with the usual problems of money and work. They are not particularly happy together; they have nothing better to do. Sometimes, she says, there's "this incredible connection, then sometimes it's just gone." After struggling to find happiness in SF, they find a sense of illusory freedom following the American dream of the open road. The film's long takes play with the films title and evoke in the film of a sense of tragic inevitability.
Shot in 5 days on a budget of $8,000 with an improvised script, the film contains minimal dialogue, with most of the story told through narration by the main characters, as well as (presumably) the filmmaker himself. It is a film about filmmaking itself, its production foregrounded in one of its opening scenes as Julie's narration comments on a suicide that happened "when we were making this film." Perhaps the greatest instance of this foregrounding occurs when the two visit a camera obscura, a particularly long scene where I tour guide gives an oral history of photography. We are told that this world of ours contains so many people and so many stories. This couple provides just one of those stories and "like most people, they did not tell their story well."
"… it is quite serious about demonstrating how the simplest of plots can be visually manipulated into a vehicle of tension and suspense. Technique is layered upon technique, all the while pushing the story forward to its shabby and oddly affecting little conclusion. Slow Moves deserves all the exposure it can get."  – John J. O'Conner, The New York Times
---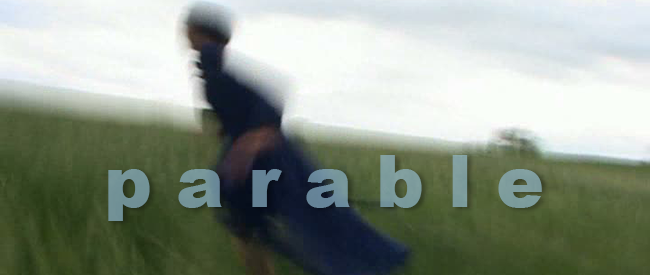 PARABLE
Dir. Jon Jost, 2008
USA, 72 min.
SATURDAY, FEBRUARY 22 – 8PM
DIRECTOR IN ATTENDANCE!
"Nebraska, 2007.
A parable of the Bush era; swiftly jumping genres, a cowboy surrogate/Bush is thrown out of his house, is picked up by a man who needs a driver, buddy-bonds with him, they sing a Christian camp song, do a robbery and killing, and cowboy then rapes and shoots his new buddy. We arrive in a bucolic farm where a woman is kept on a rope, a man attempts to untie a knotted rope; and after a long and weird interlude including some heavy breathing, the cowboy arrives, seduces and is screwing the woman, and is killed and dumped with other bodies from Abu Ghraib.
PARABLE works on a visual and visceral level for which a synoptic summary is impossible. It is a reflection of The Time of Bush in America, a squalid period of corruption equal to our country's worst, or, as if possible, even the worst. The film tackles this era with a melange of genres typical of our culture, a culture which distills in reality down to cartoons and in which a trajectory from domestic melodrama leads axiomatically to Abu Ghraib. PARABLE is history as farce, an American tragedy limned by the Flintstones and Simpsons, where seriousness has been subsumed by "reality TV," and the populace has been reduced to zombie-like consumers busy eating themselves." – JonJost.com
---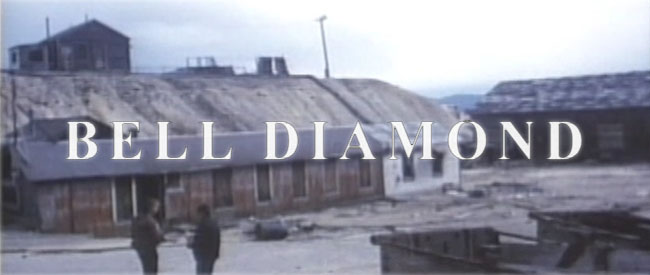 BELL DIAMOND
Dir. Jon Jost, 1986
USA, 96 min.
SUNDAY, FEBRUARY 23 – 7PM
DIRECTOR IN ATTENDANCE!
Marshall Gaddis (also named Jeff) returns in similar role, playing an out of work Vietnam Vet in Butte, Montana. His wife, Cathy, (Sarah Wyss) leaves him after seven years when she feels there is no longer communication between them and – more painfully and pointedly – because she is unable to have a child owing to his sterility from exposure to Agent Orange. The characters spend a lot of their time talking about their problems with no sense of how to solve them, and there is a real sense throughout that the problems of the characters are due to circumstances beyond their control.
Exploring these circumstances, in many ways, the film is just as much about Butte as the relationship. Using real time, Jost links Jeff's story to that of American labor history (in a brilliant sequence), and the film is peppered with some of the finest pictorial representations of the working-class West imaginable – cloud filled skies, cyclone fences, desolate factories, pipelines, old tanks. In a particularly telling scene, Jeff and his friends break into the old Bell Diamond copper mine, from which they was laid off when it closed down.
"Among the ten best of the year. Formally exquisite and politically pointed study of an alienated Vietnam vet against the background of a bankrupted mining town."  – Dave Kehr, Chicago Tribune
 "… with a story developed by the filmmaker and cast and completely improvised, the film deals with characters who are neither articulate nor particularly attractive, but pays them the kind of respect and attention that they would never receive from other quarters. Visually Jost's most impressive work to date. The impact of the film's original form of realism arrives only gradually, but once it registers, it becomes indelible."  – Jonathan Rosenbaum, Chicago Reader
---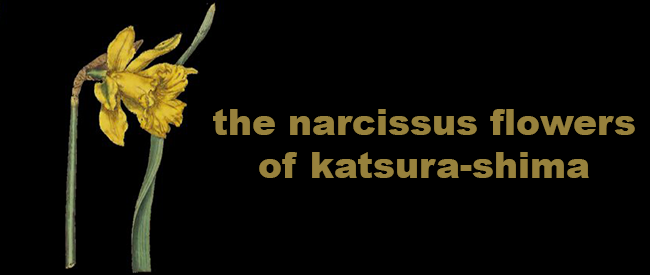 THE NARCISSUS FLOWERS OF KATSURA-SHIMA
Dir. Jon Jost, 2012
Japan, 76 min.
In Japanese with English subtitles.
SUNDAY, FEBRUARY 23 – 5PM
DIRECTOR IN ATTENDANCE!
"THE NARCISSUS FLOWERS OF KATSURA-SHIMA was shot on a small island off the coast of North Eastern Japan, six months after the earthquake and tsunami of March 11, 2011. A work of elemental simplicity, it shows the aftermath of this catastrophe on the island, and allows the inhabitants ample space to tell the stories of the day of the disaster and its impact upon them and the island. Embroidered with several Japanese traditional poems and haunting imagery, this film seeks to enter into the living reality of these simple fishermen and women." -JonJost.com