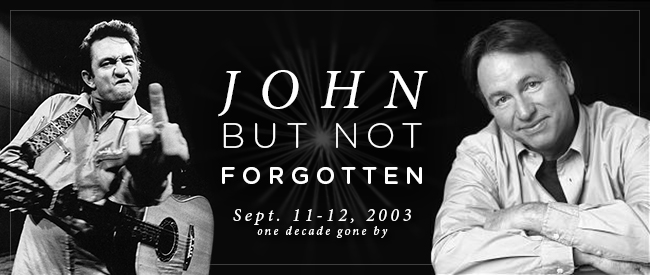 JOHN BUT NOT FORGOTTEN
The Day We Lost Ritter and Cash: A Screening Tribute
WEDNESDAY, SEPTEMBER 11 – ONE NIGHT ONLY!
One bitter fall evening, during a span of three hours caught in the space between September 11 and 12, 2003, we lost two great entertainers: Johnny Cash and John Ritter. One decade after this tragedy, Spectacle celebrates the only way it knows how: by showing an obscure movie in which Johnny Cash plays a psychotic guitar-slinging killer, and a hilarious made-for-TV cheesefest about John Ritter getting carjacked in front of a Starbucks and moving his family to a techno-totalitarian gated housing community.

---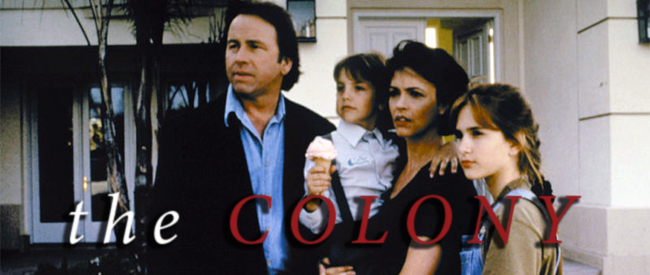 THE COLONY
Dir: Rob Hedden, 1995.
84 min. USA.
WEDNESDAY, SEPTEMBER 11 – 7:30 PM
In this probably-made-for-theaters, dumped-to-TV gem, John Ritter plays a loving father and electronic security consultant who grows concerned about the crime is spilling from the city into the WASP-y suburbs. After being carjacked in front of a Starbucks, he urgently packs up his family and moves to The Colony, an idyllic gated housing community owned by his employer where all needs are provided for — except, perhaps, freedom. It begins as Ritter is cited for improper jogging attire, and continues with the eerie reprogramming efforts of the local school, who make the kids in Village of the Damned look like undisciplined riff-raff. As Ritter moves up the corporate ladder, he becomes emboldened to speak up: but at what cost to his family's true security?
An overlooked LOL-a-minute gem from the genius who brought you Friday the 13th Part VII: Jason Takes a Soundstage in Vancouver, THE COLONY is a total cheesefest that nevertheless spotlights John Ritter's irrepressible World's Greatest Dad appeal.
Advisement: THE COLONY is being presented uncut in its original aspect ratio with watermarks from the television station it was recorded off of.

---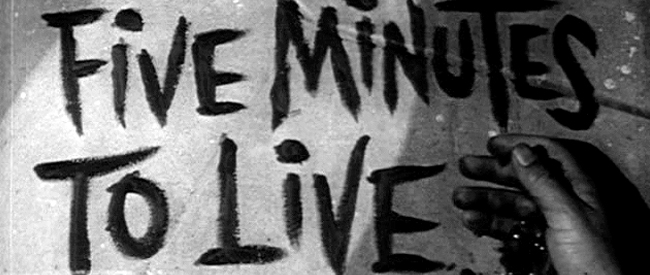 FIVE MINUTES TO LIVE
Dir: Bill Karn, 1961.
75 min. USA.
WEDNESDAY, SEPTEMBER 11 – 10:00 PM
The first and greatest of only two Johnny Cash acting roles finds the Man In Black playing up his badboy appeal to shocking extremes that must be seen to be believed. A forerunner of movies like The Sadist and the home invasion genre, FIVE MINUTES TO LIVE stars Cash as "Johnny," a psychotic guitar-slinging bank robber who hides out in a suburban town to cool down after icing the fuzz during a botched job. There, after killing his girlfriend in cold blood, he gets roped into a new scheme: he'll break into the home of a bank president and hold his wife hostage while his partners carry out the job, the condition being that if he doesn't receive a phone call every five minutes to reassure him that the job is continuing as planned, the wife will be killed. The majority of this film details the shameless sadistic glee with which Johnny torments his victim, turning the screw ever tighter as the seconds tick by.
A terse, lurid thriller, FIVE MINUTES TO LIVE is a pat yarn enhanced by its low-budget appeal. It's an at once surprisingly and understandably overlooked gem: you've never seen Cash this morally bankrupt before.
Advisement: This film contains non-graphic scenes of sadistic violence that may disturb some viewers.