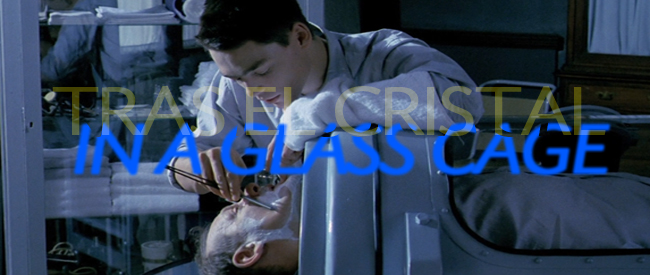 TRAS EL CRISTAL
aka IN A GLASS CAGE
Dir. Agustí Villaronga, 1986.
Spain. 111 min.
In Spanish with English subtitles.
SATURDAY, APRIL 5 – 7:30 PM
TUESDAY, APRIL 8 – 10:00 PM
FRIDAY, APRIL 11 – 7:30 PM
WEDNESDAY, APRIL 23 – 10:00 PM
IN A GLASS CAGE is projected in pristine 1080p High Definition courtesy of Cult Epics' 2011 Blu-ray restoration. 
[Trigger Warning: Sustained, recurring scenes of torture and sexual abuse—frequently involving children—presented in harsh, unsparing tones with a palpable, fascist historical context.]
A deeply unnerving film situated in the middle of a variety of genre film lineages, Agustí Villaronga's IN A GLASS CAGE blends morose, art-house chamber drama with psychologically-challenging giallo horror and unflinching exploitation film brutality into a force of will that will likely plant itself in your mind forever.
The narrative is historically-weighted yet mostly hedged in back-story. Death-camp Nazi doctor Klaus (
Günter Meisner
) flees to Spain after the Holocaust, where the emotional toll of his systemic, compulsive physical and sexual abuse of children during and after the war leaves him suicidal. A botched attempt lands him immobilized in an iron lung, cared for by his tormented wife Griselda (
Marisa Paredes
) and innocent young daughter Rena (
Gisela Echevarria
). Soon, a strange and aggressive man (
David Sust
) arrives and takes control of Klaus' care… at the elder man's insistence. Inspired by the notorious, prolific 15th century child-killer Gilles de Rais, Villaronga immediately tapped Günter Meisner (multiple-time Adolf Hitler,
Willy Wonka & The Chocolate Factory
) for the role of Klaus, but the actor refused, disgusted with the content of the film. Eventually, he relented, claiming—apocryphally—that he could not get the script out of his mind. Meisner himself had been in a Nazi death camp as a youth. This marked the first film for Catalan writer/director Agustí Villaronga, who would go on direct
Black Bread
(2010), winner of numerous Gaudí and Goya awards and the first Catalan-language film to be shortlisted for the Oscars.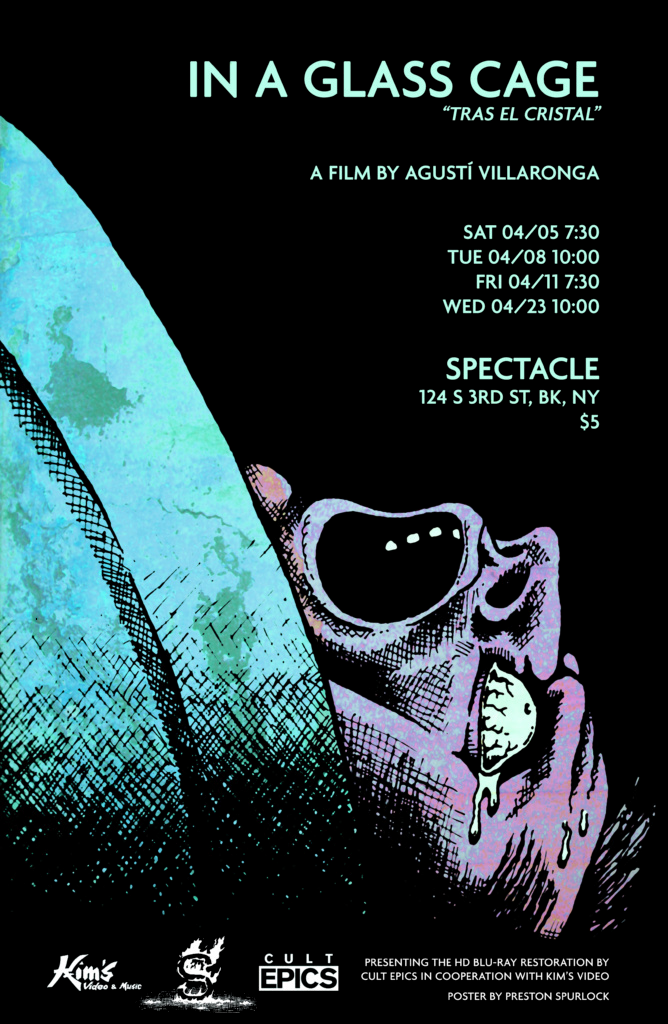 Poster designed by Preston Spurlock.
A huge thanks to Nico B. from Cult Epics.
This is the first film in a regular series at Spectacle co-presented by Cult Epics and Kim's Video.
Cult Epics is a DVD/BD/VOD label that specializes in Cult, Horror, Art House, and Erotica films. It has released the work of directors such as Fernando Arrabal, Rene Daalder, Walerian Borowczyk (The Beast), Agustí Villaronga (In A Glass Cage), Abel Ferrara (The Driller Killer), Radley Metzger's Erotic Masterpieces "Score," "The Lickerish Quartet" and "Camille 2000" and the majority of Tinto Brass' directorial outings. The label is also home to the "Bettie Page" films and Nico B's feature debut "Bettie Page Dark Angel" for fans of the legendary 1950's pin-up icon, as well as various collections of Vintage erotic short films. Other classics include "Slogan" featuring Serge Gainsbourg and Jane Birkin and Jean Genet's "Un Chant D'Amour."
Kim's Video is an NYC institution famous for its long-standing downtown presence as a premiere destination for your media fix. Among thousands of other titles, the store carries the entire line of Cult Epics DVDs and Blu-rays. The current incarnation is located at 124 1st Ave (between 7th/8th St.) in the East Village.