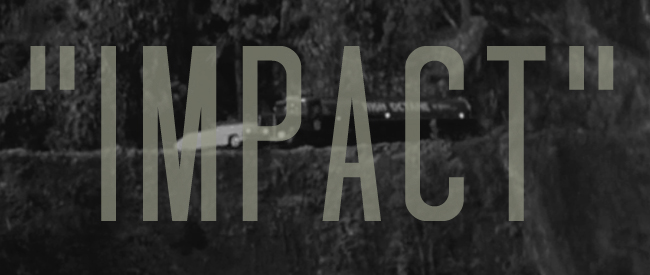 IMPACT
Dir. Arthur Lubin, 1949
USA, 111 min
TUESDAY, SEPTEMBER 3 – 10:00 PM
SATURDAY, SEPTEMBER 14 – 10:00 PM
MONDAY, SEPTEMBER 23 – 7:30 PM
"Hell hath no fury like a [man] scorned."
Noir-staple Brian Donlevy stars in Arthur Lubin's subtle, melodramatic 1949 sleeper IMPACT. Typically relegated to tough-guy supporting roles more suited to his threatening scowl, Donlevy plays very successfully against type as love-struck automotive mogul Walter Williams, a sensitive man who unfortunately puts far too much faith in the wrong sort of gal.
Anything but a strict urban film-noir, Lubin's sunny, meandering picture progresses from tense romantic thriller to on-the-road action flick, moving through thick swamps of melodrama before landing in courtroom theatrics, ultimately proving to be surprisingly cohesive and affecting.
Despite its B-grade production and modest return, Impact also features an unusual number of on-screen brand/product placements for an era in which the practice remained very uncommon. Pioneering trade journal Harrison's Reports –a rag that focused on independent theaters long before the independent film movement (and was also notable for an ahead-of-its-time criticism of film advertising)– notes upon its release that in Impact there are "advertising plugs worked in for such products as Blue Ribbon beer, Raleigh cigarettes, Coca Cola, Mission Orange soda pop, Mobiloil gasoline, oil and tires, Gruen watches, and the trade name, Rexall." Curiously overlooking a Bekins moving van that plays an integral role in one key scene, the review provides evidence that brand exposure was just as offensive to contemporary audiences in its early-stages 65 years ago as it is (to some) in today's Hollywood™. Interestingly, this aspect of Impact merely enhances the film; more than half-a-century's distance lends the practice a paradoxical value, illuminating an authentic aspect of late-1940s America not usually seen on the silver screen.
Finally, keep an eye out for a key location also used prominently in a little film called Vertigo…