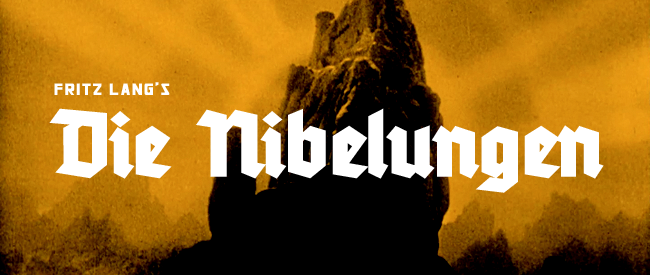 DIE NIBELUNGEN
Dir. Fritz Lang, 1924
Germany. 280 minutes.
Presented in a new HD restoration
Special thanks to Jason Leaf & Kino Lorber
THE ENTIRE NIBELUNGEN SCREENS SUNDAY, JULY 28! SIEGFRIED BEGINS AT 1:00 PM FOLLOWED BY KRIEMHILD'S REVENGE AT 4:00 PM! DON'T MISS OUT!
Long assailed by shoddy prints and jarring, beyond-incomplete edits, Fritz Lang's Die Nibelungen is an undersung silent masterpiece, on par with the biggest and most bombastic works of the 1920s. For sheer scale, its only competition might be Gance's Napoleon, DeMille's Cleopatra or, indeed, Lang's own subsequent Metropolis. But whereas that film – which, like both halves of Die Nibelungen, was co-written by Lang's wife Thea Von Harbou – took a forward creative hurtle in imagining the nuts and bolts of an industrialized dystopia, Die Nibelungen is unabashedly Teutonic, equal parts pastoral daydream and hellish, demon-populated wasteland. Its images weave a snarling, vicious tangle of beauty and cruelty, with subtle flavors of hatred coloring its human drama via Lang's flair for lovingly crafted overacting.
Die Nibelungen is presented in the exquisite remaster released last year by Friedrich-Wilhelm-Murnau-Stiftung from all available negatives, with the full score originally composed by Gottfried Huppertz. Your stupid job, your skyrocking debt, your lingering text messages – abandon them for five hours and treat yourself to a classic adventure story, a film whose sweep and venom see the summer blockbusters of Nolan, Snyder and Abrams arriving out the other end of a paper shredder. Spectacle and Kino are thrilled to present Die Nibelungen this July, because there's "epic" and then there's epic.
---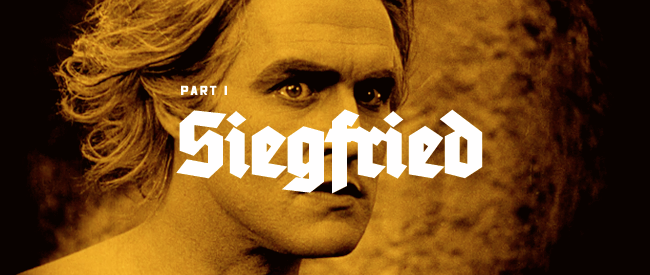 PART I: SIEGFRIED
Dir. Fritz Lang, 1924
Germany. 149 minutes.
SUNDAY, JULY 7TH – 7pm
SUNDAY, JULY 14TH – 7pm
SUNDAY, JULY 28TH – 1pm
Siegfried, the first half, concerns its nominal hero (Paul Richter), an often shirtless young prince who, in Lang's wildly overgrown concrete forests, learns how to forge his own iron. Broadsword in hand, Siegfried handily slays the dragon Fafnir and bathes in its blood, a signature sequence that sees our hero battling a 60-foot monster operated by nearly a dozen special effects artists, cocked and loaded with a real flamethrower in its skull! The battle with Fafnir begins a serpentine spree of conquest that sees him quickly rising to the top ranks of the savage metalsmith mutants of the mountain, the Nibelungen.
Of the two episodes, Siegfried is the more phantasmagoric – his travels take him from one jaw-dropping vista to another, ultimately joining the elites of Burgundy, where he begins a torturous love affair with the princess Kriemhild (Margarete Schön.) Lang's first film in this massive gold-plated diptych ultimately becomes a story a pack of crazy-eyed romantics; Siegfried makes for a surprisingly dark-sided hero, equally propelled by a romantic desire and a bottomless thirst for power. The ensuing love triangle between him, Kriemhild and her warrior-princess sister-in-law Brünhild (Hanna Ralph) steers the second episode's course forever.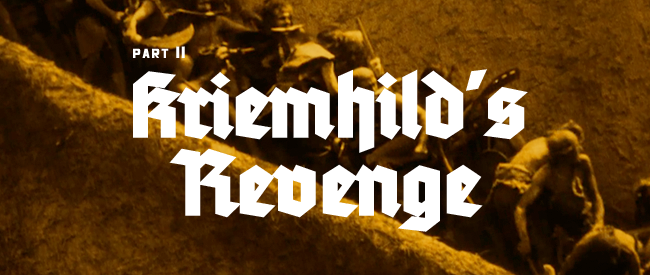 PART II: KRIEMHILD'S REVENGE
Dir. Fritz Lang, 1925
Germany. 131 minutes.
SATURDAY, JULY 13TH – 7pm
THURSDAY, JULY 25TH – 7pm
SUNDAY, JULY 28TH – 4pm
Kriemhild's Revenge, the ominously titled second half, dwindles whatever fanciful spirit remains down to a nub in its slow march into catastrophe. Kriemhild uses the gold of Siegfried's Nibelungen comrades as a bargaining chip to keep her own kingdom in check; soon a messenger arrives with a marriage proposal for her – from Atilla The Hun. Kriemhild travels east, and bears the famous death-mongerer a son – but even this is revealed as a mere gesture, part of her overall scheme to exact vengeance on her brother's in-laws. Piling up dusty corpses on the steps of impossibly grand castles, Kriemhild teases the Hun and Burgundian empires into a bitter, sprawling deathmatch.
The insanity of Brünhild and the superhuman power of Siegfried meld into Kriemhild's tunnelvision in a flash. For neither the first nor the last time in his career, Lang inverts a character's deep well of personal pain into a force of blind, corrosive fury leaving none unspared. The director's obsessiveness – stadium-sized ornamentalism, uncanny double-exposed sunflares, etc – apparently carried into the night of Die Nibelungen's premiere, when taxis delivered fresh-printed reels direct from his edit station to Germany's biggest movie theater. It is indeed easy to imagine Lang reworking the film forever; every shot shimmers with perfection.