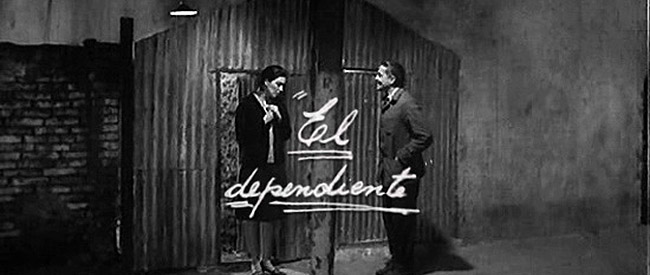 EL DEPENDIENTE
Dir. Leonardo Favio, 1969.
78 min. Argentina.
In Spanish with English subtitles.
TUESDAY, NOVEMBER 12 – 10:00 PM
SUNDAY, NOVEMBER 24 – 7:30 PM
SATURDAY, NOVEMBER 30 – 7:30 PM
Next month we launch our third annual Best of Spectacle, a look back at some of our highlights from the previous year. In anticipation, we revisit a gem from 2012 that didn't make last year's series.
Despite being considered by a handful of Spectacle programmers as one of the greatest movies we've ever shown, El Dependiente played to empty houses: here's your chance to catch up with a guaranteed mindblowing, where-has-this-movie-been-all-my-life experience.
El Dependeinte is the third feature directed by Leonardo Favio, Argentina's own Gainsbourgian renaissance man with the dual distinction of being a '60s and '70s pop icon and accomplished filmmaker. Whereas his first two features bear out of the influence of his mentor, Leopoldo Torre Nilsson, and Robert Bresson (and Crónica de un niño solo strongly suggesting Vigo's Zéro de conduite), El Dependiente is another beast entirely that can perhaps only be compared to the startlingly similar Eraserhead (1977) in its suffocating portrayal of abject dread brutally punctuated with disturbing, absurdist humor.
Walter Vidarte plays the title clerk, who works in a hardware store in a desolate provincial town. He ashamedly finds himself indulging in fantasies of the accidental death of his kind employer so that he one day might inherit the store. Each night on his way home he becomes transfixed by a gorgeous young woman lurking under the street light. His approaching her eventually leads to a string of muted nocturne encounters in the girl's dilapidated coutryard that grow increasingly anxious under the auspices of her doting, manically overbearing mother.
Filmed in a stark chiaroscuro rife with vast, empty spaces, eerie ellipses and an almost palpable sense of the forlorn curdling into a brooding menace, El Dependiente is, despite its considerable humor and charm, an ever-tightening knot in the stomach and one of the most abstruse, perplexing anti-date movies ever made.