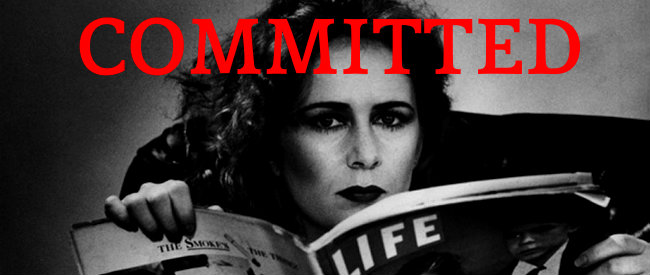 COMMITTED
Dir. Sheila McLaughlin & Lynne Tillman, 1984
USA, 77 min. 16mm.
TUESDAY, NOVEMBER 19 – 7:30PM – ONE NIGHT ONLY!
MCLAUGHLIN & TILLMAN IN ATTENDANCE FOR Q&A!
Special thanks to the New York Public Library!
My favorite patient, a display of patience,
Disease-covered Puget Sound
She'll come back as fire, And burn all the liars,
leave a blanket of ash on the ground
"Frances Farmer Will Have Her Revenge on Seattle" — Nirvana
No one ever came to me and said, "You're a fool. There isn't such a thing as God. Somebody's been stuffing you." It wasn't a murder. I think God just died of old age. And when I realized that he wasn't any more, it didn't shock me. It seemed natural and right.
From God Dies — Frances Farmer
Frances Farmer was born in Seattle in 1913. The myths surrounding her life are perhaps better known than the details. She was an actress on stage and screen through the mid 1930's-40s, and was the subject of multiple scandals and sensationalized accounts. Despite her attempts at launching a serious career in the theater, Farmer was often cast as a harlot in B-movies at Paramount Pictures. After arrests for drunk driving and assault, Farmer was involuntarily committed to a mental institution. She spent the next seven years institutionalized, five of those years in Western State Hospital in Steilacoom, WA, receiving insulin shock and shock therapy, and even, rumor has it, a transorbital lobotomy (though there are many deniers and little proof.) Farmer was released in 1950 under her mother's custody and her full civil rights weren't restored until 1953.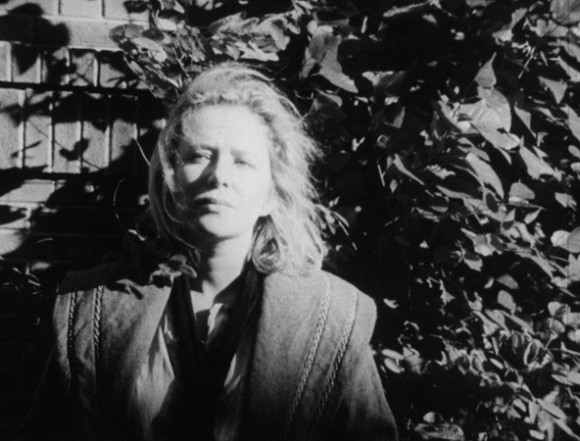 COMMITTED (1984), co-directed by Sheila McLaughlin and Lynne Tillman, is a narrative film of the story of Frances Farmer. Highly scripted and shot in the style of 40s noirs, McLaughlin and Tillman construct a film narrated by Farmer (played by McLaughlin), in which she tells her side of the story, as "neither victim nor heroine." COMMITTED focuses on the troubled relationship between Farmer and her mother, and examines social and political norms of the time, including the burgeoning use of psychiatry to cure "undesirables" and "disturbed" women.
The kind of horror we were dealing with was an institutionalized horror, not necessarily the most virulent physical violence, but a different kind of violence, which is the violence against ideas and the violence of the family, or the violence of psychiatry in its treatment of patients. — Lynne Tillman
Directed by Sheila McLaughlin and Lynne Tillman and starring McLaughlin, Victoria Boothby and Lee Breuer, a 16mm print of COMMITTED (1984) will be presented one night only on Tuesday, November 19th, 7:30 PM. McLaughlin and Tillman will be in attendance for a Q&A!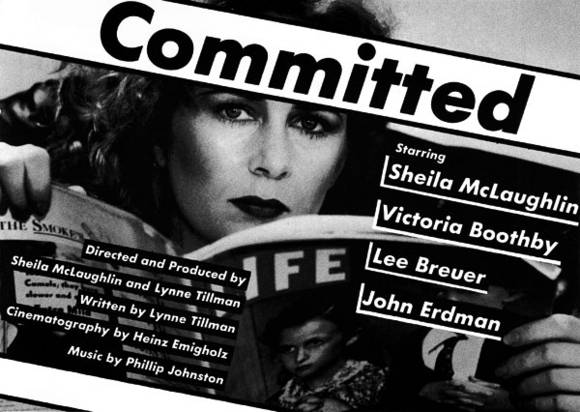 Poster by Barbara Kruger
COMMITTED courtesy of the Reserve Film and Video Collection of The New York Public Library for the Performing Arts.
*Read the full essay God Dies by Frances Farmer, written as a high school senior, which won her First Place and $100 in a contest sponsored by The Scholastic in 1931. "If the young people of this city are going to hell," one Baptist minister reportedly told his congregation, "Frances Farmer is surely leading them there."
Other quotes from:
Lamche, Pascale. "Committed Women." Framework 0.26 (Jan 1, 1985): 39.