Every year we go through an elaborate electoral process, rife with corruption and tampering, which produces the BEST OF SPECTACLE for the month of January. 2017 was best experienced in a small, dimly-lit room, as can be deduced from the 22 films below. These will be their last screenings at Spectacle for quite some time, so come relive these pleasures or freshly experience the best of the best.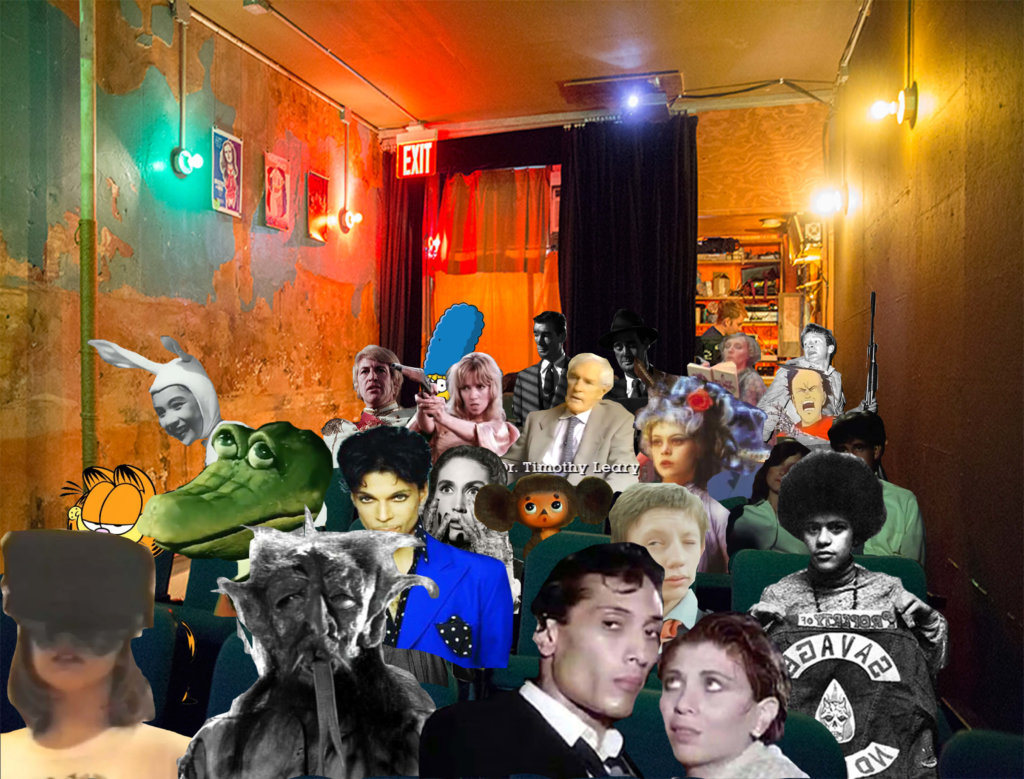 (Photo of the Best of 2016 crowd)
---


DANCE GODDESS
dir. Hamid Khan, 1987
82 min, USA
In Urdu w/ English subtitles.
FRIDAY, JANUARY 5 – 7:30 PM
WEDNESDAY, JANUARY 10 – 7:30 PM
TUESDAY, JANUARY 16 – 10 PM
FRIDAY, JANUARY 26 – 7:30 PM
Over the years, the Grand Ballroom at 124 S. 3rd St. has played host to many a lost musical – the nearly-mythical ROCK N' ROLL HOTEL, the dearly melancholic DOOMED LOVE – and now, it is with great pleasure that we announce the world premiere of a film orphaned for 30 years…Hamid Kahn's DANCE GODDESS.
After moving to America and having a successful career as a real estate attorney, Hamid found he missed the culture of India, particularly the movies and music. He dreamed of making the first American Bollywood movie, and so he wrote, produced, and directed DANCE GODDESS. Sparing no expense, he hired the best cinematographer, best dancers, and obtained permits to shoot scenes all over the city. To market the film internationally, all of the original actors dubbed their lines in both English and Urdu, and Kahn filmed alternate versions of every song in both languages. We will be presenting both versions of the film throughout the month.
The film follows Julie, who arrives at New York City's Kahn Dance Studios from London with but a simple dream – to be the greatest dancer in the world. She has a fire in her heart and believes with the right connections, she won't need luck. Julie immediately strikes a rapport with lead dancer Mike…much to the chagrin of Mike's dance partner and secret/not-so-secret girlfriend and weed addict Maggie. Julie and Mike mesh so well from the jump they begin singing the film's first song, "Dream On", to the applause of their classmates. Has Doc (the director himself, Hamid Kahn) found his proverbial DANCE GODDESS?, he wonders aloud. Soon, Julie finds herself embroiled in a struggle between her heart's desires (Mike) and her dreams (dance). Why can't she have both, she wonders aloud a number of times? With the help of Doc, Julie meets up with Jack – a famous producer – who promises to get her all the way to Broadway.
DANCE GODDESS hits the ground twirling (ever twirling) around 80's Manhattan with a huge dance sequence taking place in the middle of Times Square ("It's the heart of New York!" Mike tells Julie), complete with gawking tourists and rubbernecking locals. Marvel at the marquees of long lost theaters advertising hits like THE LOST BOYS, DISORDERLIES, WARRIOR OF SHAOLIN, THE TORMENTORS, and more! Delight in typefaces gone by and cheer for banks that no longer exist. The fashions, the passions, and the beat of the city abound in DANCE GODDESS' all-singing, all-dancing kaleidoscope.
We're pleased to announce director Hamid Kahn will be on hand for several screenings for an intro and Q&A about the film.
Special thanks to the director and to David Ginn without whom this would not have been possible.
---


DARK STAR
dir. John Carpenter, 1974
83 min, USA
MONDAY, JANUARY 1 – 10 PM
FRIDAY, JANUARY 12 – 7:30 PM
WEDNESDAY, JANUARY 24 – 10 PM
Much like Dennis Muren's almighty EQUINOX, DARK STAR was first made as a 68 minute 16mm student film by John Carpenter – with writing assistance from Dan O'Bannon, who also stars as Sergeant Pinback. Theatrical rights for DARK STAR were scooped up by Harris who provided funding for an additional 15 minutes of filming and a 35mm transfer. Upon completion he unleashed it on an unsuspecting public. The film cost a mere $60,000; in addition to gaining cult status and a seat at the throne of midnight movies, it would also launch the careers of Carpenter (VAMPIRES, GHOSTS OF MARS, THE WARD) and O'Bannon (DEAD & BURIED), alongside heavyweights like Ron Cobb (Disney's SLEEPING BEAUTY) and Greg Jein (who won an Academy Award for CLOSE ENCOUNTERS OF THE THIRD KIND) lending their visual and effects talents.
Only five years after DARK STAR, O'Bannon would reuse many of the ideas in what would become the sci-fi juggernaut ALIEN – including a restless game of mumbly peg, a face hugging extraterrestrial, and a claustrophobic chase scene through the air shafts.
While often tossed off as a stoner-grade spoof of 2001: A SPACE ODYSSEY, Carpenter's film is at its core about loneliness. After spending two decades blowing up unstable planets together, this shaggy crew have grown to loathe each other, even forgetting each others' first names. Beyond one another and the ship's computer, their lone conversationalists are the smart bombs aboard the ship prior to their release.
Despite the cramped space and lack of real sleeping quarters after a collision with an astroid, they each manage to find isolation in their own ways. Talby retreats to the observation dome atop the ship after the death of Commander Powell, preferring the vast emptiness of space to his human companions. Lt. Doolittle slinks off to a secret nook to hone his craft on a makeshift organ of sort comprised of bottles pitched with water. Boiler takes great pleasure in bullying and antagonizing Sgt. Pinback – whose constant attempts at revelry and (albeit forced) camaraderie only serve to make him the resident scapegoat. Even the late Commander Powell, encased in ice below the hull, remarks to Doolittle (via telepathy) that it's been so long since someone came to visit him. The film certainly has moments of humor, but even these are often solely for the amusement of the viewer, with the events happening to isolated individuals only to be relayed to the group after the fact. Everyone has stopped listening to one another, with phrases lazily repeated back and forth over tubes of liquid ham. In a rare moment at breakfast between Talby and Doolittle the men bond over their two opposite desires. Talby longs to see the fabled "Phoenix Astroids" deep within the Veil Nebula, while Doolittle pines for the California surf back on Earth. Not long after, Talby is pulled into space from out of the malfunctioning airlock and Doolittle fails to dissuade a bomb from detonating aboard the ship: in a perfect cacophony of celebration and sorrow, both men get what they want as the credits roll. For us DARK STAR comes as the bittersweet end of our humble tribute to a cinematic giant.
---


DAY OF THE WOLVES
dir. Ferde Grofé Jr, 1971
90 Minutes, USA
TUESDAY, JANUARY 2 – 7:30 PM
THURSDAY, JANUARY 25 – 7:30 PM
SUNDAY, JANUARY 28 – 5:00 PM
Original Trailer from July '17:

In this post-Western, neo-noir heist film, a cadre of bearded thieves, each identified only by number, with no name, conspire to rob an entire town. Clad in black jumpsuits and wielding submachine guns, they have little trouble taking the whole village's populace hostage, but Sheriff Pete Anderson isn't going to take that kind of antisocial behavior lying down. Outmanned, outgunned, and with the lives of his family, friends and constituency at risk, Anderson fights back! Starring noir veteran Richard Egan (Slaughter on 10th Avenue) and venerable Borchst Belt comedian Jan Murray (aka Uncle Raymond on "My Two Dads").
---


THE PINK EGG
Dir. Jim Trainor. 2016
USA, 71 min.
TUESDAY, JANUARY 2 – 10 PM
THURSDAY, JANUARY 25 – 10 PM
Luis Buñuel's observation – "You can find all of Shakespeare and de Sade in the lives of insects" – was the bulb that drew chronicled Chicago-based anthropomorphic animator, Jim Trainor, to illuminate this troublingly experimental entomology, in which human actors wordlessly enact the emotional life-cycles, ever-complicated sex lives, and savage dinner plans of wasps and bees. Once quoted as saying, "If my films were live-action, I'd probably be jailed," Trainor unearths this puzzlingly stylized depiction of nature in all her deceitful HD glory.
---


A GRIN WITHOUT A CAT (Scenes from the Third World War 1967-1977)
aka LE FOND DE L'AIR EST ROUGE (The Base of the Air Is Red)
Dir. Chris Marker, 1977/1992
France, 180 min. (in two parts with a break in the middle)
In French, English, German, Japanese, Russian, Czech, Spanish, and more with English subtitles.
SUNDAY, JANUARY 14 – 5:00 PM
A GRIN WITHOUT A CAT is Chris Marker's epic film-essay on the worldwide political wars of the 60's and 70's: Vietnam, Bolivia, May '68, Prague, Chile, and the fate of the New Left.
The original French title is roughly translatable as "The Base of the Air is Red," referring to the high hopes of the radicals at the time built on a foundation of air. Released in France in 1978, restored and "re-actualized" by Marker fifteen years later (after the fall of the Soviet Union), A GRIN WITHOUT A CAT is a masterpiece. Described by Marker as "scenes of the Third World War," the film is divided into two parts, each weaving together two strands:
Part 1: Fragile Hands
1. From Vietnam to Che's death
2. May 1968 and all that
Part 2: Severed Hands
1. From Spring in Prague to the Common Program of Government in France
2. From Chile to – to what?
From 1967 (the year Marker argues was the real turning point) on, A GRIN WITHOUT A CAT is a sweeping, global contemplation of a defining ten years' political history.
"A film without a dogma, celebrating the promise of socialist ideas (the grin) while realizing that the brave new world they envision (the cat) remains elusive and intangible as its twentieth-century trial runs slip farther into the past… On a deeper level, A GRIN WITHOUT A CAT is an essay on historical memory itself." —David Sterritt, Cineaste
"No scan of Marker's redoubtable career achievement is complete without strapping oneself to this restless behemoth of a historical documentary… Along the way, Marker is a master weaver of colliding perspectives, forgotten stories and unanswered questions… the poetic questions he raises are never less than stunning." —Michael Atkinson, Sight & Sound
"Much more than a weapon, more than a history lesson intended to provoke our revolutionary consciousness, this feature film is the result of lucid reflection and profound honesty." — Michel Perez, Le Matin, November 25, 1977
"A beautiful poem in red, luminous with sensitivity and intelligence." — Serge Richard, L'Unité, December 9, 1977
"This film is a mirror held up to each of us, a mirror that wanders through all the paths that we have taken or crossed (Vietnam war protests, pro-Latin America movement, May of '68, the rise and fall of the Left) and encourages us to reflect along with it about the journey and its goal." — Regis Debray, Rouge, December 28, 1977
"Image, imaginary, imagination, imagery… and revolution. Chris Marker delves into his enormous reservoir of images from the past ten years, both official and candid, sorts, selects, puts them into perspective, in context, into opposition, and by allowing us to re-see, to re-read our recent past, attempts to imagine the future." — Alain Remond, Telerama, December 3/9, 1977
"A trial for the viewer: One cannot absorb four hours of so much history, kneaded, tormented, perpetually reexamined, without wondering if the end of the world is not near. To interpret the film in that way would be to betray its meaning, and that is where Chris Marker's work becomes somewhat like a mirror held up to our awareness: not a traditional humanist awareness, but an active awareness. That is where progressivism regains meaning. And especially, that is where film now asserts itself as the possible and practically indispensable tool of awareness, to put back into perspective so many dashed hopes, so many betrayals." — Louis Marcorelles, Le Monde, November 5, 1977
"Fifteen years later, his work as a filmmaker has the density of a Pierre Bourdieu sociological survey or a Fernand Braudel historical opus… In this thoughtful exercise in style, A GRIN WITHOUT A CAT teems with lost illusions, but no errors. Finally, Chris Marker's film is being used rather than abused. The reason undoubtedly resides in this little phrase slipped into the second episode: 'You never know what you're filming. Until years later.' In 1993, A GRIN WITHOUT A CAT accomplishes the tour de force of avoiding three potential pitfalls. It is not a likable witness to times past; it is not a summation, and still less the act of contrition of a lost generation. It is all about memory and social anthropology." — Michel Chemin, Libération, April 1993
---


YOUR VICE IS A LOCKED ROOM AND ONLY I HAVE THE KEY
Dir. Sergio Martino, 1972.
Italy. 97 min.
In English
SUNDAY, JANUARY 7 – 7:30 PM
MONDAY, JANUARY 15 – 7:30 PM
TUESDAY, JANUARY 30 – 10 PM
Trailer from October '17:

Made between ALL THE COLORS OF THE DARK and TORSO, YOUR VICE IS A LOCKED ROOM AND ONLY I HAVE THE KEY is a misanthropic, brooding, manipulative and beautiful treatment of Edgar Allen Poe's story "The Black Cat." It also has a drunk (racist, incestuous, loathsome) author getting J&B shipped by the crate to his house, which might be the gialloest thing ever. Fans of Sergio Martino's earlier film THE STRANGE VICE OF MRS. WARDH (from which this film gets it name) might be thrown a bit by the subdued, sullen quality, but it's part of a greater plan, a plan that includes commune freak-outs, slaughtered mistresses, gratuitous POV (on line with Martino's next film, TORSO) and perhaps greatest of all, Edwige Fenech, of whom we can say nothing without getting the vapors. With a storyline that'll satisfy no-loose-ends mystery fans, enough jaw-dropping cinematography and costuming to please the art crowd, and Martino's thoughtful and visceral style (there's also a great Bruno Nicolai score to sweeten the pot), YOUR VICE…might be Martino's finest.
"A film with that wears its dubious morality on its sleeve, "Your Vice Is a Locked Room and Only I Have the Key" is a tasty bit of giallo goodness. Kinky and cruel, it lives up to its purple prose title and will surely satisfy the appetites of Eurotrash fans." -Tenebrous Kate, Love Train For The Tenebrous Empire.
---


SISTERS, OR THE BALANCE OF HAPPINESS
dir. Margarethe von Trotta, 1979.
West Germany. 95 mins.
In German with English subtitles
SUNDAY, JANUARY 7 – 5 PM
WEDNESDAY, JANUARY 17 – 7:30 PM
TUESDAY, JANUARY 30 – 7:30 PM
Margarethe von Trotta's second solo outing is intensely disquieting in the way it drifts from the moody murk of childhood fairy tales to a forebodingly stark present, tracing the pathological relationship between sisters Jutta Lampe and Gudrun Gabriel. One is domineering, the other submissive, and while its safe to say that they never reach the eponymous balance, their familiar machinations end up having melodramatic consequences, both for themselves and others pulled into their orbit.
---


SCRUBBERS
dir. Mai Zetterling
UK, 1982
FRIDAY, JANUARY 5 – 10 PM
THURSDAY, JANUARY 11 – 7:30 PM
MONDAY, JANUARY 29 – 7:30 PM
Original Trailer from Feb '17:

Anyone who has spent any time in an all-girls education, mental or punitive institution will find that Zetterling has captured many essential elements in SCRUBBERS from 1982. SCRUBBERS was the female answer to SCUM, Alan Clarke's 1979 graphic drama about a boy's borstal. Zetterling's film is more colorful and emotional, involving lesbian relationships, separation from children, pigeon-care, and self-harm. There is also plenty of fighting, swaggering, glue-sniffing and bawdy singing. The most iconic scene evokes TITICUT FOLLIES, when the borstal performs a variety show under the banner "Hellhole Bitches: Therapeutic Entertainment from the Psycho Freaks". Featuring 80's anarcho-pop star Honey Bane.
---


THE HELLSTROM CHRONICLE
Dir. Walon Green, 1971. USA, 90 min.
In English.
SATURDAY, JANUARY 13 – 10 PM
THURSDAY, JANUARY 18 – 10 PM
MONDAY, JANUARY 29 – 10 PM
Original Trailer from April '17:

"If any living species is to inherit the earth, it will not be man. We will face competition from a lifeform we arrogantly ignore. We will be overrun, deposed, and succeeded by battalions of mindless soldiers entering the contest with capabilities beyond our imagination. Yes… I'm talking about insects!"
The genres of documentary and science fiction rarely intersect: Documentary captures what is, while science fiction imagines what is not… at least not yet. But it's here where we find THE HELLSTROM CHRONICLE, one of the strangest films to ever win the Oscar for Best Documentary Feature and the perfect dark trip to take on this year's 420.
A sort of ecological horror film, the plot documents the work of an imagined entomologist named Dr. Nils Helstrom. According to the good doctor, unless we open our eyes to the threat of insects, who are mindlessly bent on taking over the world, we will be destroyed. What follows, in stunning 1970s macrophotography, is a parade of sequences that make an argument for the cold brutality of the insect world. As African driver ants consume iguanas whole and locusts destroy fertile farmland, the audience begins to wonder if we shouldn't declare flat-out war on these damn bugs once and for all. A perfect evening for anyone who's ever rolled their eyes at the rose-colored classes of Planet Earth, THE HELLSTROM CHRONICLE is easily the most bizarre nature documentary ever produced.
---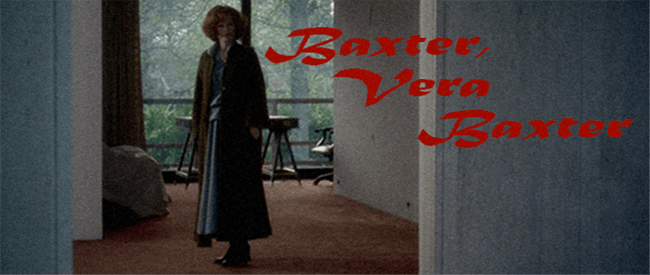 BAXTER, VERA BAXTER
dir. Marguerite Duras, 1977.
France. 91 min.
SATURDAY, JANUARY 6 – 7:30 PM
MONDAY, JANUARY 22 – 10 PM
WEDNESDAY, JANUARY 31 – 7:30 PM
Original Series Trailer from Feb '17:

The masterful Marguerite Duras takes a concept ripe for portentous melodrama — slimy Gerard Depardieu sells his wife (Claudine Gabay) to erase a debt —and minimizes it, radicalizes it, and chills it into droll  satire with an enrapturing cadence. Seyrig plays an unknown woman who is inexplicably drawn to Gabay's Vera when she hears her name. She gradually interrogates Vera, and their conversation becomes entangled with Carlos d'Alessio's omnipresent, repetitive score. Duras' film is an exhausting, rewarding experience, and truly one of a kind.
---


THE BEAVER TRILOGY
Dir. Trent Harris, 1979, 1981, and 1985.
USA, 83 min.
THURSDAY, JANUARY 4 – 10 PM
WEDNESDAY, JANUARY 31 – 10 PM
Original Series Trailer from July '17:

"A rivetingly strange, multilayered inquiry into celebrity, obsession, and serendipity." – A.O. Scott, The New York Times
The Beaver Trilogy is a series of three pieces about the same subject: a young man from the small town of Beaver, Utah who is obsessed with Olivia Newton-John. The first piece,"The Beaver Kid" is a documentary. The second piece, "Beaver Kid 2″ is a dramatic work based on the documentary. The third piece,"The Orkly Kid" is yet another dramatic work based on the documentary.
Real life and fiction intersect.
"Yes, this gets the full ten stars. It's plain as day that this fill is genius. The universe sent Trent Harris a young, wonderfully strange man one day and Harris caught him on tape, in all that true misfit glory that you just can't fake. Too bad it ended in tragedy for the young man, if only an alternate ending could be written for that fellow's story. The other two steps in the trilogy do retell the story, with Sean Penn and Crispin Glover in the roles of the young men, respectively. The world is expanded upon and the strangeness is contextualized by the retelling, giving us a broader glimpse into growing up weird in vanilla America. Recommended for anyone and everyone!" — IMDB user 'afkeegan'
Check out this episode of This American Life about 're-runs' that includes the Beaver Trilogy.
---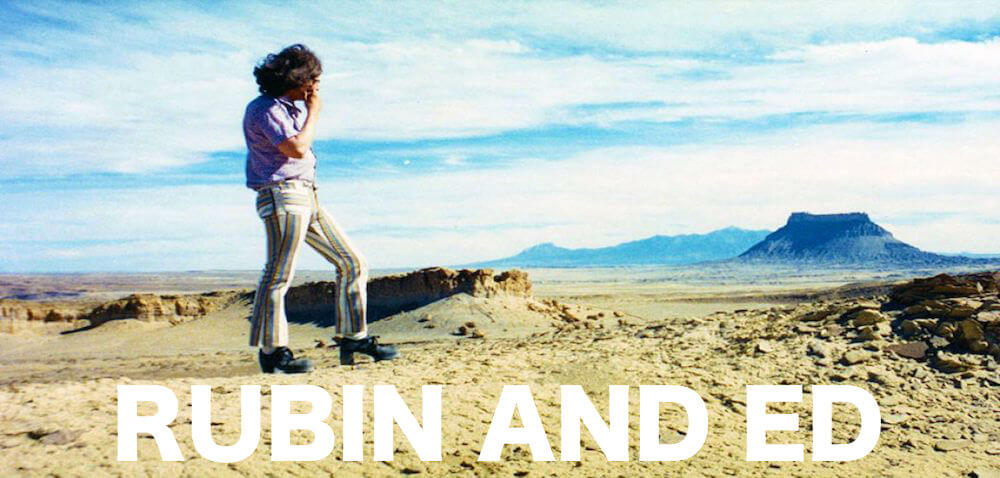 RUBIN AND ED
Dir. Trent Harris, 1991.
USA, 82 min.
THURSDAY, JANUARY 4 – 7:30 PM
FRIDAY, JANUARY 19 – 10 PM
WEDNESDAY, JANUARY 24 – 7:30 PM
Original Trailer from July '17:

"More psy­che­del­ic fun than a bar­rel of mon­keys on mush­rooms!" – Details Magazine
"Quotable, hi­lar­i­ous, and, yes, even moving, writer-director Trent Harris' bud­dy picture like no other yearns for an audi­ence and cult-classic status. Like, im­me­di­ate­ly." – Film Comment, Film Society at Lincoln Center
"No reasonable person could deny the genius of any movie involving two republicans, bell­bottoms, a water-skiing cat, a pyramid scheme, Mahler and a squeak-mouse." – Bamboozled
A real-estate salesman (Howard Hesseman) and a hippie (Crispin Glover) hit the road on a mission to bury a frozen cat in the desert.
What could go wrong?
"I definitely enjoyed the weirdness and quirkiness of the movie… but… jeez, even for a person who enjoys weirdness and quirkiness like me, even for me this movie was pushing my limits. I thought that the non-desert scenes were MUCH better than the desert scenes. Unfortunately, the desert scenes make up the majority of the movie. For people who enjoy odd movies, I'd recommend that they watch this movie, but I'd tell them to hit the pause button and take a few breaks in the middle. It's a very fun and interesting movie, but it gets to be a bit too much for one sitting. Seriously, this is the weirdest movie ever." — IMDB user 'garbuhj'
---


THE SCARLET SCORPION (a/k/a: O ESCORPIAO ESCARLATE)
dir. Ivan Cardoso, 1990
90 min, Brazil
In Portuguese w/English subs.

WEDNESDAY, JANUARY 3 – 7:30 PM
THURSDAY, JANUARY 11 – 10 PM
FRIDAY, JANUARY 19 – 7:30 PM
Original Series Trailer from July '17:

Opening with a faux national news reel, THE SCARLET SCORPION, is Cardoso's vision crystalized and funneled through one of the countries most beloved pop-culture icons – The Angel.
A billionaire playboy who fights crime, The Angel was all over comics and radio dramas. In fact, in THE SCARLET SCORPION, the news reel ends with the country at a standstill as the announcement of a new Angel show comes over the airwaves. As the story continues the events of the radio show inspire the work of a copycat – none other than Angel's archival – The Scarlet Scorpion himself! Angel must match wits with Scarlet Scorpion in order to save the love of his life – a fashion designer by the name of Gloria.
Though not horror by any stretch – THE SCARLET SCORPION is nothing if not thrilling (and hilarious). Cardoso would continue to make films into 2013 with one still listed at "in post-production" on IMDb but THE SCARLET SCORPION caps off our Summer series with a bang.
---


THE EXCLUDED
Dir. Franz Novotny, 1982.
Austria, 93 min.
In German with English subtitles.
TUESDAY, JANUARY 9 – 7:30 PM
THURSDAY, JANUARY 18 – 7:30 PM
SATURDAY, JANUARY 27 – 7:30 PM
A forgotten gem of Austrian miserablist cinema, THE EXCLUDED is a prime example of agit-prop farce, the same strange brew stewed by Godard in LA CHINOIS and Fassbinder in THE THIRD GENERATION. This is the story of four bourgois would-be revolutionaries, attempting to smash the 1950s Austrian state—if they can overcome their own egos long enough to pull it off. The lead, Peter, is played with smarmy, wet-mouthed pretension by the great Paulus Manker, a regular collaborator with Michael Haneke. We've all met someone like Peter before: that poetry-writing, Camus-spouting punk, peeking above a black turtleneck long enough to spew half-baked Maoist homilies about the kind of violent political action he's a teensy bit too scared to carry out himself. Surprisingly, Peter manages to form his own private fraktion of bored teenagers, and the cell happily engages in beatings, bombings, and shock tactics against "slaves of social convention."
That is how post-war Austria looked to then-33-year-old director Franz Novotny—an urban underclass, politically at odds with the values of Austria's hypocritical "Second Republic," unable to share its wealth, and eager to enforce violent punishment for its fascist past. His film, based on the 1980 novel by Nobel winner Elfriede Jelinek, is a cynical portrait of Austria's doomed, post-war youth, whose undirected political energy ultimately finds a conclusion with an explosion of meaningless violence.
---


LA GRANDE BOUFFE
dir. Marco Ferreri, 1973
Italy/France, 135 min.
MONDAY, JANUARY 8 – 7:30 PM
TUESDAY, JANUARY 16 – 7:30 PM
TUESDAY, JANUARY 23 – 7:30 PM
After an innocuous opening in which four longtime friends (Marcello Mastroianni, Ugo Tognazzi, Philippe Noiret, & Spectacle-favorite Michel Piccoli) meet at a country villa for a "gastronomic seminar," it is revealed that their ulterior motive is to commit collective suicide through overeating. Joined by a schoolteacher (Andréa Ferréol) who turns out to be surprisingly open-minded to their plans , they feast on pizza Provençal, goose pâté, crêpe Suzette, and more early-70s Franco-Italian delicacies. As the film progresses, it becomes increasingly decadent, crude, and macabre as these upper-middle class libertines literally stuff themselves to death.
LA GRANDE BOUFFE is like 120 DAYS OF SODOM, but with food instead of sex (though there's also sex). The protagonists' inexplicable dedication to their absurd task is reminiscent of Luis Buñel's classic dinner party satire, THE EXTERMINATING ANGEL. A film that is somehow intellectual in its approach to fart jokes, LA GRANDE BOUFFE scandalized audiences when it premiered at Cannes, but nonetheless took home the FIPRESCI critics' prize.
So, while Williamsburg's foodies are enjoying their gourmet groceries and bottomless brunches, grab some epicurean eats and join us for the feast to end all feasts. Because, as Michel Piccoli muses midway through the film, "besides food, all is epiphenomenal."
---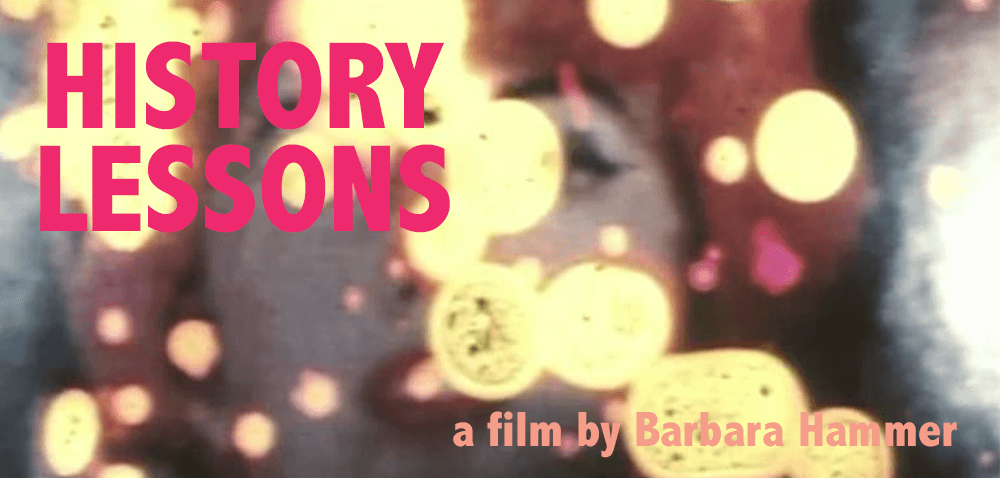 HISTORY LESSONS
dir. Barbara Hammer, 2000.
70 min, USA
In English
MONDAY, JANUARY 1 – 7:30 PM
WEDNESDAY, JANUARY 17 – 10 PM
The final installment in Barbara Hammer's groundbreaking "lost queer trilogy," HISTORY LESSONS imagines a world in which lesbians are as omnipresent as white heterosexual cis men. Manipulating everything from Eleanor Roosevelt studded newsreels to analog skin flicks, Hammer rewrites history with this reclamation of an almost always marginalized demographic.
"Radical sexual politics in a jester's surprise package of impudent humor and Situationist-style found-footage monkeyshines" – Variety
---


4D MAN (aka MASTER OF TERROR)
Dir. Irvin S. Yeaworth Jr. (1960)
USA, 85 min.

WEDNESDAY, JANUARY 3 – 10 PM
MONDAY, JANUARY 8 – 10 PM
SUNDAY, JANUARY 21 – 5 PM
Harris' sensational followup to THE BLOB saw him working again with director Irvin S. Yeaworth Jr., this time on a Faustian tale of prismatic fraternal jealousy. In 4D MAN, mutton-faced 20something scientist Tony (James Congdon) develops a technique that allows one object to pass through another (cf: the fourth dimension), while his older brother Scott (Robert Lansing) has coincidentally just invented a metal called Cargonite – so dense it can't be penetrated. Tony's recklessness and Scott's pathological resentment double-helix vis-a-vis the latter's girlfriend Linda (Lee Meriwether), instantly drawn to the younger brother's devil-may-care attitude while furthering Scott's descent into bitterness.
It doesn't take an orthogononical physicist to figure out what happens next: incapable of stopping himself, Scott co-opts Tony's experiment and turns himself 4D, tripling (or is it quadrupling?) down on the radiation exposure that was already giving him hellacious headaches – and, as it happens, accelerating his own aging in the process. Oscillating between unstoppability and death's door in his solid state, Scott reaches out to suck up the lifeforce of a litany of victims including his old boss, as well as a little girl (played by Patty Duke!) – bringing Yeaworth's narrative to a bitter interdimensional boil better seen than blurbed. From beginning to end, 4D MAN muxes a fine 1950s line between trenchant sci-fi boilerplate (ala print) and big-screen drive-in schlock-a-rama: the impossible object of earthly satisfaction drives both men to different dooms in a poetic crosshatch. You won't believe your eyes when you see the film's matte-intensive SFX (breathtaking in their lo-fi conviction), nor your ears from the first trill of Ralph Carmichael's swingin' jazz soundtrack!
Upon 4D MAN's original release, Famous Monsters of Filmland published a full-page spread with the following edict/ultimatum: "In this exciting story you will watch a man cross the threshold into the Fourth Dimension; you will watch him perform feats that may seem totally unbelievable – but: what the 4D MAN does can be done! Jack H. Harris, the dynamic producer of THE BLOB, now amazes the world with his announcement of ONE MILLION DOLLAR CASH AWARD to the person who successfully performs the feats attributed to the 4D MAN… Find out from your local theater manager when he will be playing 4D MAN, and Remember: your admission ticket could be worth ONE MILLION DOLLARS!" As part of 98 YEARS: JACK HARRIS, Spectacle offers same.
---


BUMMING IN BEIJING
( 流浪北京)
dir. Wu Wenguang, 1990
70 minutes.
In Mandarin with English subtitles.
SATURDAY, JANUARY 13 – 7:30 PM
TUESDAY, JANUARY 23 – 10 PM
"In 1990, Chinese documentaries were almost exclusively stodgy, didactic talking head affairs broadcast on state-run media. Then Wu Wenguang's BUMMING IN BEIJING came out, kicking off an entire independent documentary scene in the country. Shot directly before and after the Tiananmen Square Massacre on cameras taken from a government TV station, BUMMING IN BEIJING follows five broke bohemians (including future art stars like Zhang Dali, long before they found fame) in grimy late 80s Beijing. Shot in a vérité style that would soon be adopted by a new generation of filmmakers, the movie includes an onscreen mental breakdown, a time-capsule view of the emergence of the country's avant-garde, and proof that the hippest place in China used to be KFC." – Aaron-Fox Lerner, Time Out Beijing Film Editor
"The prolonged moments of near silence in BUMMING IN BEIJING produce the aesthetic effect of outlasting the remembered roar of government tanks." – Ernest Larsen, Art In America
Aaron Fox-Lerner is the Film editor for Time Out Beijing and Shanghai. His writing has appeared in The Los Angeles Review of Books, The Puritan, Bound Off, Indie Wire, and other publications.
---


THE SECRET OF THE MUMMY (a/k/a: O Segredo da Múmia)
dir. Ivan Cardoso, 1982
85 min, Brazil
In Portuguese w/English subs.
WEDNESDAY, JANUARY 10 – 10 PM
FRIDAY, JANUARY 26 – 10 PM
Original trailer from July '17:

A tale as old as time: Dr. Vitus, a disgraced scientist (Wilson Grey who would go on to be one of Cardoso's go to character actors for the majority of his career) devotes his dying days to the reconstruction of a map that had been divided into 8 parts and scattered to the winds with their owners meeting most mysterious deaths.
On a trip to Egypt he finds a mummy, Runamb, and brings it with him back to Brazil. You aren't going to believe this – but it comes to life and wreaks havoc on all in his path obsessing over Nadia, a dancer who had scorned him when he was alive – well, more alive anyway.
Fleshing out his vision after NOSFERATO IN BRAZIL, Cardoso again takes advantage of the countryside and finds juicy roles for the legendary José Mojica Marins – better known as Coffin Joe – and Regina Casé (THE SECOND MOTHER).
---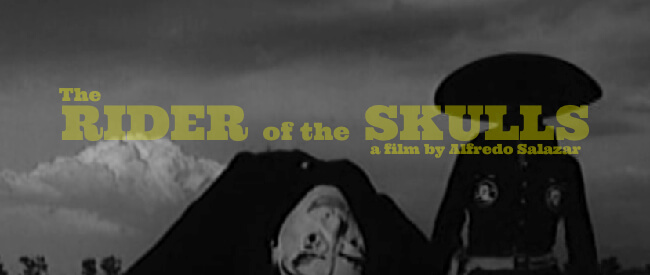 THE RIDER OF THE SKULLS
(aka EL CHARRO DE LAS CALAVERAS)
dir. Alfredo Salazar, 1965
80 minutes. Mexico.
In Spanish with English subtitles.
TUESDAY, JANUARY 9 – 10 PM
FRIDAY, JANUARY 12 – 10 PM
MONDAY, JANUARY 15 – 10 PM
Original Series Trailer from April '17:

A masked rider (not Zorro) arrives in a sleepy Mexican villa in the midst of a slew of vicious werewolf attacks during what seems like a solid month of full moons. The Rider is given lodging by a señorita and her young son – Perico – who appear to be the next targets of the flannel-clad lycanthrope. The Rider, with the help of a local witch dispatches of the monster who turns out to be the boys father. As he rides off into the sunset with Perico by his side one may expect the credits to roll but don't rise from the opulent comfort of your seat just yet, viewer, this adventure is far from over. The Rider (now taller and with a different mask) along with the help of a new boy and their manservant Cléofas (the films "comic relief") fight a vampire in some highly unconvincing day for night photography. It's worth mentioning that the vampire not only has the giant head of a bat but also has the power to change into an equally unconvincing rubber bat and flies off. Finally, The Rider faces his deadliest foe yet when he teams up with a woman in possession of the cabeza of none other than the Headless Horseman and his two robed skeleton henchmen leading to a machete fight at sunset.
Director Alfredo Salazar is best known for his contributions to Mexican horror in the form of many, many Santo/Blue Demon movies as well as penning such psychotronic fare as THE NIGHT OF THE BLOODY APES and the should-be classic THE MAN & THE MONSTER (produced by and starring his brother Abel). Star Dagoberto Rodríguez had a 30-or-so year career in Mexican film and television, which is more than likely the reason he removes his mask and reveals his identity in the middle of the film. Due to its "monster of the week" feeling and suspicious change of companions/mask/location/etc the working assumption is that THE RIDER OF THE SKULLS is actually three episodes of a serial stitched together to make it feature length. Nevertheless, Salazar wears his love of classic Universal monsters on his sleeve and creates a film unlike any other.

---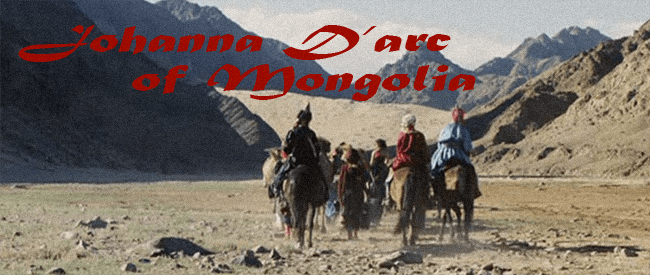 JOHANNA D'ARC OF MONGOLIA
Dir. Ulrike Ottinger, 1989.
Germany. 165 min.
SUNDAY, JANUARY 21 – 7:30 PM
SUNDAY, JANUARY 28 – 7:30 PM
Original Series Trailer from Feb '17:

Seyrig's last screen role found her fittingly re-teaming with Ulrike Ottinger for a tri-lingual adventure epic with an all woman cast. Ottinger plays with the genre trappings of train triptychs and biblical epics in her most ambitious work, in which seven female voyagers are captured by a band of Mongolian woman. Ottinger's goal isn't to pit cultures against each other or exploit them, but to tell an extensively details ethnographic tale of multicultural harmony.
"A fabulous three-course blend of myth, spectacular visions of an ancient land and frisky song-and-dance. A quixotic and ebullient leap of the imagination. Breathtaking." – Judy Stone, San Francisco Chronicle
---


DAUGHTERS OF DARKNESS
Dir. Harry Kümel, 1971.
Belgium. 100 min.
SATURDAY, JANUARY 6 – 10 PM
MONDAY, JANUARY 22 – 7:30 PM
SATURDAY, JANUARY 27 – 10 PM
Original Series Trailer from Feb '17:

Belgian director Harry Kümel's high gothic vampirization of the story of famed murderess Elizabeth Báthory has retained its cult legacy due to its effervescent style and Seyrig's carnal lead performance. The camera glides through lush colors and haute hotel rooms like in a Fassbinder or Sirk melodrama as Seyrig's bloodthirsty queer countess preys on a pair of newlyweds. By contemporizing the vampire into a decadently erotic queer demagogue, Kümel paved the way for Tony Scott's THE HUNGER more than a decade later.
---