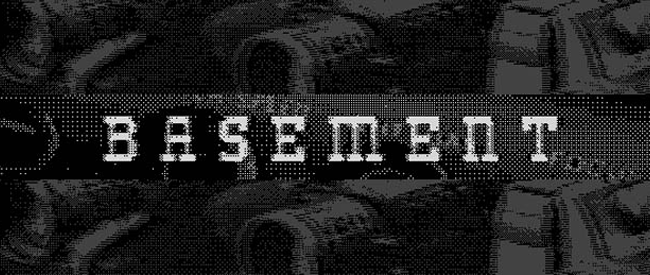 THE 3RD BASEMENT MEDIA FEST
Dir: Various
Approx. 50 min. USA.
SATURDAY, JUNE 15TH – 7:30PM
SUNDAY, JUNE 23RD – 7:30PM
`*~FILMMAKERS IN ATTENDANCE~*`

The BASEMENT Media Fest is a survey of contemporary artists working with lo-def, lo-tech, and lo-fi motion pix techniques. Founded in response to the commercial race for hi-res and true-to-life IMG quality, BASEMENT is a celebration of the mediated experience as an aesthetic experience. Equal parts glitchd digital vidz, fuzzy VHS, and grimy 16mm film, this year's screening ought to plaza any connoisseur of experimental .MOVs.
///WARNING/// SUM OF THESE MOVIES FEATURE FLICKERING LIGHT AND RAPIDLY CHANGING MOTION. MAY CAUSE SEIZURES/MOTION SICKNESS. IF YOU'RE GONNA SPEW, SPEW INTO THIS.

/START PROGRAM:
WINGDINGS LOVE LETTER
Dir: Scott Fitzpatrick
noun \'wiŋ-,diŋ\ 1. A lavish or lively party or celebration. 2. A real or pretended fit or seizure; a rage. An ode to a misunderstood font is rendered by laser printing directly onto 16mm leader. Made in Microsoft Paint.
RECIPROCAL YOUTH
Dir: Jonathan Johnson
An absurd melding of home and archival videos.
CLIFFS QUARRIES BRIDGED AND DAMS
Dir: Josh Hite
Bodies under water at cliffs quarries bridges and dams.
TEN S-K-I-E-S
Dir: Clint Enns
A condensed version of James Benning's Ten Skies with all the skies removed, leaving nothing but clouds.
I CAN'T WAIT TO MEET YOU THERE
Dir: Michael A. Morris
A meditation on morality and mediation. An elegy and a prayer for Kurt Cobain.
FALLOUT
Dir: Paul Turano
A gradual contamination of the image and increasing waves of fear give way to an irradiated bloom.
LIVE FREE OR DIE HARD (PROJECT 12, 8 1/2)
Dir:Dirian Lyons
Reconstructs the Hollywood film's presidential montage, featuring statements only by Barack Obama.
THE POOL
Dir: Christine Lucy Latimer
1950's 16mm swimmers dive unknowingly into video-infested waters.
THE EXPLODING VOICE
Dir: Allen Riley
Real-time analog sound/video synthesis using voice.
LIGHT IN EXTENSION, ABSOLUTE DOMAIN
Dir: Jon Perez
A found footage glitch piece that reverberates in and out of pure abstraction in attempt to unleash new visions for new eyes.
/END PROGRAM
GO TO BASEMENTMEDIAFEST.COM FOR MORE INFO