FRIDAY, APRIL 5TH – THE SHINING BACKWARDS AND FORWARDS
SATURDAY, APRIL 6TH – Jesús "Jess" Franco Tribute: SHE KIILLED IN ECSTASY
FRIDAY, APRIL 12TH – Edgar Wallace Weekend of Mystery presents: CREATURE WITH THE BLUE HAND
SATURDAY, APRIL 13TH – Edgar Wallace Weekend of Mystery presents: DER HEXER
FRIDAY, APRIL 19TH – Troma Entertainment presents: THE DEMON LOVER
SATURDAY, APRIL 20TH – Noches De Naschy presents: NIGHT OF THE HOWLING BEAST
FRIDAY, APRIL 26TH – Splatterdays presents: BONE SICKNESS
SATURDAY, APRIL 27TH – ROCK 'N' ROLL HOTEL (FREE!)
---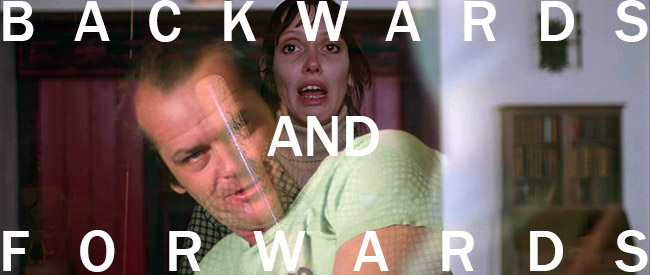 THE SHINING BACKWARDS AND FORWARDS
1980/2011.
146 min. USA.
FRIDAY, APRIL 5 – MIDNIGHT
Two year anniversary screening! ONE NIGHT ONLY!
JOHN FELL RYAN on GNINIHSEHTTHESHINING
KDK12 (Original Analysis), April 23, 2011
Ad Hoc (Deeper Look into the Shining-sphere), May 22, 2012
RAVE REVIEWS of TSFAB
Badass Digest
Screen Crush
Dark Side of the Rainbow for the 21st century, THE SHINING BACKWARDS AND FORWARDS is a hallucinatory palindromic mindfuck, an accidental profundity resulting from a literal reading of MSTRMD's comment that "The Shining is a film meant to be watched both forwards and backwards."
Conceived by John Fell Ryan and executed with Spectacle's Akiva Saunders behind the controls, it became one of the most successful events in the sprouting days of the theater, yet hasn't been shown since October 2011, when it was performed live with Saunders mixing multiple additional layers of superimposition with realtime audio manipulation by Tony Lowe and Jason McMahon.
In the meantime, it has become the stuff of legend, followed by stagings at Fantastic Fest and the Seattle International Film Festival no doubt inspired by the attention ofROOM 237, in which JFR is one of the primary participants and Spectacle receives a hearty shout-out. In fact, the footage of Spectacle appears to be the only non-archival live footage in the film.
On April 5 at midnight, at the hour and place of its original showing two years ago, THE SHINING BACKWARDS AND FORWARDS returns to Spectacle's screen.
Admission is first-come, first-serve for this ONE NIGHT ONLY event.
---

SHE KILLED IN ECSTASY 
Dir: Jesús "Jess" Franco, 1970.
74 min. West Germany/Spain.
In German with English subtitles.
In response to the automatic cuts implemented by the 2013 budget sequestration, the American Hunter is on his forced pay furlough for the month of April. In his place, we present to you:
SATURDAY, APRIL 6 – MIDNIGHT
Earlier this week, Spectacle was greatly saddened by news of the passing of Jesús "Jess" Franco (b. 1930) at age 82. Over half a century, Franco was a prolific and highly influential director of over 200 films variously comprising sexploitation, horror, giallo, cannibalism, vampirism, zombies, spy sagas, jungle adventures, exorcism, war, Nazism, surgical horror, nunsploitation, hardcore, and more, in countries including Spain, Germany, France, Switzerland, and Belgium. Parsing through sheer multifarious, multicultural, and multitudinous breadth of his filmography is, at at minimum, the job for some sort of perverted Cinema Studies PhD candidate. Suffice to say, he is an exuberant genius whose work continues to earn the fancy of intrepid cinephiles who aren't afraid of getting their hands dirty.
In memoriam of Franco's life and career, we invite longtime fans and newcomers alike to enjoy 1970's SHE KILLED IN ECSTASY, determined by group consensus of Spectacle programmers to be the maestro's quintessential film. As Danny Shipka, PhD (–wha…?) writes, "Franco [takes] the standard revenge picture to new surrealistic heights" in this psychedelic sexploitation chiller starring muse Soledad Miranda. Emotionally shattered by the death of her research doctor husband, goaded to suicide by his peers over controversial stem-cell research, she recomposes herself into a cold killing machine, seducing and destroying those she holds responsible. Featuring a funky electronic score, wildly indulgent zoom shots, and suffused with an unsettling erotic distance and all-consuming weirdness, it contains all of Franco's signature tropes with no shortage of sweet, bloody murder.
As we say here at midnight, "Get Weird Tonight, Stay Weird Forever" — thank you for making our lives stranger, Jesús Franco.
---
Edgar Wallace Weekend of Mystery Presents:
CREATURE WITH THE BLUE HAND
(aka The Bloody Dead)
Dir: Alfred Vohrer, 1967.
84 min. West Germany.
In German with English subtitles.
FRIDAY, APRIL 12TH – MIDNIGHT
The proto-giallo classic in its original, uncut German-language version!
Klaus Kinski stars twice-over as a pair of possibly evil twins, one of whom— but which?— has recently escaped from an institution for the criminally insane. Coincidentally, a mysterious caped killer begins stalking his estate, clutching victims one-by-one in the grip of its BLUE STEEL CLAW!
Director Alfred Vohrer is perhaps the greatest, and certainly one of the most prolific, practitioners of the krimi film, which became the primary influence on the giallo explosion. Creature with the Blue Hand is adapted from the work of Edgar Wallace and full of byzantine twists and insane red herrings while being just as lurid and Gothic as its Italian progeny.
In the U.S., it became a cult favorite though late-night television broadcast in the 1970s, dubbed into English and alternately chopped for violence or padded out with additional gore from unrelated movies. This evening we present the full, untouched German-language version, which totally slays.
---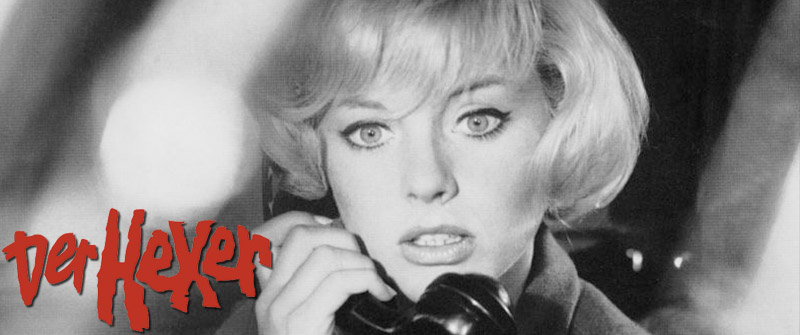 Edgar Wallace Weekend of Mystery Presents:
DER HEXER
Dir: Alfred Vohrer, 1964.
95 min. West Germany.
In German with English subtitles.
SATURDAY, APRIL 13TH – MIDNIGHT
The Edgar Wallace Weekend of Mystery continues with another Alfred Vohrer helmed action-mystery! This time around, Vohrer splashes some eye-popping color in the title sequence and goes for a fast, fun, stylistically wild caper filled with laughs and ingenious twists.
The sister of a well known criminal genius, Der Hexer, is murdered, and now Scotland Yard is hot on the trail of the killer and Der Hexer, whom they suspect has returned from exile to seek revenge.
Who is Der Hexer? Will he be caught? Will the killer be found? The perfect late night mystery!
Twists, action, a jazzy score, nude photos and some ridiculous POVs- Vohrer pulls out all the stops in this murder filled romp set in fake-ass, swinging London! It all adds up to some Diabolik, Fantomas-style fun in Der Hexer!
In crisp, beautiful black and white!
---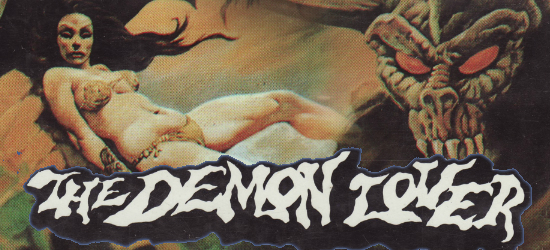 Troma Entertainment Presents:
THE DEMON LOVER
Dir: Donald G. Jackson & Jerry Younkins, 1977.
76 min. USA.
FRIDAY, APRIL 19TH – MIDNIGHT
Just when you thought you'd reached the final room in the funhouse of bad moviedom, a door opens and you find, The Demon Lover– The Room 101 of crap cinema.
Laval Blessing (a man who clearly owns every Grand Funk Railroad release, as well as numerous live bootlegs) is having youngish long hairs over to his place for some casual occult parties. The group is there for kicks and not some "metaphysical bullshit," but Laval goes too far, the group rebels and then one of the cinema's gnarliest devils starts killing people.
Oh, and there's karate too, lots and lots of karate.
This unheralded masterpiece is like getting into a custom van adorned with a beautifully detailed painting by Frank Frazetta and taking a huge bong rip while listening to Blue Oyster Cult. The Demon Lover is a window to a different, dumber time, and man, is it fun.
Featuring Leatherface himself, the totally imitable Gunnar Hansen!
Come see this ever quotable extravaganza that will burn itself into your brain and never leave, like a kind of crappy tattoo of the grim reaper on a Harley sportster.
IN GLORIOUS VHS QUALITY!
Presented by Troma
---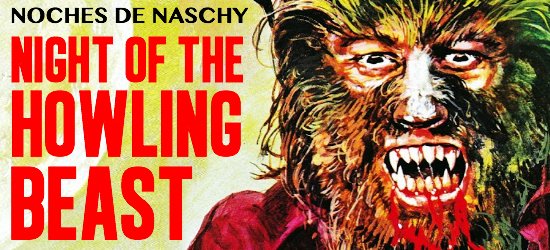 Noches De Naschy Presents:
NIGHT OF THE HOWLING BEAST
Dir: Miguel Iglesias, 1975.
87 min. Spain.
SATURDAY, APRIL 20TH – MIDNIGHT
Noches De Naschy is dedicated to showcasing the films of Spanish horror icon and horror cinema's most prolific Wolf Man, Paul Naschy.
The beloved, barrel chested Naschy was a renaissance man who turned his childhood love of gothic horror and fantasy into his life's work. Naschy painted his monsters with a sense of romantic tragedy, leaving behind a wonderfully rich and surprisingly personal filmography.
Here's Naschy in one of his most colorful, entertaining, action packed films, duking it out with another hairy legend, The Yeti! Night of the Howling Beast is a comic book come to life, filled with creatures, combat, romance and danger, with serial style adventure and wonderfully colorful lighting that recalls Mario Bava at his most sumptuous and playful.
Waldemar Daminsky, the sad-eyed lycanthropic Polish count, heads to the Himalayas in search of the Yeti but contracts werewolfism, escapes sexual imprisonment in a cave and falls in love, again, all en-route to a toe to toe showdown with the Sasquatch of the east!
Come see Waldemar Daminsky WOLF OUT as a GOOD GUY in arguably Naschy's most fun fantasy adventure, and the film that landed his hairy butt on the legendary Video Nasties list!

---

Splatterdays Presents:
BONE SICKNESS
Dir: Brian Paulin, 2004.
98 min. USA.
FRIDAY, APRIL 26TH – MIDNIGHT
Alex is very sick with a very rare disease that makes his bones painfully brittle. He's bed-ridden and under the constant care of his loving but overworked wife Kirsten.
But, Kirsten has help by way of Alex's life long best friend Thomas. Together, they believe they have found a way to counteract the disease… by feeding Alex the grinded-up bones from the corpses that Thomas butchers at the mortuary where he works.
Everything is going well, but the trio soon finds out that their homeopathic remedy returns life and strength to more than just Alex.
As the butchered corpses from Thomas's mortuary return from the dead to take revenge on those who would consume them, a shocking revelation threatens to fracture the bonds between the two best friends.
Can Alex and Thomas rise above their infighting in order to save their lives and the lives of the ones they love?
No, they can't. Everyone is slaughtered.
XTREME VIOLENCE AND GORE
---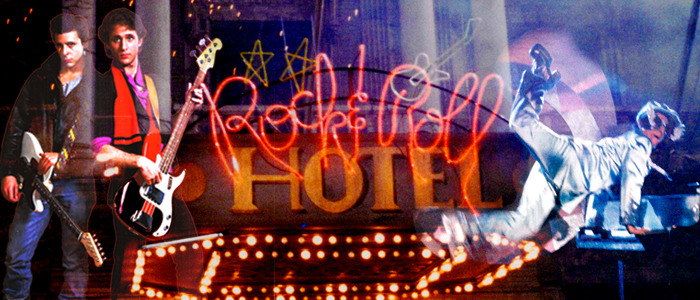 ROCK 'N' ROLL HOTEL
Dir: Richard Baskin & Paul Justman, 1983.
85 min. USA.
SATURDAY, APRIL 27TH – MIDNIGHT
FREE!
Join Spectacle for another FREE monthly screening of a mythical cinematic orphan…
Birthed from the 80s neon Hollywood womb and shuttered away almost immediately,Rock 'N' Roll Hotel is a product of MTV-inspired music video excess and absurdity that has all but vanished into pop culture oblivion.
The story follows a young trio of musicians, played by Rachel Sweet, Matthew Penn (son of Arthur) and Judd Nelson, called The Third Dimension. They enter a battle of the bands in an old hotel called the Rock N' Roll Hotel. However, rival band The Weevils are intent on stopping the young band from winning the contest and taking the title for themselves…
Essentially one of the first feature-length music videos, the film was produced in Richmond, VA, shot in 3D, filled with musical numbers, written by Russ Dvonch (Rock 'n' Roll High School), co-directed by Paul Justman (Standing In The Shadows of Motown) and featured 80s cable icon Colin Quinn as a local DJ… man, where has this film been for the last 30 years?
Victim to a trainwreck of a film production and a botched release, the film was lost for decades… until a VHS copy was found buried in the set designer's closet. Read more about the bizarre history behind the film here.
This film has only ONE COPY IN EXISTENCE and we have it! Can you handle Judd Nelson shredding guitar while blazing along an open highway in the first 10 minutes of the film?!
If you still don't believe the hype, see it for FREE and tell us we're wrong.