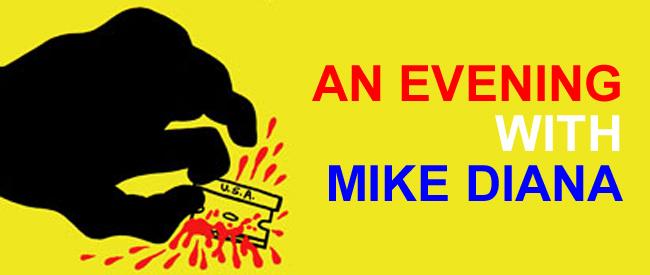 SATURDAY, JULY 6 – 8:00 PM
ONE NIGHT ONLY!
In 1994, Mike Diana became the first underground cartoonist convicted of obscenity in the United States. His work, from the notorious 'zine BOILED ANGEL and beyond, is surreal, perverse, violent, graphic and funny as heck. We're celebrating his solo show at Superchief Gallery with a rare screening of his two video works, which were both investigated during his trial. Mike will be here for a Q&A between the shows.
BAKED BABY JESUS
Dir. Mike Diana, 1990
USA. 120 min.
Equal parts home movie, performance art and backyard gore-fest, this tour through the Floridian hell-scape leaves no taboo stone unturned. In the short "The Second Cumming" a teenage Joseph pisses on a cross, gets raped by a multi-dicked demon and gives butt-birth to a stillborn baby Jesus. In "Sleazy Love," Mike finds a (fake) corpse by the railroad tracks and brings her home for some not-so-wholesome fun. Take a trip to "Babyland" infant cemetery, an automobile altercation, an electrical fire, and an abortion rally. Watch Mike's beloved pet pooch get in on the blasphemous action in "Daisy Licks Jesus." Fun for the whole family! (If your family is the Manson family.)
BLOOD BROTHERS
Dir. Mike Diana, 1989
USA. 60 min.
Mike's VHS gore-epic stars his younger brother and sister in a series of queasy misadventures chock full of home-made blood and guts. Frank Henenlotter called it "The ultimate home video gone terribly, terribly wrong. The kids are way too young to do what they're doing, and the victims look even younger (well, at least the boys do) making it all that much more perverse. All of a sudden I know why 15-year olds are not supposed to watch R-Rated movies!!!"