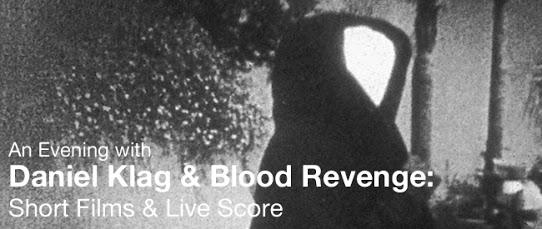 An Evening with Daniel Klag & Blood Revenge
A program of experimental short films and accompanying live score.
SATURDAY, DECEMBER 7 at 9:00 PM
TWO ARTISTS SCORING FIVE FILMS – ONE NIGHT ONLY!
Spectacle is pleased to welcome not one but TWO tone wizards out for an evening of experimental shorts and sonic slabs of melody and drone. A truly varied program with films ranging from the 1920's to the early 70's will be accompanied by the styles of Daniel Klag and Blood Revenge who will perform separately, as well as together, alongside the works of Jim Davis, Hilary Harris, and more.
Daniel Klag is a solo musician living in NYC. His latest release, Inner Earth (2013, Constellation Tatsu) is a pummeling envelope of warm syrupy drone created mostly with guitar tones and samplers. You can hear this and more at danielklag.bandcamp.com and for a discussion on how the album was made you can head on over to Prtls and read THIS.
Blood Revenge is Ben Felton. Felton plays long form songs on guitar, inspired by equal parts acoustic finger-picked blues music, Eastern ragas, the outdoors, and synthesizers. Think of it as either a soundtrack for your commute to work or the sonic landscape of your favorite vacation spot. You can see and hear more at: bloodrevenge.bandcamp.com as well as bloodrevenge.tumblr.com
Cassettes and LPs will be available at the show as well as 15 handmade and numbered mini posters (all different!) made by Spectacle for the event. The posters will be "pay what you want" with all proceeds split between the artists.
1) Blood Revenge performs to Jim Davis' "Sea Rhythms" (1971, 9:50)
2) Daniel Klag performs to Hilary Harris' "9 Variations of a Dance Theme" (1967, 13:01)
3) Blood Revenge performs to Joyce Wieland's "Catfood" (1967, 13:39)
4) Daniel Klag performs to Oskar Fischinger's "Wax Experiments" (1923-1927, 11:11)
5) Daniel Klag & Blood Revenge Duo perform to Maya Deren & Alexander Hammid's "Meshes of the Afternoon" (1943, 14:26)