THE DRIVER'S SEAT (aka The Three Lives of Identikit, aka Psychotic)
Dir. Giuseppe Patroni-Griffi
Italy, 1974
105 mins. English.
SUNDAY, MAY 5 – 10:00 PM
SATURDAY, MAY 25 – 10:00 PM
FRIDAY, MAY 31 – 7:30 PM
Of the many Euro arthouse B-pictures that didn't make their way into the official story of Elizabeth Taylor's career as she was eulogized in 2011, the variously titled Identikit – released in the U.S. under the original novella title The Driver's Seat – is a bizarre curio from her Europhase, roughly 1968-74. During this period, Taylor — facing middle age and a mid-career slump, as well as an increasingly zaftig figure — took on roles from English and Continental directors offering riskier, more experimental work, which better accommodated her searching, passionate acting style like a muumuu. Among the menagerie of films were two in which she co-starred with her husband Richard Burton, Joseph Losey's Boom! (1968, the film version of Tennessee Williams' "The Milk Train Doesn't Stop Here Anymore") and Under Milk Wood (1972), both notoriously ill-begotten literary adaptations, if a hoot to watch. Losey's underappreciated Secret Ceremony (also 1968), with a spooked and brunette Mia Farrow, typifies Taylor's career during this period, in which she sinks her teeth into stark, enigmatic dialogue as she interprets characters of murky origin, motives and morality.
Identikit, adapted from Scottish novelist Muriel Spark's ("The Prime of Miss Jean Brodie") novella by Raffaele La Capria and Giuseppe Patroni Griffi (its director) sank like a stone at the box office when it was released in the U.S. in 1975 as an arthouse second bill. Its second life, as an Avco-Embassy video release in the 1980s, built up a new audience (when I first discovered it, dusty and rarely rented in a college town video store) as a Seventies relic that seemed to be the perfect accompaniment to box wine, marijuana and pizza. Now, in recent years, it seems to be entering a third, post-video phase of its cinematic life, as a number of gay critics have been dusting it off for a second look. Critics David Ehrenstein and Doug Bonner's recent articles argue convincingly that its merits may add up to a film better than its historic "so-bad-it's-good" reputation. It seems as though this orphan film is finally finding a home — and rightly so — within the queer canon.
Spark's story, characteristically spare, is infused with Patroni Griffi's outré sensibility as an Italian opera director and gay novelist famed for works that were known for their transgressive characters.
While Taylor certainly didn't need any director to push her to lusty, emotionally naked performances (Suddenly, Last Summer had proved that 15 years earlier), it's tempting to theorize that the combustible mixture of Patroni Griffi — an aristocratic, decadent figure of Italy's literary scene whose own works pushed the envelope on sexuality and morality in post-war Italy — with Taylor, the definitive, volatile Hollywood diva — with a psychological thriller by the queen of the genre at the time, Muriel Spark — accounts to large degree the film's abstract tone, theatrical direction and its subversive appeal to a gay audience.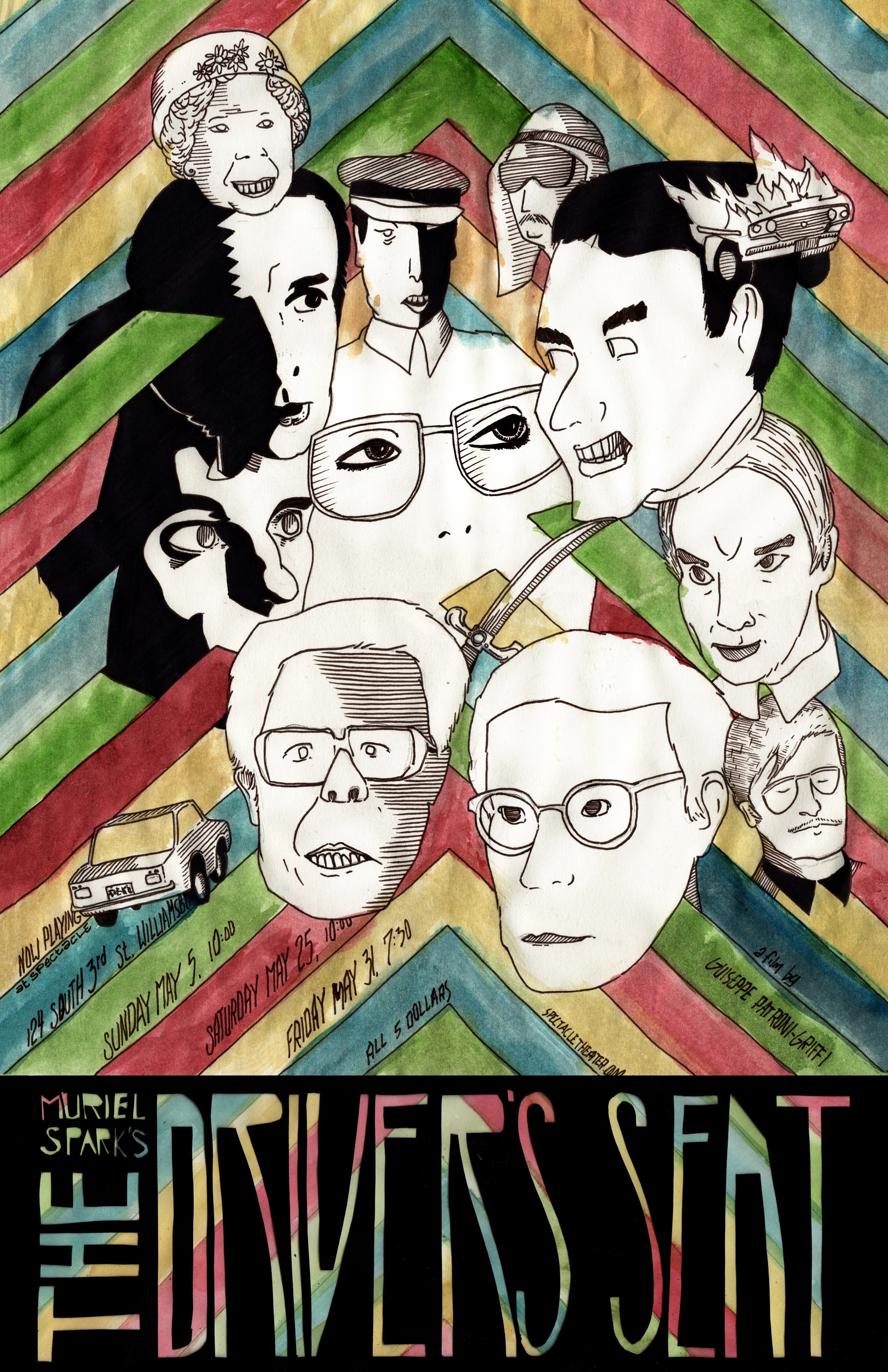 A lonely woman, Lise (Taylor) flies from her home in a cold, northern European city (Munich) to Rome on a quest to find a man. She's not looking for love. Who that man is, or what she wants from him is not clear to any of the people who encounter her, from an elderly tourist from Nova Scotia (Mona Washbourne), to a macrobiotic and sexually frustrated businessman from England. As she navigates the sultry streets of Rome, dodging terror attacks, shopping in empty department stores and wandering through hotel lobbies, she rebuffs offers, and threats, of sex. When it becomes clear what purpose she has in mind for this man, when she does meet him, all the loose ends of the story tie up elegantly in this scattered jigsaw puzzle of a film.
Taylor gives a performance of barely controlled madness, maybe one of the most bizarre of her career, resembling mid-70s Divine in a gaudy, multicolored dress (itself a central character in the film). You can't take your eyes off her, not that Patroni Griffi lets you. Scene after scene features a tight shot of her head, filling the entire frame with her Medusa-like hair and staring, kohl-rimmed eyes as she delivers her odd bits of dialogue. It's as though she's sleepwalking,but with her eyes fixed on a point in the distance. After watching it a few times, I realized it was her choice of communicating her single-minded quest for her killer. When she has to deal with irritating obstacles in her path, ie., shopgirls and hotel maids, she becomes a screaming drag queen on a rampage. It's both jaw-dropping and hilarious.
Even though her quest seems to be an asexual one, her spirit is charged with eroticism. She screams at an airport security guard who undresses her to check for explosives: "I hate to be touched!" Then later, once alone in her hotel room, she squeezes her own breasts passionately, hinting that she alone can bring herself pleasure.
In fact, apart from dowdy but adorable Helen (Mona Washbourne) an elderly tourist, the film's sole exemplar of conventional middle-class sexuality is Bill (the great character actor Ian Bannen), a traveling businessman obsessed with his macrobiotic diet and related "one orgasm a day." His clumsy attempts to seduce Lise, whose unpredictable outbursts make him lick his lips like a confused dog, only drive home the point how in over his head he is with her, her mysterious quest, and the raw sensuality of Italy.
"When I diet, I diet. And when I orgasm, I orgasm," she tells him flatly, as he tries to convert her to his yang-focused diet. When his bags of brown rice burst in his pocket, pouring grain all over the Roman pavement, she taunts him over his premature spill. Again, the influence of Patroni Griffi is seen here. Conventional sexuality and middle-class mores burst on contact with the decadent outlaws in his plays and films (Metti, una sera a cena, One Night At Dinner, 1969).
In another revealing scene demonstrating the collision of straight society and perverse Lise, a frumpy, bespectacled woman struggles to explain to a detective her impression of the madwoman: "That multicolored dress…there was something unseemly about her, something of a prostitute…it's as though she wanted to be noticed!" She then reveals, despite herself, that she admired her for it as a woman. A whisper of feminism (Spark) in a film that is frank in its depiction of Italian male lust (Griffi). And again, the dress. It inspires a whole range of emotions, from derisive laughter, to fury, to bewilderment. Obviously it's a symbol for the unreadable Lise herself, her taste and her choices, but Griffi's sensibility makes it a character that is as central to the plot as the overcoat in the Gogol short story of the same name.
Finally, after Taylor herself, the best thing in this "bad movie" is Vittorio Storaro's luminous cinematography. Seizing on the chiaroscuro of Lise's mental world, he paints the film like a canvas in a range of light and shadow, all of it looking supernaturally beautiful.
Now that Identikit's questionable legacy is being reassessed by queer critics and bloggers, and as a result discovered fresh by a new generation, let's hope for the best — assuming Rizzoli Films
won't be shipping a pristine, vault print of it to some New York repertory theater anytime soon (if one even exists). Let's hope that someone undertakes a quality, definitive digital transfer of the film to preserve it for future generations as a shined up statuette in Giuseppe Patroni Griffi's filmography, and an example of how good "bad" art films of the '70s look today.
– David Savage
David Savage has been a New York-based film journalist since 1989, specializing in films of the 1960s and '70s. He wrote for Vanity Fair in the mid-90s and also was a contributing editor at index magazine from 1996-2005. Since 2006 he has been a columnist at the UK film magazine Cinema Retro (www.cinemaretro.com).