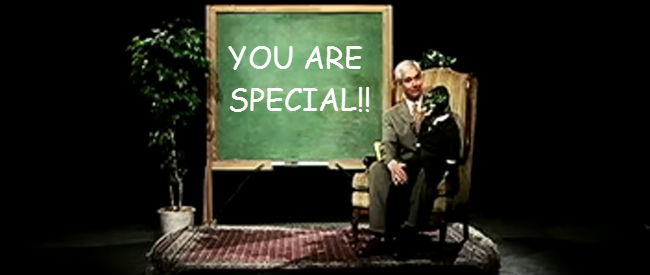 SUNDAY, JUNE 15 – 5 PM
SATURDAY, JUNE 28 – 7:30 PM
Feeling sad and lonely? Secretly worried you're just not good enough? Is the constant terror of being exposed as a failure and a fraud holding you back from living your best life?
You Are Special! is the program you need. New short films about human vulnerability—self help cults, private tears, puppets, ugly motel furnishings, game shows, depressed motivational speakers, and dancing, dancing, dancing. Unlock the power within and make your dreams come true. Learn to stop worrying and start living (TM) with Spectacle.
HISTORIA CALAMITATUM (THE STORY OF MY MISFORTUNES) PART II: THE CRYING GAME
Dir. Roger Beebe, 2014
USA, 21 min.
It's all right to cry. Sometimes it's even better than all right.
HOT CHICKEN
Dir. Iain Bonner, 2014
Australia, 14 min
No man is an island. Give praise!
THE PERFECT HELLO
Dir. Zack Kasten, 2013
USA, 42 min.
Wade Perkins is a fifty-five year old motivational speaker at the end of his rope. After learning of his younger brothers demise, he embarks on an alcoholic bender through middle America accompanied by a much younger woman named Sweetheart. Their short love affair is captured in a series of poetic and piercing scenes en route to the funeral.
Screens with extra found video easter eggs from the depths of the internet, and your soul.