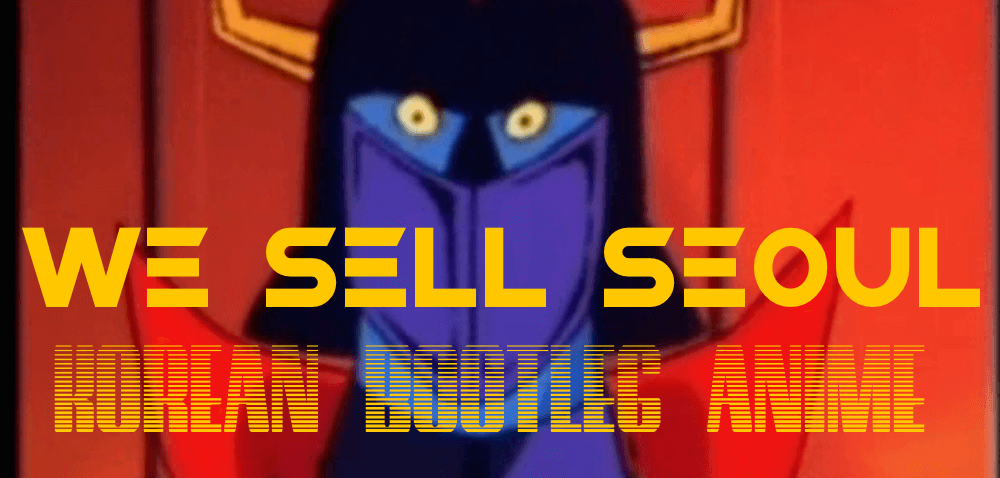 We heard you like anime.
And Bootlegging.
Come chill out your adult brain all July, with CAPTAIN OF COSMOS (Uju Heukgisa), SAVIOR OF EARTH (Computer Haekjeonham Pokpa Daejakjeon), RAIDERS OF GALAXY (Super Majingga 3), and DEFENDERS OF SPACE (Bulsajo Robot Phoenix King)!
Also, Pete Toms made us (another) AWESOME poster !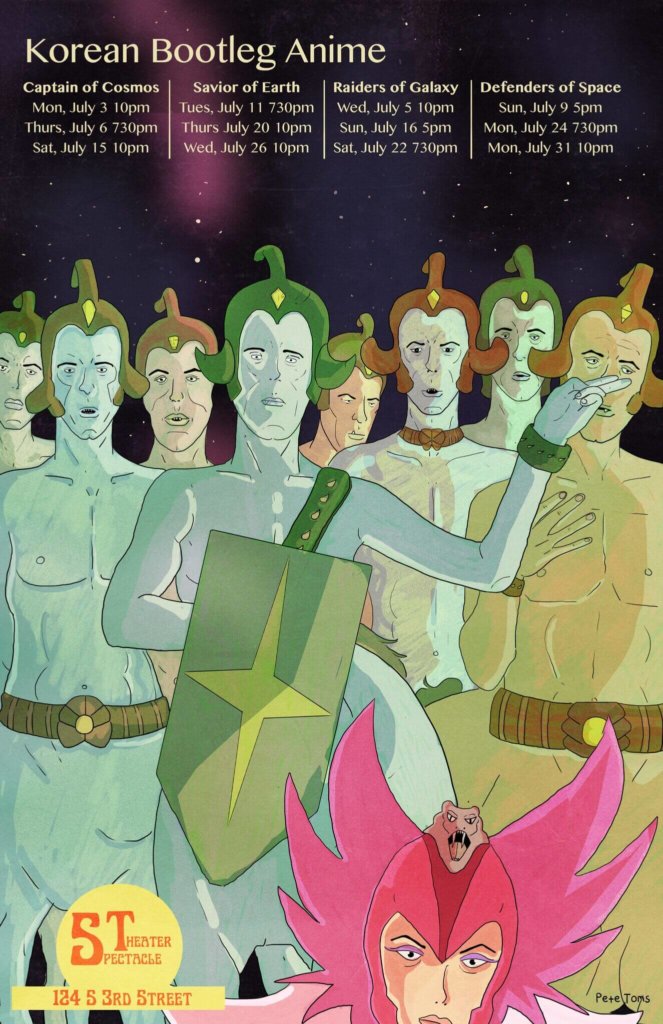 ---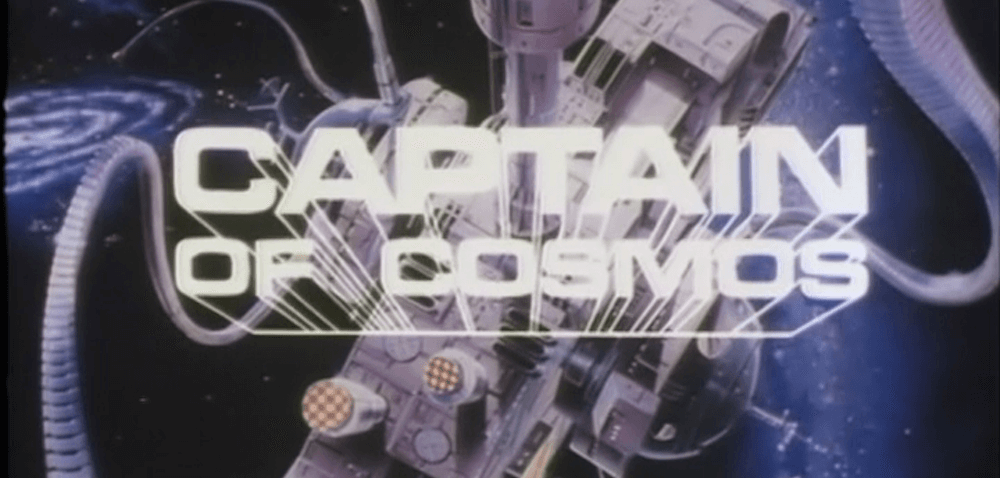 CAPTAIN OF COSMOS (AKA Uju Heukgisa)
dir. Jong-hui Park, 1979
78 minutes, South Korea
Dubbed in English.
MONDAY, JULY 3 – 10 PM
THURSDAY, JULY 6 – 7:30 PM
SATURDAY, JULY 15 – 10 PM
SUNDAY, JULY 30 – 5 PM
In this anime with shades of Captain Harlock and Gundam, the Cosmos Warriors are a team tasked with the duty of protecting freedom, justice and peace in the universe. When the insidious Green People kill the Cosmos Master and hijack a spaceship full of innocent spacefarers, it's up to Captain Leo to thwart their malicious plot against the people of earth.
---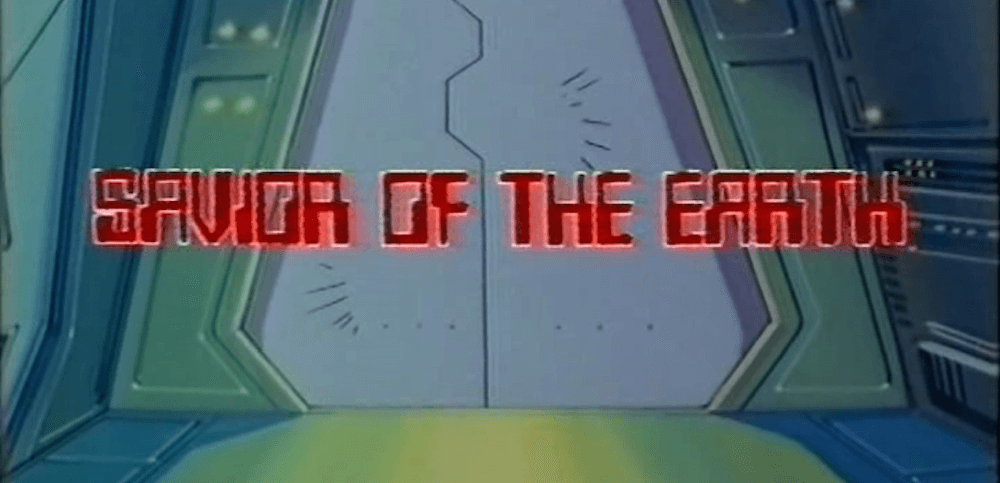 SAVIOR OF THE EARTH (AKA Computer Haekjeonham Pokpa Daejakjeon)
dir. Su-yong Jeong, 1983
68 minutes, South Korea
dubbed in English
TUESDAY, JULY 11 – 7:30 PM
THURSDAY, JULY 20 – 10 PM
WEDNESDAY, JULY 26 – 10 PM
In this anime, informally known as KOREAN TRON, the Saviors of the Earth enter the electronic world of the sinister Doctor Butler when he throws the world into the state of chaos via acts of terrorism in the USA, Japan, France and the Pacific Ocean. Doctor Butler intends to enslave the world with his powerful Dark Energy computers, so it's up to Dr. Kim, Sheila and Keith to save the humanity in the Deadly Game, a virtual battlefield. Allegedly, comic writer Roy Thomas (creator of Wolverine, Luke Cage and Iron Fist) worked on the English language version.
---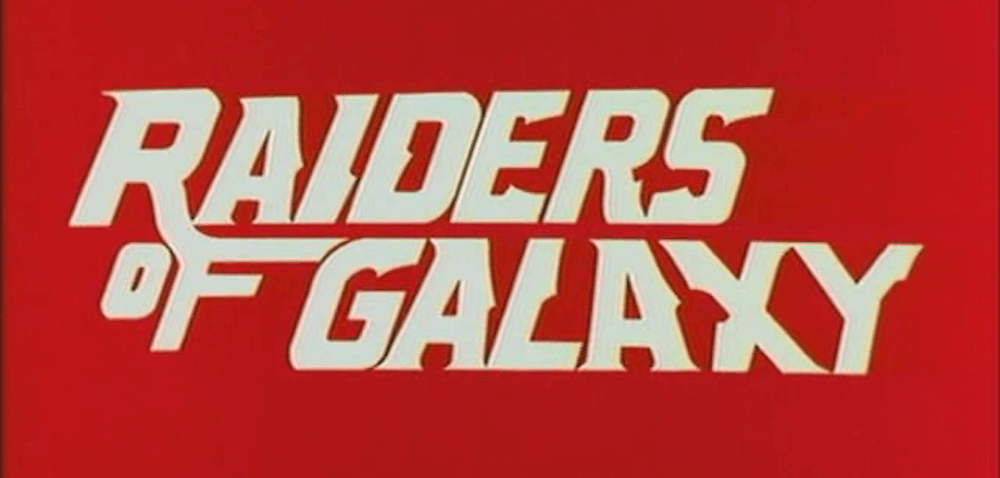 RAIDERS OF GALAXY (AKA Super Majingga 3)
dir. Seung-cheol Park, 1982
67 minutes, South Korea
dubbed in English
WEDNESDAY, JULY 5 – 10 PM
SUNDAY, JULY 16 – 5 PM
SATURDAY, JULY 22 – 7:30 PM
Imagine the anime classic Mazinger Z, only cheaper. Much, much cheaper. When the wicked T. Devil plots to take control of the galaxy, he enlists evil Andrew to help him in his quest for inter-galactic domination. Andrew starts capturing all of Earth's spaceships in order to investigate the planet. Meanwhile, Earth's scientists become curious about the disappearing ships and form a squad to investigate. When Andrew begins the invasion, the squad must enter into an epic (yet minimally animated) space battle with the aliens (and a robot dog). The fate of the world at stake!
---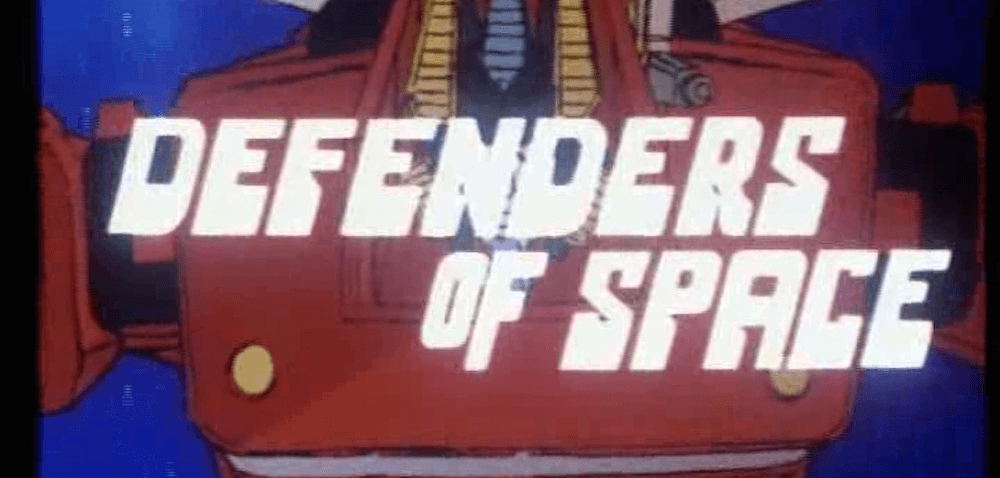 DEFENDERS OF SPACE (AKA Bulsajo Robot Phoenix King)
dir. Su-yong Jeong, 1984
65 minutes, South Korea
dubbed in English
SUNDAY, JULY 9 – 5 PM
MONDAY, JULY 24 – 7:30 PM
MONDAY, JULY 31 – 10 PM
Elements of Mazinger Z, Gundam, Space Battleship Yamato and Transformers are borrowed liberally in this mecha mini-epic. Nicholas, ruler of the Zinba Empire, wants to expand his territory by turning the Earth into his own private territory. A group of youngsters discover the destruction on Earth while vacationing on Mars and enlist cave-dwelling Dr. Han and Fred to find an immortal bird called the Phoenix King, a mythical guardian of Earth with the power to defeat Nicholas.
---