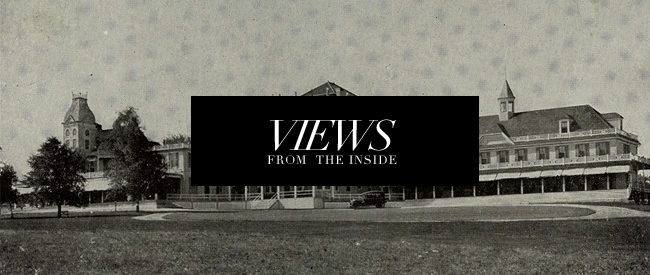 This May, in honor of the flowers blooming just outside our windows, Spectacle presents two unforgettable tales of world cinema with a common backdrop: the nuthouse.
---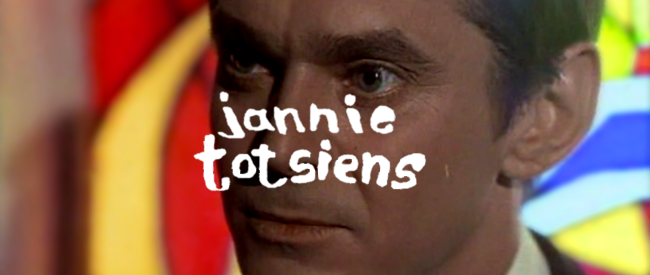 JANNIE TOTSIENS
aka JOHNNY FAREWELL
Dir. Jans Rautenbach, 1970
South Africa, 106 min.
In Afrikaans & English with English subtitles.
THURSDAY, MAY 1 – 7:30PM
MONDAY, MAY 5 – 7:30PM
FRIDAY, MAY 16 – 10PM
SUNDAY, MAY 25 – 7:30PM

Considered a cornerstone of South Africa's little-revisited 1960s "Golden Era," Jannie Totsiens is a heady and disturbing surrealist grapple with apartheid as an entrenched form of neurological illness. A paltry band of inmates – including a washed-up Nazi sympathizer and a baby-talking blonde nymphomaniac obsessed with rocking horses and dolls – roam the grounds of South Africa's most opulent mountain-retreat madhouse. Filmmaker Jans Rautenbach gives each character their own hard-etched idiosyncrasies, allowing linkages to their pre-asylum lives to burble to a surface before dissipating amidst so much wheezing, rambling gibberish.
Into the fray enters a catatonic young mathematics professor named Jannie (Cobus Rossouw). Committed following a plunge into despair, Jannie's addition tests the menagerie's thin veneer of community, exposing the lunatics' threadbare delusions and the bottomless hypocrisy of their sane keepers. (At one point, the sanitarium's director sighs that he's given up on therapy – from here on out, "just pills and injections.") As a drama, Rautenbach's film is avant-garde in its disavowal of emotional logic: his camera pushes, pulls or spins on the caprices of his insane characters. The result is a sometimes hilarious shadow play of predatory human weakness, richly textured in its balancing of color and death, veering wildly from satire to tragedy in the space of a few edits.
---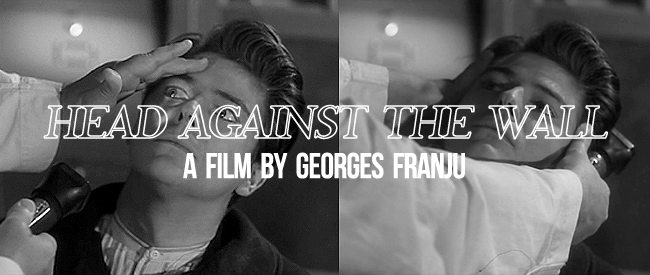 HEAD AGAINST THE WALL
aka La Tete Contre Les Murs
Dir. Georges Franju, 1959.
France. 95 min.
In French with English subtitles.
MONDAY, MAY 5 – 10:00 PM
FRIDAY, MAY 9 – 7:30 PM
SATURDAY, MAY 17 – 7:30 PM
Anouk Aimee. Charles Aznavour. A shimmering black motorcycle jacket. Georges Franju's Head Against The Wall taps into cinema's inherent attractions but renders its own utterly untenable, less a cautionary tale than a smoldering portrait of loss. Behind the gates of a countryside sanitorium lives young Francois (future filmmaker Jean-Pierre Mocky), the hotheaded son of a stuffy lawyer – a wild one in the Brando tradition on the outside, bored to sedation within. Francois knows he's sane, but while waiting for this latest convulsion of The System to pass, all he can do is look at the people around him – and now, without the comfort of his on-and-off girlfriend Stéphanie (Aimee), his visage isn't pretty.
Blessed with the same magisterial stillness and dark beauty that gave Eyes Without A Face its inimitable power, Franju's feature debut is both straightforward and serpentine. The screenplay (adapted from a Herve Bazin novel) posits man's place in society as anything but certain; as Francois seeks validation from parties neutral to his domineering father, his individuality seems to vanish. What develops is not a critique of doctors or hospitals, but instead of French paternalism at large. Under the heel of a society founded on class expectations, Francois doesn't lose his freedom so much as he realizes it never existed in the first place.
"He seeks the madness behind reality because it is for him the only way to rediscover the true face of reality behind this madness… Let us say that Franju demonstrates the necessity of Surrealism if one considers it as a pilgrimage to the sources. And Head Against The Wall proves that he is right." – Jean-Luc Godard, Cahiers du Cinema
"Whether it's the weird, eerily erotic gaze of a female inmate or a strange gathering of doves or a cityscape by night that seems as dank and claustrophobic as the asylum walls themselves, Franju's mastery and palpable adoration of effect is ever evident." – Glenn Kenny, The Auteurs