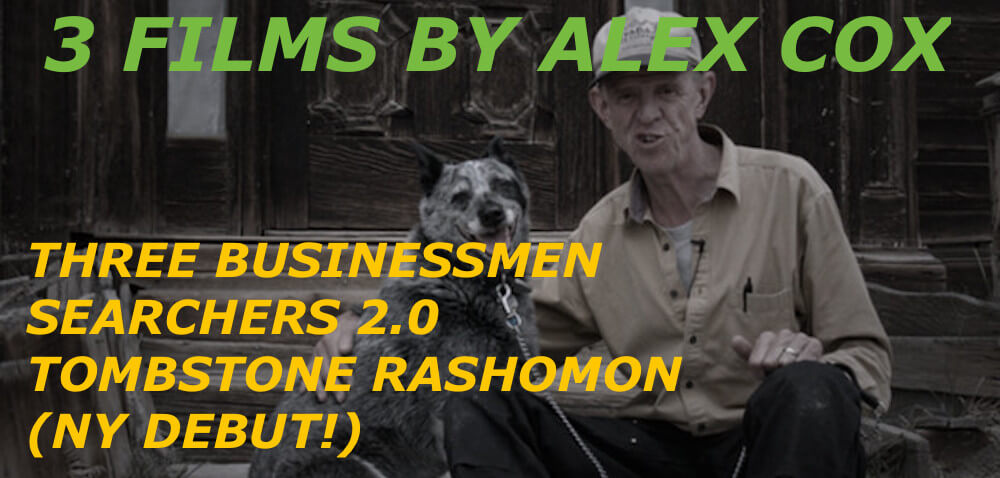 Whether it's the collision of punk rock and science-fiction in Repo Man, the war film with political agitprop in Walker or the Spaghetti Western with screwball comedy in Straight to Hell, Alex Cox has always been an inventive, engaging filmmaker about ten steps ahead of the mainstream. Since the relative commercial failure of Walker in the 80s (happy ending- it's since been rediscovered for the masterpiece it is), Cox moved comfortably from Hollywood to making his films almost exclusively independently (and on occasion for the BBC), making projects as diverse as a sci-fi Borges adaptation, Revenger's Tragedy, a documentary about Emmanuelle films, and a wacky, ultra-low-budget-and-proud-of-it spiritual sequel to Repo Man, called Repo Chick. His most recent, a return to his favorite genre, the western, is the crowdfunded Tombstone Rashomon, and Spectacle is proud to present it along with two of his other overlooked gems- The Searchers 2.0 and Three Businessmen. At Alex Cox's request, 1/3 of the proceeds of all of these screenings will be donated to a homeless charity.
---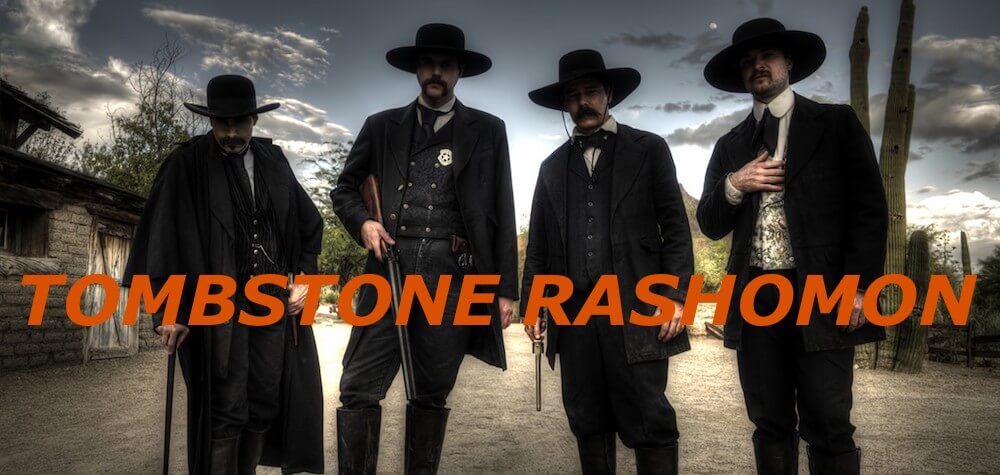 TOMBSTONE RASHOMON
Dir. Alex Cox, 2017
83 Minutes, USA, English
SUNDAY, OCTOBER 1 – 5 PM
SUNDAY, OCTOBER 7 – 10 PM
THURSDAY, OCTOBER 12 – 7:30 PM
FRIDAY, OCTOBER 20 – 7:30 PM
THURSDAY, OCTOBER 26 – 10 PM
NY Debut!
"Our subject is the Gunfight at the OK Corral, as it has come to be known (though it took place closer to Third and Frémont Streets, in Tombstone). This has been made into several films, including some great ones. Most tell the story from the perspective of Wyatt Earp, his brothers, and his friend the tubercular gambler/dentist, Doc Holliday. Usually Wyatt was depicted as the sheriff, or town marshal, defending Tombstone from a deadly outlaw ring. Occasionally films and written histories went the other way, depicting Wyatt as a ruthless, ambitious killer…
…The gunfight which concludes all these films was a significant event, depicted differently in every movie. Despite the myth of the face-to-face gunfight, most shootings out west were simple ambushes: the gunman hid out and bushwhacked his opponent. But on 26 October 1881, in Tombstone, eight men faced each other after several slights and face-offs; three of them died. Two long accounts of the gunfight appeared in the Tombstone papers the next day. It was reported in the San Francisco press, and treated in entirely partisan terms: Republican journals supported the Earps, Democrat papers supported the cowboy faction.
TOMBSTONE RASHOMON is a unique attempt to relate these events – and what led up to them – from the different perspectives of the individuals involved. Wyatt, Virgil and Morgan Earp each had his story, and Doc Holliday his; Sheriff Johnny Behan was present at the shootout, having tried to prevent it; Ike Clanton and Billy "the Kid" Claiborne survived the gun battle and told their tale; Billy Clanton and the McLaury brothers did not; Kate Fisher, Holliday's partner, was lodging in the adjacent building and may have been a witness, also.
They are part of our cast of characters – the town of Tombstone is a character as well. Silver-mining towns enjoyed an average "boom" of three years, and Tombstone turned three in 1881. In the three years they lived there, the Earps saw a collection of tents and shacks grow into a mini-metropolis. Now the mines were beginning to flood, and by April it was intolerably hot and dusty. In June, a barrel of bad whiskey exploded, setting four city blocks ablaze. Then the rains came.
When the gunfight between gambler lawmen and cowboys erupted, there was snow on the ground…" -Alex Cox
---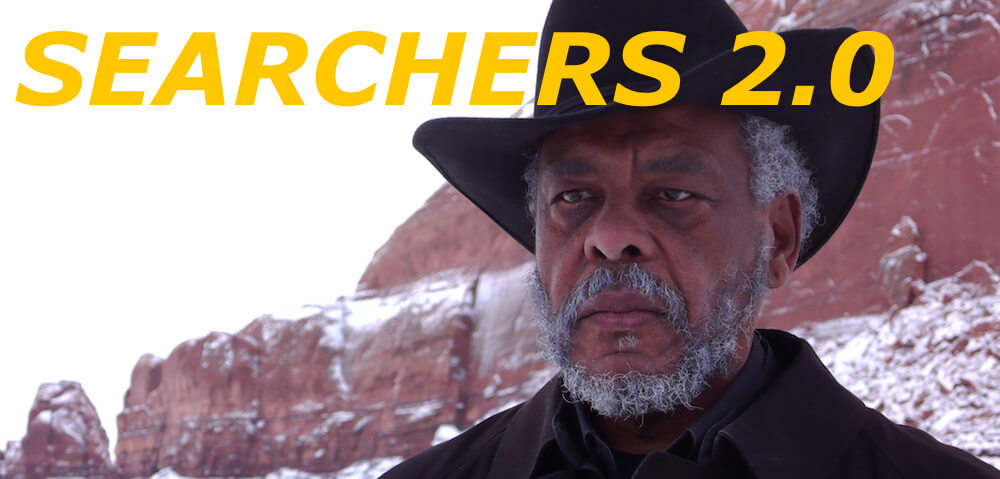 THE SEARCHERS 2.0
Dir. Alex Cox, 2007
90 Minutes, USA, English
TUESDAY, OCTOBER 3 – 7:30 PM
SATURDAY, OCTOBER 7 – 7:30 PM
WEDNESDAY, OCTOBER 18 – 7:30 PM
TUESDAY, OCTOBER 24 – 7:30 PM
Cox returns to his favorite genre, the western, by way of the existential road picture, and reunites with longtime collaborators Sy Richardson (Repo Man, Straight to Hell, Sid & Nancy, Walker), Del Zamora (also Repo Man, Straight to Hell, Sid & Nancy, Walker) and Ed Pansullo (yup, Repo Man, Straight to Hell, Sid & Nancy, Walker) in an equally comedic and tragic story about two washed-up Western character actors, Fred and Mel, who seek revenge against a sadistic stuntman, Fritz Forbusher, who tormented them as children on the set of a film. Features cameos by Cox, Roger Corman and Leonard Maltin.
"Every screenplay I've written (how many is that? 40? 50?) has had the same initial response: 'the characters are unsympathetic.' Perhaps this is why so few of them were made. Financiers are simple, twisted souls who like a simple story with false breasts, perfect white teeth, and a muscular, anti-intellectual action hero. Fred lifts weights while watching TV but he is otherwise unheroic: bogarting the joints and the beer, telling ridiculous and untrue stories, bitching about Al Gore and Michael Moore. Mel is, if anything, worse: a penniless deadbeat dad who gets itinerant workers fired and lies to his daughter. And Fritz Frobisher, beater of little children, is the worst of all…
…the story was about actors, and the politics were in the sub-plot (we follow a trail of sad memorials to those killed in WWII, Afghanistan and Iraq)…
At one point in SEARCHERS 2.0, Mel and Fred are mistaken for homeless people by a Mexican guy who gives them a dollar. This follows the revelation that neither of them has health insurance. Not a big deal – 40% of the people living in the US [didn't] have any [at the time the film was made], either. But imagine Bill Murray or Cheech Marin, or any other pair of upper-middle-class, Hollywood actors, trying to say those lines. It would be impossible. Worse, it would be despicable – like Jack Nicholson and Madonna playing homeless people, in a film for Universal." -Alex Cox
---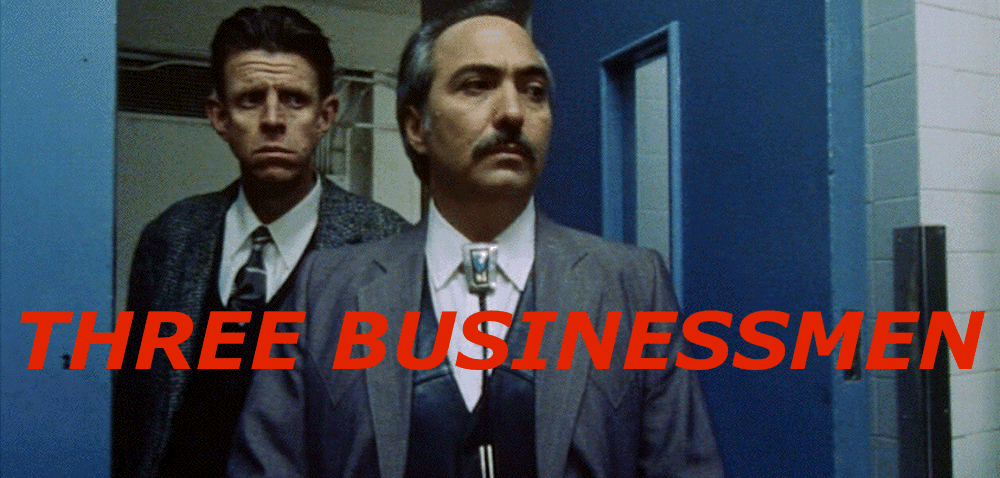 THREE BUSINESSMEN
Dir. Alex Cox, 1998
80 minutes, UK, English
MONDAY, OCTOBER 2 – 10 PM
SATURDAY, OCTOBER 7 – 5 PM
WEDNESDAY, OCTOBER 11 – 10 PM
MONDAY, OCTOBER 23 – 7:30 PM
One of Alex Cox's lesser seen films, and perhaps his funniest, in which he himself stars alongside frequent collaborator Miguel Sandoval (Repo Man, Straight to Hell) as two businessmen who cross five countries over the course of one while night looking for a good place to eat.
"It is always good to cast the director because you have to pay one salary less, one less airplane ticket, one less per diem. It's even better if you can persuade them to edit the film as well, and to go and get coffee for the security guys." -Tod Davies, producer
"It's extremely exciting. Thrilling is not too strong a word. But it creeps up on you. It isn't a rock'n'roll themed piece like REPO MAN…Yet it's 100% subversive, and threatening to the MTV value system. It's also very funny, but again, not like TV. And it all happens in the course of one night." -Alex Cox