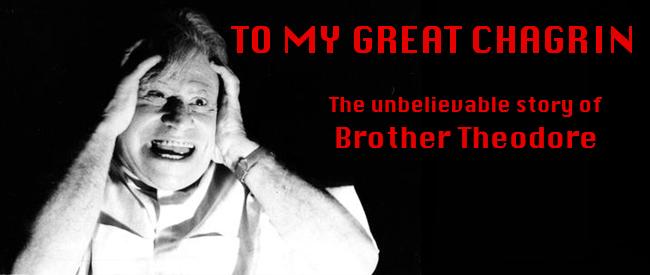 TO MY GREAT CHAGRIN: THE UNBELIEVABLE STORY OF BROTHER THEODORE
Dir. Jeff Sumerel, 2008
USA, 74 min.
MONDAY, OCTOBER 6 – 7:30PM
TUESDAY, OCTOBER 21 – 10PM
SUNDAY, OCTOBER 26 – 5PM
All screenings include a free Brother Theodore button!
Self-described "philosopher, metaphysician and podiatrist," and proud wearer of a hairdo like a Renaissance monk caught in a 1950s dryer chair, Brother Theodore was one of the most weird and hilarious stage and screen performers you've only sort of heard of.
Having memorably scratched Hollywood's gilded glass ceiling in the 1989 noir-com classic THE 'BURBS as creepy, laconic neighbor Uncle Ruben Klopek (alongside a young Tom Hanks, ever-unhinged Bruce Dern, post-bikini Carrie Fisher, and pre-drugs but still snot-nosed Corey Feldman), Theodore had also developed a semi-regular second-string guest rapport with David Letterman, appearing on his show sixteen times. (YouTube alert!)
But the basis for the mainstream flirtations — indeed the basis for Theodore's entire creative persona, which he never deviated from — was a one-man Greenwich Village stage show he performed for nearly seventeen years, blowing the socks off Eric Bogosian, Woody Allen, and Penn & Teller (among others) along the way.
Flamboyant, confounding, fanatic, hilarious, and strangely tender — Theodore's monologues hinted at a fount of rage, pain and alienation, to which TO MY GREAT CHAGRIN delves into fascinating, surreal detail. From Weimar playboy and friend of Albert Einstein to penniless (and family-less) survivor of Dachau and refugee in Eisenhower's America, Jeff Sumerel's brilliant, needed documentary gives one of America's greatest monologists a lasting stage to showcase his singular "stand-up tragedy."