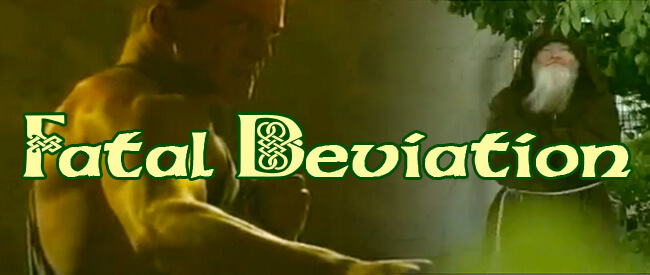 FATAL DEVIATION
Dir. Simon Linscheid, Shay Casserley, 1998.
Ireland. 76 min.
SATURDAY, MARCH 16 – MIDNIGHT
In keeping with St. Patrick's Day tradition, we're dragging Irish pride into the gutter with a holiday screening of FATAL DEVIATION, Ireland's first (and only) feature-length martial arts film. Written, produced, cinematographed, cast by, stunt-coordinated, and starring James Bennett, the film tells the story of Jimmy Bennett (unrelated), a young man returning home after a long absence, his future uncertain, his father gone. After witnessing Jimmy's takedown of local drug gang The Drug Lords Gang (featuring Mikey Graham, member of Ireland's lone boy band BOYZONE), a monk belonging to the local church's secret underground kung fu sect approaches with an offer to train Jimmy for the upcoming no-holds barred Bealtaine tournament.
As Jimmy learns the monk's secret techniques of cutoff shorts tai-chi and kicking near small fires, The Drug Lords Gang increasingly pressures Jimmy to join them. When he refuses, the Drug Lords call ace fighter Seagull back from Hong Kong to take Jimmy out in the tournament. Jimmy's only hope is mastering the FATAL DEVIATION, as taught by a man strongly resembling a drunk Led Zeppelin Hermit.
Filmed in the verdant backwater of Trim and featuring exactly one (completely unintentional) stunt, this is a film best witnessed in the safety of a group. Lacking Irish wit or charm and leaving you bewildered, FATAL DEVIATION has the same effect as a day spent chugging Car Bombs, but without the next day's hangover. So put down that green beer – if someone's going to slander the Irish good name, who better to do so than the Irish?