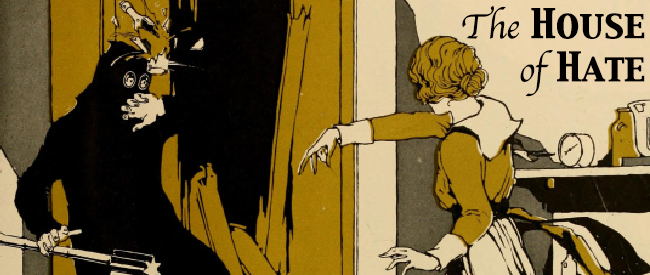 THE HOUSE OF HATE
Dir. George B. Seitz
1918
USA
PART 1: Episodes 1–5
SATURDAY, OCTOBER 3 – 7:30 PM
WEDNESDAY, OCTOBER 7 – 7:30 PM
SUNDAY, OCTOBER 18 – 5:00 PM
PART 2: Episodes 6–10
THURSDAY, OCTOBER 15 – 7:30 PM
SUNDAY, OCTOBER 18 – 7:30 PM
THURSDAY, OCTOBER 29 – 10:00 PM
Short-form weekly action serials were the blockbusters of the early cinema, and Pearl White was their queen. White rose to fame in wildly popular and aliterated titles such as THE PERILS OF PAULINE and THE EXPLOITS OF ELAINE, narrowly avoiding death every episode, only to be imperiled in another, often literal, cliffhanger ending. White famously did (almost) all of her own stunt work, swimming rivers, shooting pistols, and thrilling an audience who came back every week to see their plucky heroine evade the latest trap her enemies set for her.
Much of White's filmography has been lost, but THE HOUSE OF HATE is among the few of her surviving serials. White plays Pearl, the illegitimate daughter of a munitions tycoon. Suspecting the rest of his family of plotting against him, Pearl's father names her the sole heir to his fortune, outraging his scheming relatives, and making Pearl the target of a mysterious masked maniac set on murdering her.
This October, Spectacle is proud to present the entire ten-episode series in two parts; episodes 1-5 and episodes 6-10.
This digital transfer comes to us from our friends at Serial Squadron.