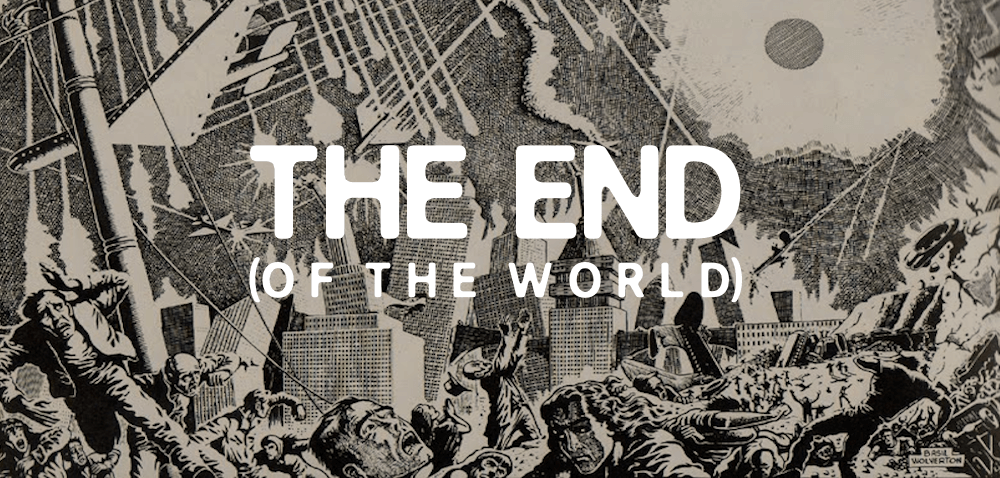 Snow in Egypt. Unholy congenital mutation. Toxic slugs aggrieved beyond their natural size. Artificial intelligence seizing the means of production. Lately it feels like Nostradamus predicted everything but the ascendancy of fascists with Flavacol hairpieces – but then again, this story isn't over until we say it is. While world leaders enrich themselves by measuring their sausages in thousands of lives potentially lost to nuclear catastrophe, it's time to set the clock a few isotopes closer to midnight. Because this is it, folks: THE END OF THE WORLD, coming to a goth bodega (and everywhere else as well) near you.

the human race never would
take my advice
and now just look at it
planning more wars which mean
more debts more troubles and still more wars
well if it wants to commit suicide
why should a little insect such as i
worry about it
a suicide is a person who has
considered his own case and decided
that he is worthless and acts
as his own judge jury and executioner
and he probably knows better
than anyone else whether there is justice
in the verdict
i am sorry to see the human race go
for it was in some respects almost as interesting
as several species of insects
but if it wants to die off
i shall not worry about it
i shall merely conclude that it knows what it wants
-archy the cockroach
(don marquis)
---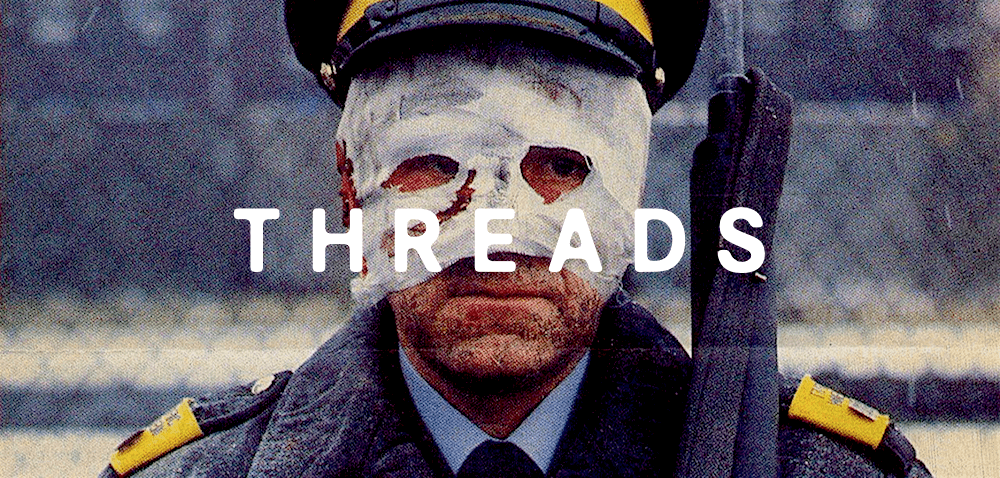 THREADS
Dir. Mick Jackson, 1984
United Kingdom, 112 mins.
THURSDAY, FEBRUARY 1 – 7:30 PM
MONDAY, FEBRUARY 5 – 10 PM
SATURDAY, FEBRUARY 17 – 7:30 PM
WEDNESDAY, FEBRUARY 21 – 10 PM
"The most terrifying and honest portrayal of nuclear war ever filmed." – The Guardian
"Unsettlingly powerful." – New York Times
"Realistic, terrifying and brilliantly conceived, THREADS is guaranteed to give you nightmares." – New York Daily News
"This is not a film to be reviewed as a film; its art is that it cancels all aesthetic distance between our unthinking and the unthinkable: here is the death of our life and the birth of a new life for our children, a life … of slow death by radiation sickness and plagues and starvation and quick death by violence." – Russell Hoban, The Listener
Upon its 1984 premiere at the height of global nuclear tension, THREADS shocked the entirety of the BBC's viewership. Months later, it became the most-watched cable program in American history.
Exactingly directed by Mick Jackson (VOLCANO) from a screenplay by Barry Hines (Ken Loach's KES), this graphic docudrama depicts the unraveling of society after the working-class city of Sheffield, UK undergoes nuclear attack. With talk of nuclear conflict back in the news, the time is now for audiences with fortitude to experience and absorb this shattering vision on the big screen.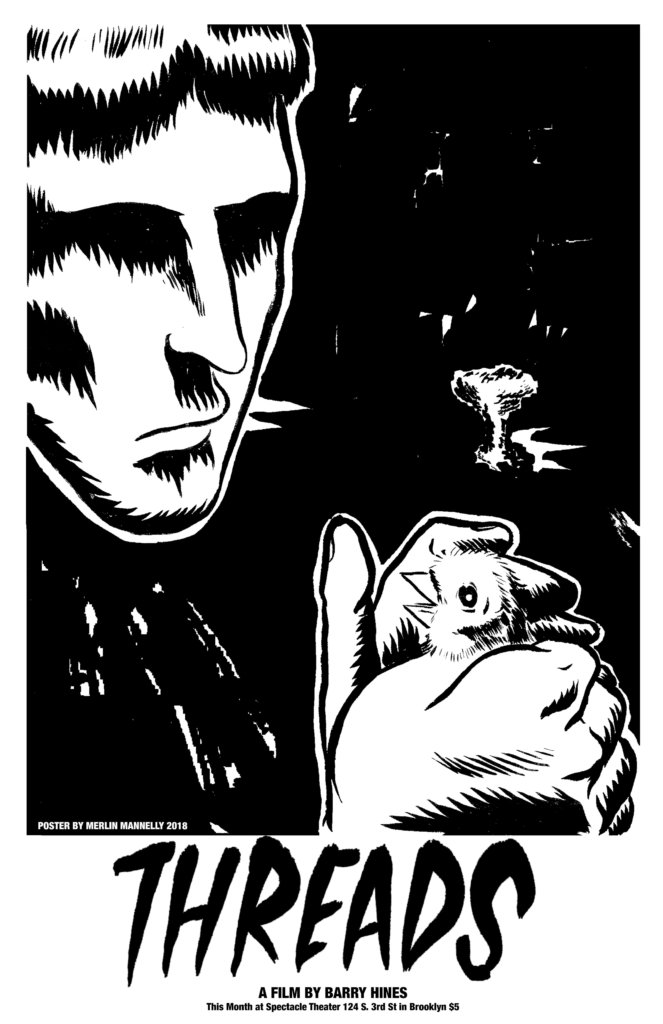 (poster by Merlin Mannelly)
---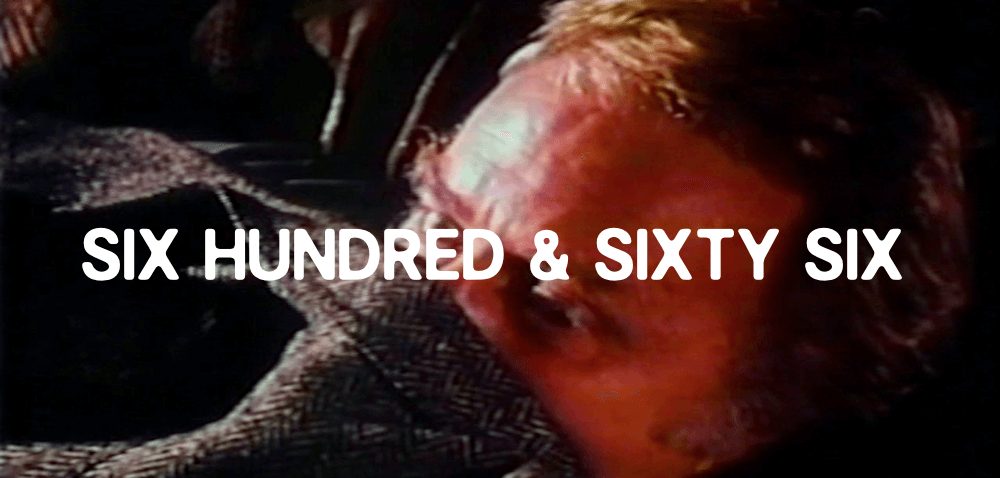 SIX HUNDRED AND SIXTY SIX
Dir. Tom Doades, 1972
USA, 89 min.

SUNDAY, FEBRUARY 4 – 7:30 PM
THURSDAY, FEBRUARY 15 – 10 PM
TUESDAY, FEBRUARY 20 – 10 PM
SUNDAY, FEBRUARY 25 – 5 PM

"You can accept the end of the world with a smirk, but you can't accept your own death."
Rarely screened outside of midwest church basements, SIX HUNDRED AND SIXTY SIX considers an orbiting space station and its crew dealing with nuclear holocaust on Earth, a dwindling food and air supply and the increasing suspicion the End of Days has come upon them. Starring the great Joe Turkel (Dr. Tyrell from BLADE RUNNER, The Caretaker from THE SHINING — actually pretty much every Kubrick film!) as Cap. Fergusson, it's all far more wigged out than you might think, played for genuine pathos.Imagine a combination of DARK STAR and CHRISTMAS ON MARS shown at Youth For Christ centers and you're close! Look for one-and-done director Tom Doades as The Officer!
---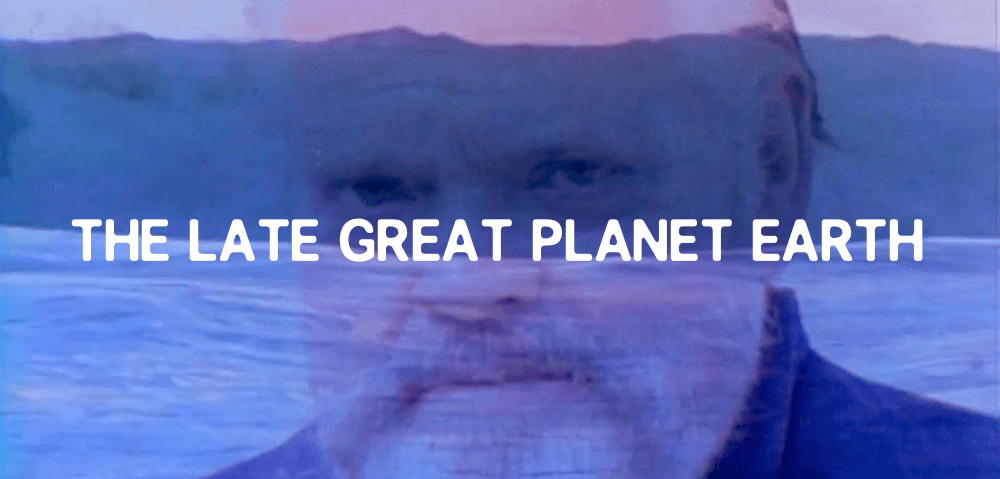 THE LATE GREAT PLANET EARTH
Dir. Robert Amram, 1979
USA, 90 min.

MONDAY, FEBRUARY 5 – 7:30 PM
THURSDAY, FEBRUARY 8 – 7:30 PM
SATURDAY, FEBRUARY 24 – 10 PM
TUESDAY, FEBRUARY 27 – 7:30 PM
"The day of the Lord is near in the valley of decision."
Based on the book of the same name, narrated by Orson Welles, THE LATE GREAT PLANET EARTH checks in on where our collective eschatological heads were at by the late seventies. It's about Biblical prophecy in the sense that F FOR FAKE is about art forgery, which is to say that's just the start. An overview/reenactment St. John The Divine's time of vision on the island of Patmos meets a series of talking heads from sociologists to celebrities to psychics pontificating on revelations of tragedy to come, THE LATE GREAT PLANET EARTH mixes Biblical prophecy and sociographic speculation in a way that regularly blurs the line between Evangelical and New Age with plenty of memento mori to go around. All that and deep implications that Nixon might be the antichrist, sadly off by just a few Presidents.
---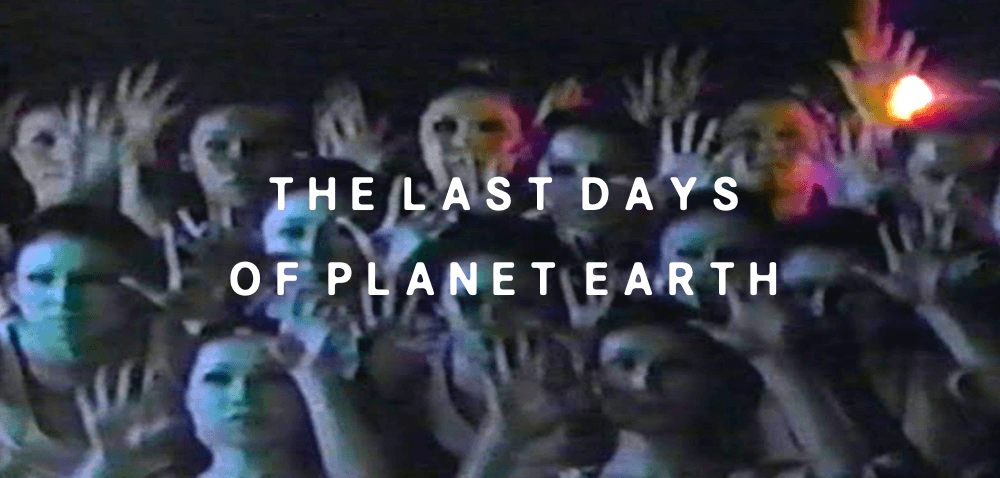 THE LAST DAYS OF PLANET EARTH
(aka CATASTROPHE 999)
Dir. Toshua Masuda, 1975/1999
Japan. 87 mins.
In crudely dubbed English.
SUNDAY, FEBRUARY 4 – 5 PM
MONDAY, FEBRUARY 12 – 10 PM
SUNDAY, FEBRUARY 18 – 7:30 PM
MONDAY, FEBRUARY 26 – 7:30 PM
Irwin Allen could only wish his name were attached to a spectacle as merciless and disgusting as THE LAST DAYS OF PLANET EARTH (also known as THE LAST DAYS OF MAN ON EARTH.) But the cataclysm is on both sides of the screen: LAST DAYS is a gone-atomic reedit of the far superior psych-out shockumentary PROPHECIES OF NOSTRADAMUS, threaded through with painfully overdubbed English dialogue. (In total, there are six versions of the film in question – including a re-edit undertaken by the producers after the Japanese moviegoing public took outrage at the original, with special effects supervised by Yoshimitsu Banno, director of alltime Spectacle favorite GODZILLA VS. THE SMOG MONSTER.)
You already know the story: man's stupidity and hubris have dried out the world's food supply, his addiction to capitalism has ruined the ecosphere forever, and his naive nuclear experimentation has created blood-drinking leeches and bats – spurring a colony of mutants to take hold of a tropical island in New Guinea, before turning on one another and going full-cannibal. Set pieces include a traffic jam-cum-firestorm that puts DEEP IMPACT to shame, entire cities wiped out like so much fiberglass and tinsel, and a suicide cult throwing themselves into the ocean at the dawn of a new millennium. Even though 1999 has come and gone, LAST DAYS is essential viewing for these end-times, an appropriately brain-numbing, apocalyptic remix that can only be called insane (in the film grain).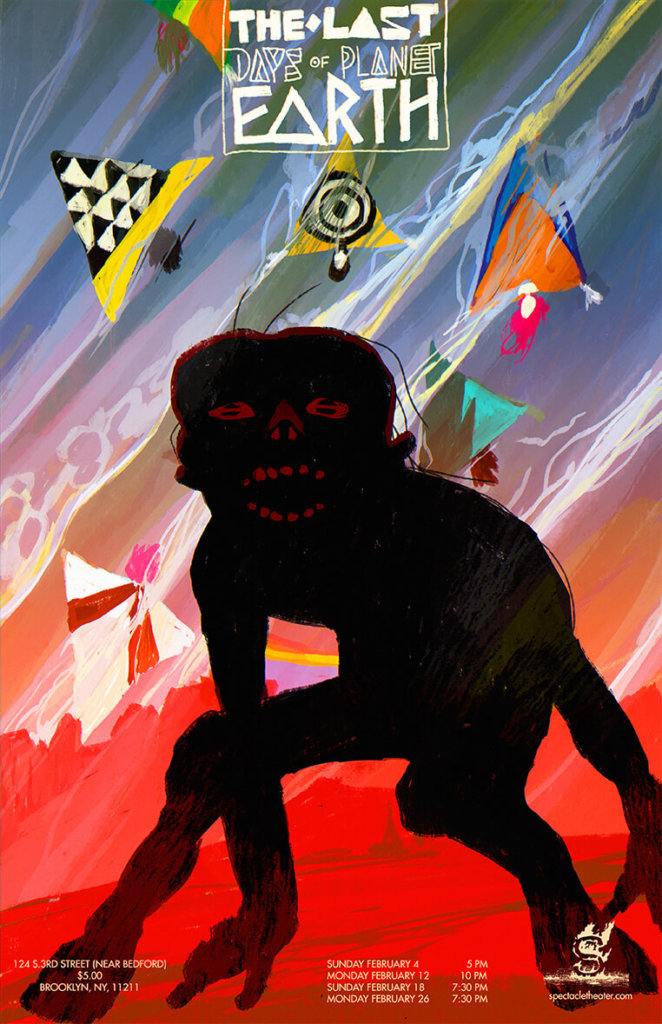 ---
---