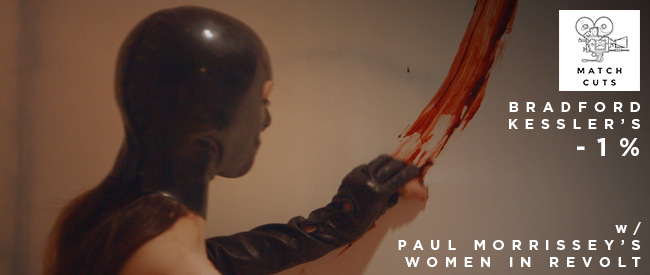 Spectacle Theater is excited to collaborate with critical platform Match Cuts on a new series of screenings. Scroll down for more information on Match Cuts.
TUESDAY FEB 21 – 7:30 PM
-1%
dir. Bradford Kessler, 2014.
USA, 6 min.
"-1% is a sex satire set in an Occupy-esque moment. A cynical world-weary female aristocrat who goes cruising for some 'Washington Square Park' idealistic boy. Mayhem ensues. Featuring: Ethel Clavicle, Colton Brock and Cyril Duval."
WOMEN IN REVOLT
Dir. Paul Morrissey, 1971
USA, 97 min.
Featuring Candy Darling, Jackie Curtis, Holly Woodlawn and Jane Forth. With music by John Cale.
Three of the most indelible transgender icons of all time play militant feminists in this incredible film which is so much more than parody. Jackie Curtis and Holly Woodlawn have had it with men and their foul ways, so they join a militant feminist organization called PIG (Politically Involved Girls). Candy Darling is a wealthy socialite from Park Avenue (or Long Island – they can't keep it straight) who they draw into the group to give it legitimacy, but it turns out that she's having an incestuous relationship with her brother. Regardless, the three quickly become enemies: "I could just plunge a knife right into her back." "Oh no, it's too bloody!" "Well, I could do it and just not look." Holly Woodlawn becomes a Bowery bum and Jackie Curtis can't stop hiring male prostitutes, while Candy becomes a famous actress: 'I'm sick of incest and lesbianism. I'm ready for Hollywood.'
After WOMEN IN REVOLT previewed on 59th Street, it was protested by a feminist organization, who mistook the film for a caricature of feminism rather than a caricature of the popular discourse around feminism, not to mention a caricature of traditional gender roles. Candy Darling reportedly declared, 'Who do these dykes think they are anyway? Well, I just hope they all read Vincent Canby's review in today's Times. He said I look like a cross between Kim Novak and Pat Nixon. It's true – I do have Pat Nixon's nose.'"
Match Cuts is a weekly podcast centered on video, film and the moving image. Match Cuts Presents is dedicated to presenting de-colonialized cinema, LGBTQI films, Marxist diatribes, video art, dance films, sex films, and activist documentaries with a rotating cast of presenters from all spectrums of the performing and plastic arts and surrounding humanities. Match Cuts is hosted by Nick Faust and Kachine Moore, and produced by Meg Murnane.