FRIDAY, SPECTOBER 2: 555
SATURDAY, SPECTOBER 3: WILD SIDE
FRIDAY, SPECTOBER 9: THE UNDERTAKER AND HIS PALS
SATURDAY, SPECTOBER 10: BALLET DOWN THE HIGHWAY
FRIDAY, SPECTOBER 16: HEADLESS EYES
SATURDAY, SPECTOBER 17: THE NIGHT BEFORE
FRIDAY, SPECTOBER 23: MARLEY'S REVENGE: THE MONSTER MOVIE
SATURDAY, SPECTOBER 24: FIFTH ANNUAL SPECTACLE SHRIEK SHOW
FRIDAY, SPECTOBER 30: TROUBLE EVERY DAY
SATURDAY, SPECTOBER 31: COMING SOON
---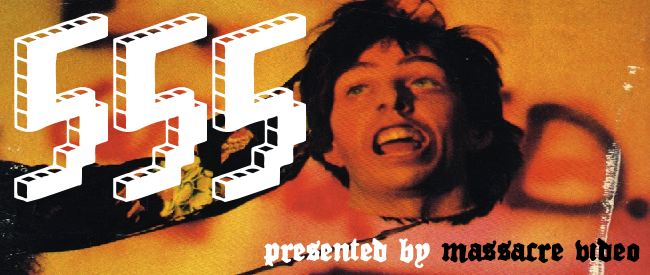 Massacre Video presents: 555
Dir. Wally Koz, 1988.
90 min, USA.
FRIDAY, OCTOBER 2 – MIDNIGHT
From The First Annual Spectacle Shriek Show. (2011)
A hippie killer with a sex-fueled, murderous bloodlust is on a rampage and he's brutally murdering innocent young couples! A nationwide trend of killings with the same m.o. happens to catch the eyes of Detective Haller and Sergeant Connor. Every five years, within five days of each other, the killer strikes! Now it's up to Haller and Connor to find out who is behind these grisly murders. Who is this crazed, blood thirsty hippie? And more importantly, what is the significance of the third 'five'?
Written by Roy Koz and directed by Wally Koz, this rare SOV splatter-classic has recently been given the royal treatment by Massacre Video with a DVD, special edition DVD, and an already eBay fodder clamshell.
---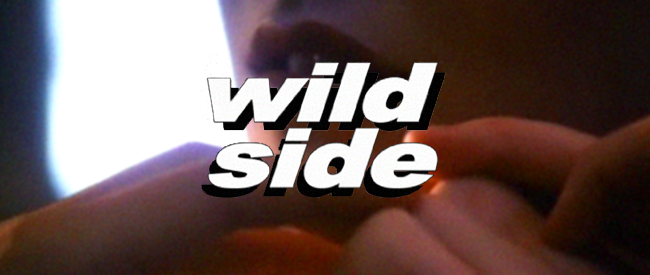 WILD SIDE
Dir. Donald Cammell, 1995.
U.S., 110 min. (Director's cut); 95 min. (Nu Image re-edit)
Nu Image Re-edit
SATURDAY, OCTOBER 3 – MIDNIGHT
Director's Cut
SATURDAY, OCTOBER 3 – 10:00 PM
FRIDAY, OCTOBER 16 – 7:30 PM
MONDAY, OCTOBER 26 – 7:30 PM
Donald Cammell's fourth film in as many decades, the brilliant and berserk WILD SIDE is a beyond-salacious slab of psycho-noir starring Anne Heche as "Alex", a Long Beach investment banker-cum sex worker for the rich and powerful. Tonight, that means Bruno – a shadowy millionaire money launderer (Christopher Walken, plus wig) – and perhaps also his valet, a sleazy undercover cop by the name of Tony (Steven Hauer, of Scarface fame). Cammell's signature refracted narrative comes into play when Alex meets Bruno's wife Virginia (Joan Chen), up-turning audience expectations for late-nite sleaze into a surprisingly tender, psychologically astute, and crushingly desperate queer love story. (There's also a sublime Ryuichi Sakamoto score, and a concurrent subplot about a virus on a floppy disk that, if it fell into the wrong hands, would bring the western world to its knees.)
After Nu Image Productions wrested control of WILD SIDE away from Cammell and recut the film into the schizoid quasi-porn they thought they had paid for, the filmmaker saw fit to take his own life. In 2000, Kong supervised a painstaking, posthumous recut with editor Frank Mazzola; this October, Spectacle is thrilled to present both the damned and saved versions of WILD SIDE.
"Games are again played with power and identity, dangerous games but not fatal ones this time; if there is one difference between the Cammell of 1968 and of 1995 that stands out above all others, it is the replacement of Artaudian cruelty with an affectionate generosity towards his characters." – Maximilian Le Cain, Senses of Cinema
"When this film was premiered at last year's Edinburgh Festival, it was accompanied by a remarkable on-stage talk from Mazzola and Kong, who were able to show extracts from the butchered, and utterly different 'TV version': furnishing us with an unmissable masterclass in the realities of film editing and a radical essay in the textual aspects of cinema. I hope that Mr Mazzola and Ms Kong can be persuaded to repeat this lecture all over the country." – Peter Bradshaw, The Guardian
---

Lunchmeat VHS Fanzine presents: THE UNDERTAKER AND HIS PALS
Dir. T.L.P. Swicegood, 1966.
63 min, USA.
FRIDAY, OCTOBER 9 – MIDNIGHT
From The Spectacle Shriek Show II. (2012)
Two degenerate café owners cook up a depraved alliance with a demented Undertaker and run amok through town on their motorcycles, hacking up hot dames and cleaving craniums. Select portions of the corpses are served up as daily specials at the café and The Undertaker gets to bury the leftovers. But when a pair of local detectives smell something fishy afoot, the trio's reign of terror runs into some trouble.
One of Lunchmeat Publisher and Editor-in-Chief Josh Schafer's all-time favorite flicks, this pioneering pitch black comedy is a kitschy slice of pure drive-in delirium that plants its tongue firmly in cheek, then bites it off and spits it out onto a sizzling hot plate ready for you to enjoy. Once you've ingested the wacky slab o' cinema cheeze that is THE UNDERTAKER AND HIS PALS, you'll never get the taste out of your mouth!
Dig it!
---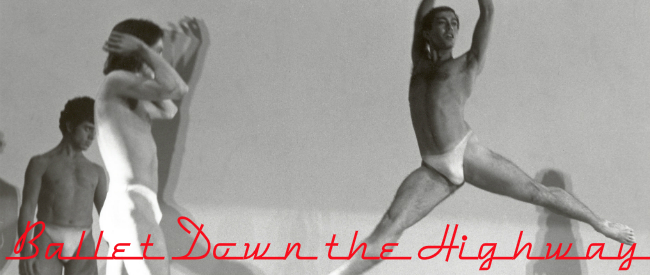 BALLET DOWN THE HIGHWAY
Dir. Jack Deveau
USA, 93 min, 1975
SATURDAY, OCTOBER 10 – MIDNIGHT
WEDNESDAY, OCTOBER 14 – 10:00 PM
TUESDAY, OCTOBER 20 – 7:30 PM

Opposites attract when a New York ballet dancer's car breaks down on the highway and he is rescued by a closeted truck driver. An ambivalent romance blossoms until he finds the city apartment he shares with his boyfriend, a fellow dancer, filled with horny truckers. Filled with sadness and unrequited longing, BALLET DOWN THE HIGHWAY is directed by Jack Deveau, whose disco-tastic DRIVE screened at Spectacle in 2014.
---

Spectacle Midnights presents: HEADLESS EYES
Dir. Kent Bateman, 1971.
78 min, USA.
FRIDAY, OCTOBER 16 – MIDNIGHT
From The Third Annual Spectacle Shriek Show. (2013)
You know how it is for starving artists, right? I mean, look at your clothes. Anyway, it used to be even harder! So hard that some of them turned to a life of crime. This is especially true in the case of Arthur Malcolm. Down on his luck, Arthur is caught robbing an apartment and loses his eye in the process. Once he's healed he's out on the streets and, brother, he is HEATED. Arthur sets about on a mad killing spree, gouging out the eyes of his victims with a spoon. He collects the eyes for his artwork, you see. This continues for some time with mixed results.
This film was directed by Kent Bateman, father of Jason and Justine, in the streets of a now long gone version of NYC. According to this film, it was a time when a hooker would approach a man covered in blood in the middle of the day in order to turn a trick. The good old days. In addition to this movie being totally batshit insane with a FIERCE mutant soundtrack, it's a veritable snapshot of a city as nasty as they come. The performances are hammy and intense, like Easter dinner in a mental institution.
Not to be missed!
---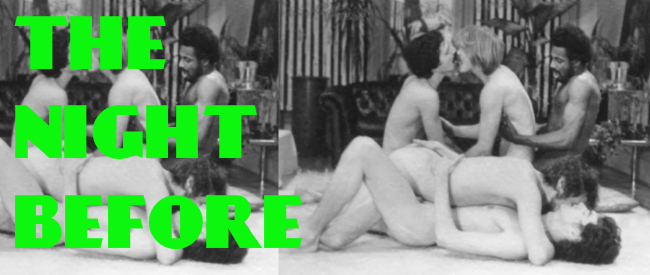 THE NIGHT BEFORE
Dir. Arch Brown
USA, 72 min, 1973
MONDAY, OCTOBER 12 – 7:30 PM
SATURDAY, OCTOBER 17 – MIDNIGHT
TUESDAY, OCTOBER 20 – 10:00 PM
THE NIGHT BEFORE gets its straightforward gay porn "narrative" out of the way in the first half before getting on with being exceptionally odd and psychedelic. There's body painting, someone sucking a disembodied cock that appears out of a bowl of fruit, a woman dancing in Central Park for no reason, and if you want to see an orgy scene
where a dildo goes in so deep it comes out someone's mouth, this film is highly recommended. Also appearing: kittens.
---

Horror Boobs presents: MARLEY'S REVENGE: THE MONSTER MOVIE
Dir. Jet Eller, 1989.
83 min, USA.
FRIDAY, OCTOBER 23 – MIDNIGHT
From The Fourth Annual Spectacle Shriek Show. (2014)
"I don't know about you, man, but I'm still huuuuungry."
Two bozos get picked up by a gang of vigilantes out to scrub the streets of scum after mistaking the men for drug smugglers. The problem is they're actually smuggling in their aunt and uncle. The four are whisked away to the local island where they murder all the other drug smugglers. You know what though? None of this even matters because once they get to the island things get really out of hand. Zombies rise from the grave, a giant hell monster shows up, and the vigilantes aren't too pleased either. How will anyone escape this island alive?
Another marathon mainstay and VHS monolith, Horror Boobs has been providing not only marathon fare but midnight fodder at Spectacle for over a decade![citation needed] This years entry is…well, something special indeed.
Featuring a completely new transfer and other goodies. If you saw this at the marathon last year, you still haven't truly seen it. A house favorite and rare treat!
---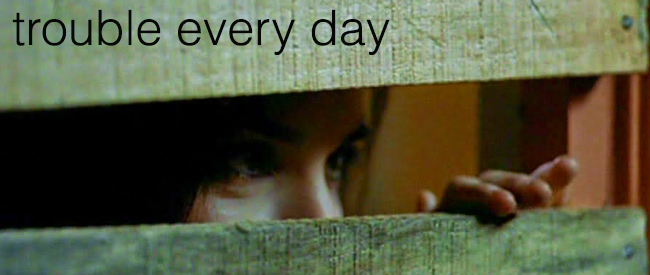 TROUBLE EVERY DAY
Dir. Claire Denis, 2001
France, 101 mins.
FRIDAY, OCTOBER 2 – 10:00 PM
TUESDAY, OCTOBER 13 – 7:30 PM
FRIDAY, OCTOBER 30 – MIDNIGHT
An American doctor (Vincent Gallo) arrives in Paris with his new wife (Tricia Vessey). They are ostensibly on honeymoon, but he is strangely distant and preoccupied with finding a former a colleague. Meanwhile, a French couple live in seclusion, the husband (Alex Descas) both caring for and imprisoning his wife (Béatrice Dalle, exuding a primal power) whose mysterious illness has reduced her to a vehicle for her own bloodlust. Connections between these characters reveal themselves slowly; exposition here is a distant second to a deep sensuality in the truest sense of the word. Denis' tactile approach to filmmaking is in full effect, the camera mapping out fragile bodies with careful, almost predatory attention, creating a discomfiting sense of intimacy. TROUBLE EVERY DAY is a film felt as much as viewed, and when it reaches its bloody apex, that's a truly frightening thing.