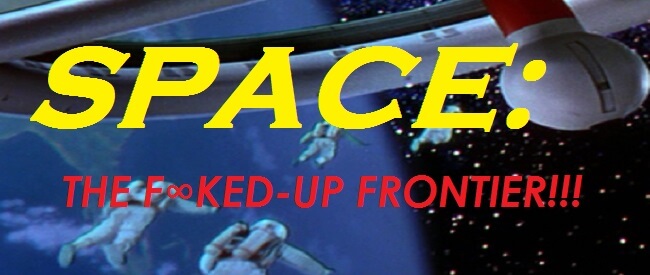 SPACE: THE F∞KED-UP FRONTIER
Dir. Various.
70 min.
FRIDAY, JULY 8 – MIDNIGHT
WEDNESDAY, JULY 20 – 7:30 PM ** 47th anniversary of the faking of the moon landing! **
SPACE: THE F∞KED-UP FRONTIER!!!!
Get HIGH with this show!
Weren't we supposed to have astronauts on Mars by now?
Where is the space wheel?
How come the U.S. and Russia don't have domed cities all across the moon?
Well, it looks that, in regards to the so-called "Conquest of Space," we sure fucked up.
Mankind's attempts to touch infinity have all failed, like legendary Icarus, and the mud of the earth will forever be our home, the stars perpetually out of reach. Even the shuttle program is dead, and all R&D is now conducted by plutocrats seeking to save themselves when our sad and pathetic Earth is finally, completely poisoned.
From genuine NASA footage to slick computer graphics to crude claymation, this series of shorts, created to celebrate the 47th Anniversary of the Faking of the Moon Landing, examines the stellar beauty just out of our reach, as well as casting a cosmic eye on the awful behavior humans are sure to take with them into the galactic void. For roughly 70 minutes, 25 short films take the viewer out of this world, sometimes calming the soul—and other times disturbing it.
See the planets dance!
See spaceships fight black holes—and lose!
See humans and aliens interact—poorly!
See how far the IRS will actually go!
See Patti Smith's secrets about flying saucer!
See more eyeball kicks than stars in the galaxy!
See more things in Heaven and Earth and Mars than are dreamt of in your philosophies!
A show that will blast you off–
It is SPACE: THE F∞KED-UP FRONTIER!!!