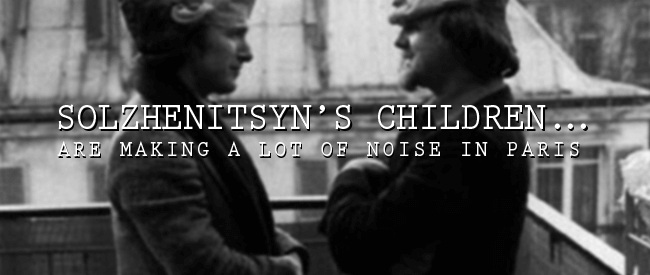 SOLZHENITSYN'S CHILDREN… ARE MAKING A LOT OF NOISE IN PARIS
dir. Michael Rubbo, 1979
France/Canada, 96 mins.
In French with English subtitles.
SATURDAY, APRIL 1 – 7:30 PM
TUESDAY, APRIL 4 – 10 PM
SUNDAY, APRIL 23 – 5 PM
FRIDAY, APRIL 28 – 10 PM
Special thanks to the National Film Board of Canada.
From veteran documentarian Michael Rubbo (who would go on to direct 80s cult classic THE PEANUT BUTTER SOLUTION – a Spectacle favorite!) comes the latest in our series of glimpses at paths not taken on the brink of apocalypse, political or otherwise: the 1979 philosophical travelogue SOLZHENITSYN'S CHILDREN… ARE MAKING A LOT OF NOISE IN PARIS.
Alongside Canadian journalist/interloper Louis-Bernard Robitaille, Rubbo considers the so-called "New Philosophers" who were castigated by Gilles Deleuze for their career opportunism after renouncing their respective Marxisms in the long decade after May 1968… wherein anti-gulagism became a cause celebre on the French left, following the betrayed Prague Spring and the first European publications of Aleksandr Solzhenitsyn's THE GULAG ARCHIPELAGO.
Along the way, hilarious and haunting contortions are exposed – chief among them the disparity between militantism and the bourgeois life of the mind, to say nothing of the efficacy question undergirding public intellectualism at large. When Rubbo floats the test-balloon idea that these recondite Maoists might have influenced the election of 1978, it's left to the viewer whether he's probing a rich irony for all the material it's worth, or making a severe allegation – a tension that haunts Rubbo's film as a twin portrait of a peculiarily pained Paris.
For its dogged before-and-after 1968 comparison, SOLZHENITSYN'S CHILDREN stands alongside its more famous contemporaries – William Klein's MAYDAYS and Chris Marker's A GRIN WITHOUT A CAT come to mind – as methodical and withering indictment of a particular first-world hubris.
The National Film Board of Canada describes SOLZHENITSYN'S CHILDREN thusly: "a somewhat unconventional look at a serious subject: an intellectual political movement in France that may alter the face of Communism in Europe. The New Philosophers, as they are called, are former leftist activists whose thinking has been radically changed by Alexander Solzhenitsyn. Filmmaker Rubbo and the Paris-based correspondent for Montreal's La Presse, Louis-Bernard Robitaille, speak to some of them prior to the French national elections. They have abandoned their former pro-Marxist ideology. Will they now decisively influence the electorate?"
Or as Rubbo put it himself to PBS in 2003: "The French are able to switch. I made a film in the '70s called SOLZHENITSYN'S CHILDREN – which was actually on PBS, by the way – and it was about the French Left, about all the intellectuals who had been rampant Marxists. Then, they read Solzhenitsyn and they all did a 180-degree switch. Not just privately, but very publicly. People like Bernard-Henri Levy, Andre Glucksmann, all staged a public mea culpa. Why? I guess France is like that, more volatile, and also they profited mightily from their change by writing instant best-sellers on their new position and becoming the darlings of the press, probably getting more attention than they had ever had as Marxists."