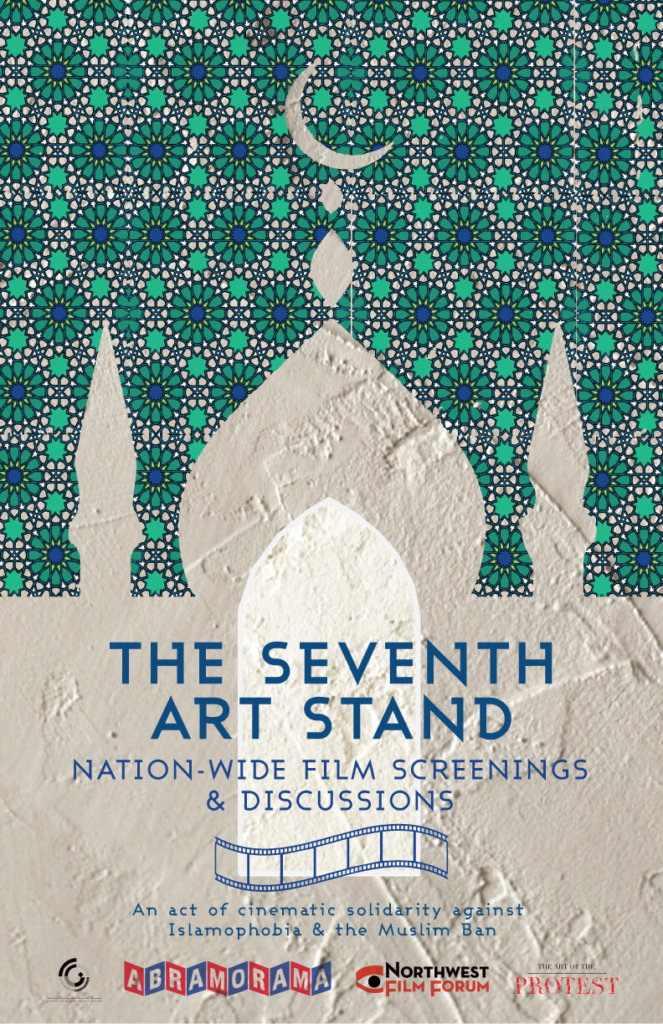 The Seventh Art Stand is a nationwide screening and discussion series, an act of cinematic solidarity against Islamophobia. In May 2017, participating movie theaters and community centers across the U.S. will show films from the countries affected by Islamophobia and the proposed travel ban. The Network of Arab Alternative Screens (NAAS) joins U.S. theaters in this coalitional effort to elevate the cinemas and stories of our friends and fellow filmmakers abroad. We believe it is crucial to build a tradition of sharing more stories, voices, and faces on our screens.
While our friends at Anthology Film Archives are screening one title from each of the countries targeted by the Tr*mp Administration's unconstitutional proposed travel ban, Spectacle has chosen to highlight three major works from countries continually affected by U.S. foreign policy (or lack thereof) in irrevocable and disparate ways: Iraq, Syria and Iran.
Special thanks to Courtney Sheehan (Northwest Film Forum) and Jonathan Hertzberg (Kino-Lorber).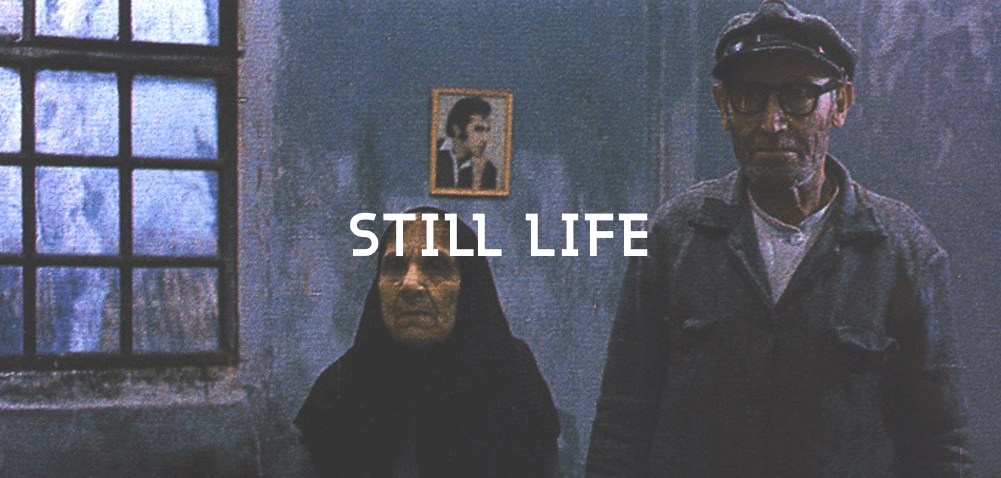 STILL LIFE
dir. Sohrab Shahid Saless, 1974
89 min, Iran
In Farsi with English subtitles.
WEDNESDAY, MAY 10 – 10 PM
SATURDAY, MAY 13 – 5 PM
Winner of numerous prizes (including the Silver Bear for Best Director) at the 1974 Berlin Film Festival, STILL LIFE examines the lot of an elderly rail worker and his carpetmaking wife at the moment he's asked to retire, and the night of a visit from their son – on leave from military duty. Shaheed Saless' film concerns laborers (and their expendability) during a time of rapid industrialization in Iran; arguably, STILL LIFE introduced the now-standard minimal dialogue and (at times excruciatingly) slow camera movement that would become the hallmark of almost every other internationally popular Iranian director in subsequent years. Nevertheless, Saless is rarely mentioned in official histories about Iranian (or even German) cinema – despite having gone on to make a number of acclaimed and award-winning films in Germany.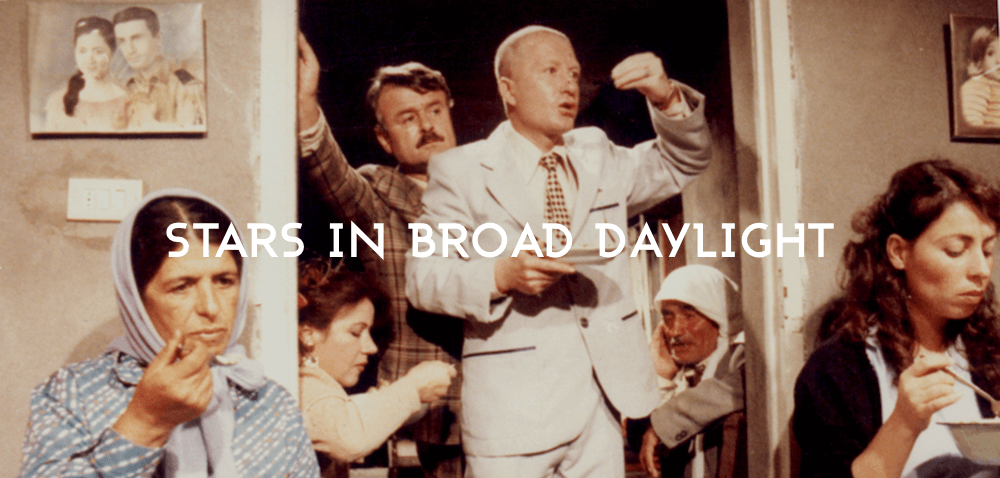 STARS IN BROAD DAYLIGHT
dir. Oussama Muhammad, 1988
Syria, 105 mins.
In Arabic with English subtitles.
MONDAY, MAY 8 – 7:30 PM
FRIDAY, MAY 19 – 10 PM
Oussama Muhammad's STARS IN BROAD DAYLIGHT is a brutal satire of life under the Baathist dictatorship of Hafez al-Assad (father of Bashar, ruler of Syria for the better part of three decades) as well as a sweeping, immaculately detailed study of family disenchantment – with gallows humor to boot. Beatings, dressing-downs and compulsory military service are regular facets of the day-to-day depicted in Muhammad's feature debut, which was made with state funds – an uneasy collaboration with the country's then-budding National Film Organization – but has never been screened in its home country as the filmmaker intended. Each member of the onscreen family lorded over by the father figure played by Abdullatif Abdulhamid (cast for his likeness to the elder Assad) struggles to locate their own individual identity; while Muhammad would later explain a need, in making STARS, to "make love with the fear" to New Yorker journalist Lawrence Wright, the film is an uneasy guessing game that takes a bleak view of anybody's chances of escaping toxic patriarchy – with glimpses of warmth and relief along the way that make it all the more devastating.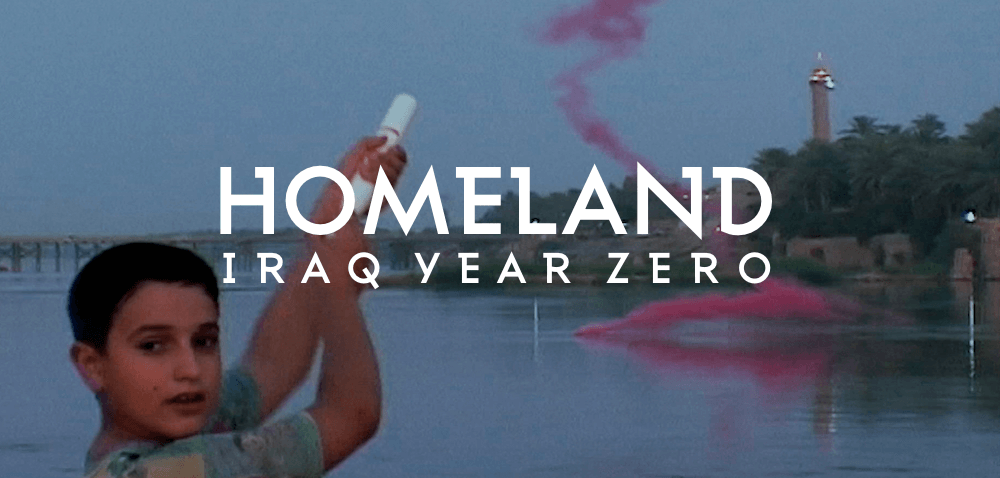 HOMELAND: IRAQ YEAR ZERO
dir. Abbas Fahdel, 2016
334 minutes (in two parts), Iraq
In Arabic with English subtitles.
WEDNESDAY, MAY 24 – 5:30 PM
SUNDAY, MAY 28 – 2 PM
In February 2002 – about a year before the U.S. invasion – Iraqi filmmaker Abbas Fahdel traveled home from France to capture everyday life as his country prepared for war. He concentrated on family and friends, including his 12-year-old nephew, Haider, as they went about their daily lives, which had come to include planning for shortages of food, water and power. No strangers to war, the Iraqis thought they understood what was coming, and could even manage to be grimly humorous about what they felt would likely be a major and lengthy inconvenience. And then, the war began.
When Fahdel resumed filming in 2003, two weeks after the invasion, daily activities have come to a near standstill, the city is overrun with foreign soldiers, and many areas of Baghdad had been closed off to ordinary citizens. Iraqis endure, seemingly as unwitting as Americans themselves about what further tragedy awaits. Fahdel's epic yet intimate film paints a compelling portrait of people struggling to survive while their civilization, dating back to ancient times, is destroyed around them.