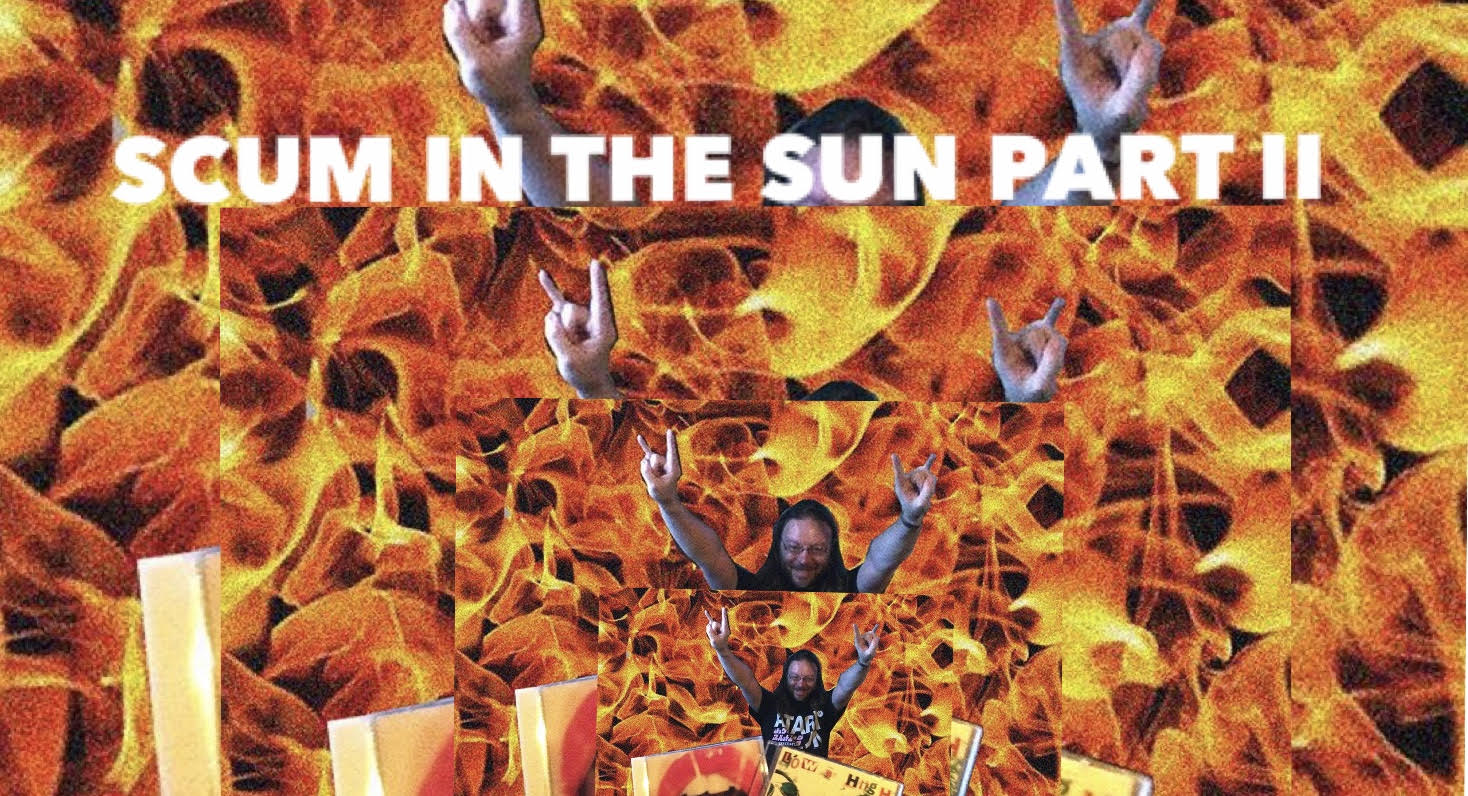 Scummer's not over til it's over.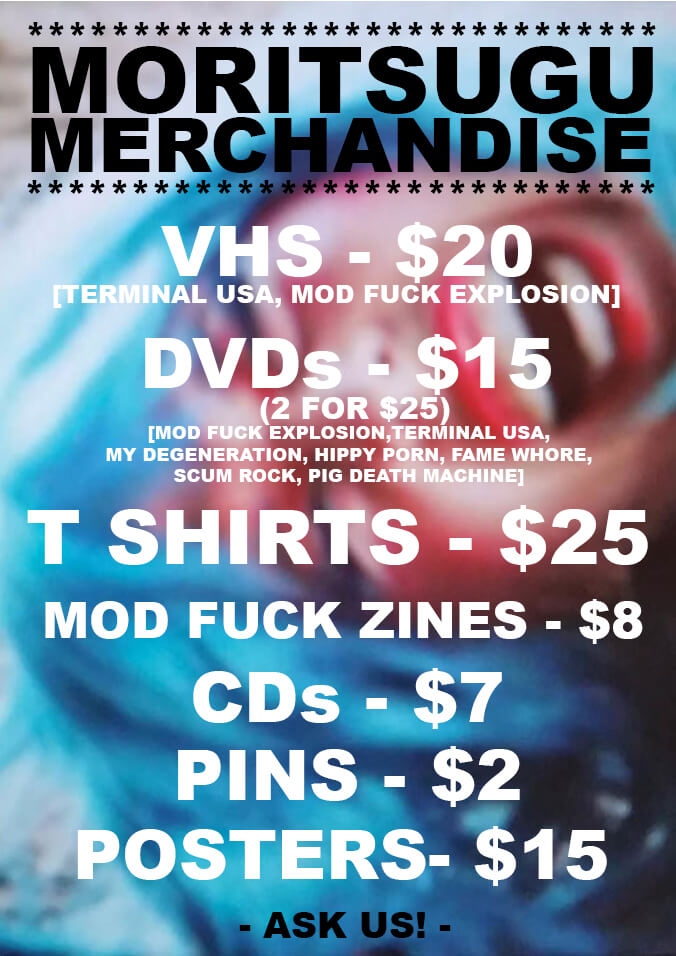 ---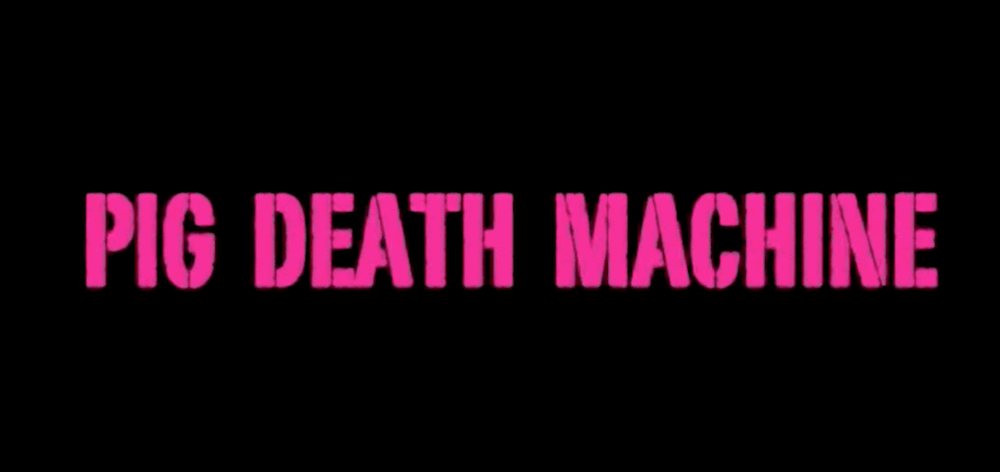 PIG DEATH MACHINE
dir. Jon Moritsugu, 2013
82 mins. United States.
*Preceded by the short MOMMY MOMMY WHERE'S MY BRAIN (1986)
FRIDAY, AUGUST 9 – 7:30 PM
SATURDAY, AUGUST 17 – MIDNIGHT
MONDAY, AUGUST 19 – 10 PM
WEDNESDAY, AUGUST 28 – 10 PM
If you joined us for July's selections, you know by now that Jon Moritsugu has a thing with meat, especially in raw form. In MOD FUCK EXPLOSION London walks through 800 pounds of the stuff, and MY DEGENERATION features a punk band sponsored by the beef industry. PIG DEATH MACHINE explores the supernatural power of rancid pork, which transforms the lives of two women who consume it. Amy Davis has a sudden spike in brain power, her IQ rising faster than temperatures in the New Mexico desert. Hannah Levbarg, a punk plant-lover, develops a psychic connection with the local flora that includes their screams for water and attention. This film was shot digitally, adding to the garish putridness of the whole operation. All of this is bookended by a mysterious pig-mask love affair, hinting at the origins of the shipment of magic meat.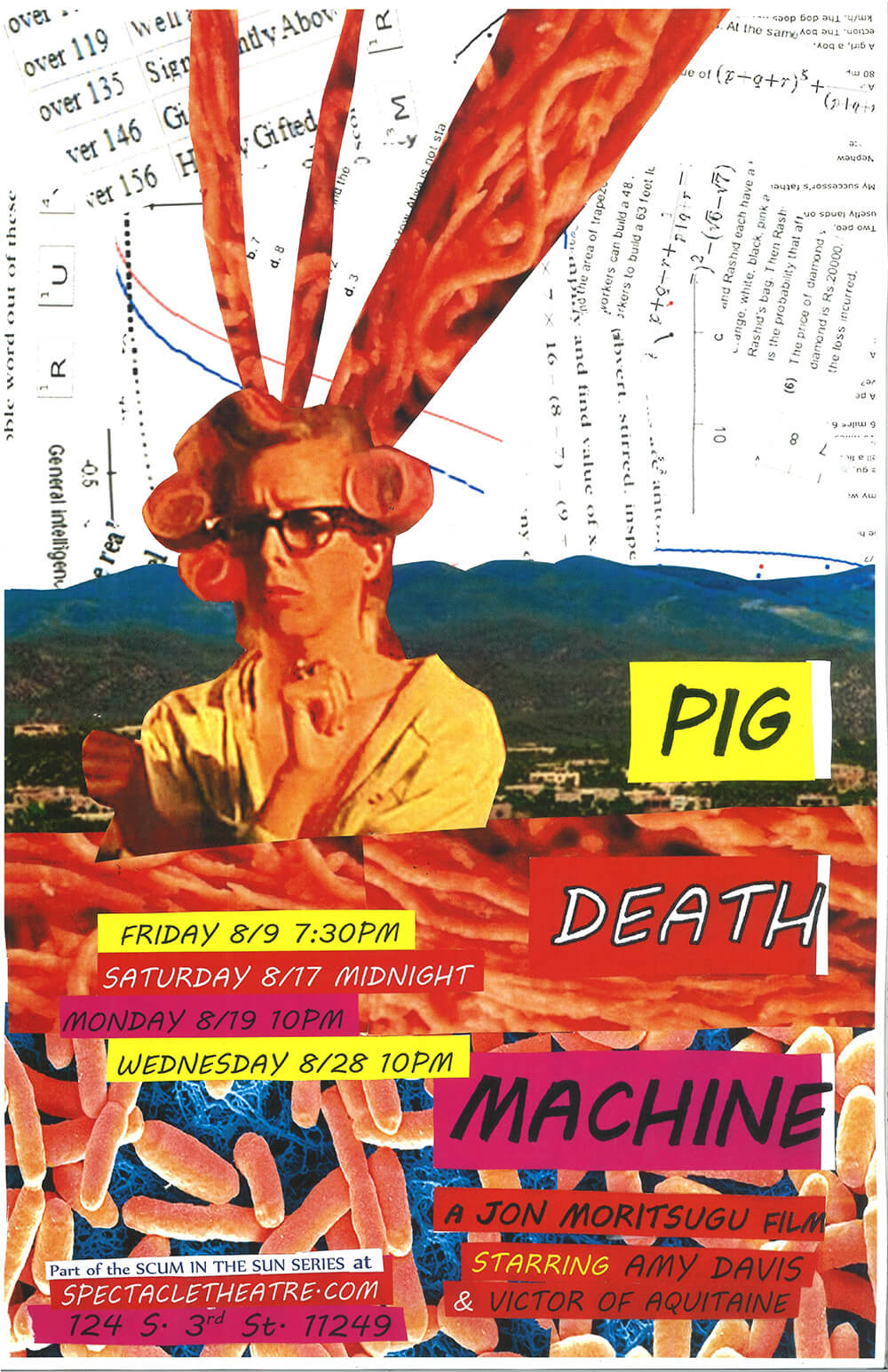 ---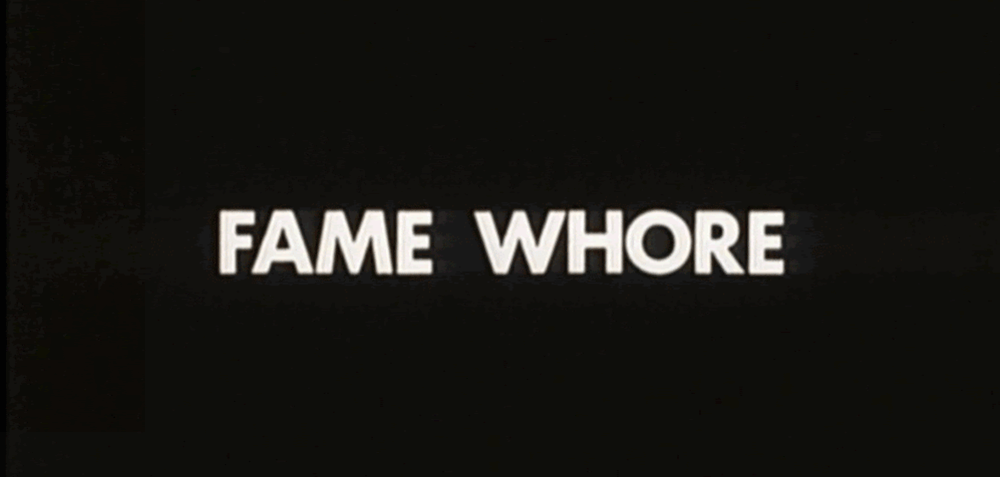 FAME WHORE
dir. Jon Moritsugu, 1997
73 mins. United States.
*Preceded by the shorts BRAINDEAD (1987) and DER ELVIS (1988)
FRIDAY, AUGUST 2 – 10 PM
SATUDAY, AUGUST 17 – 7:30 PM
THURSDAY, AUGUST 22 – 7:30 PM
MONDAY, AUGUST 26 – 10 PM
They say fame comes at a price. For the psychos found in the last gem of Moritsugu's 16mm empire, that price is sanity. Told in triptych, FAME WORE examines three unrelated eccentrics lost in total delusion within their profession, all taking place on a day where each get smacked hard with reality checks that force consideration for saner perspectives.
One story follows that of Jody George (Peter Friedrich)—a ruthless bro whose blessed tennis prowess has earned him the #1 rank in the field worldwide. But once rumors spreading through the newspapers put his straightness into question, his several investors begin to drop him one by one, throwing him on a infantile rampage in his SF hotel suite. Another tale peers into the office of a milquetoast animal lover (Victor of Aquitaine) whose dignity is continuously trampled on at his New Jersey dog adoption agency. All the intensely bottled up repression and isolation naturally lead him to manifest an imaginary friend (a sauced St. Bernard who offers half-hearted advice).
But frankly it's Amy Davis who steals the show as the true Fame Whore, Sophie: a seriously talentless, bong ripping New Yorker, who lives in a business suit but can't seem to file her own taxes. Tormenting her unnecessary personal assistant, J (Jason Rail), with endless self-obsessed and hyper-judgmental confab while her headshots go unautographed, Sophie's fate unlikely holds fame and glory, but rather a doomed personal esteem, void of substance or meaning.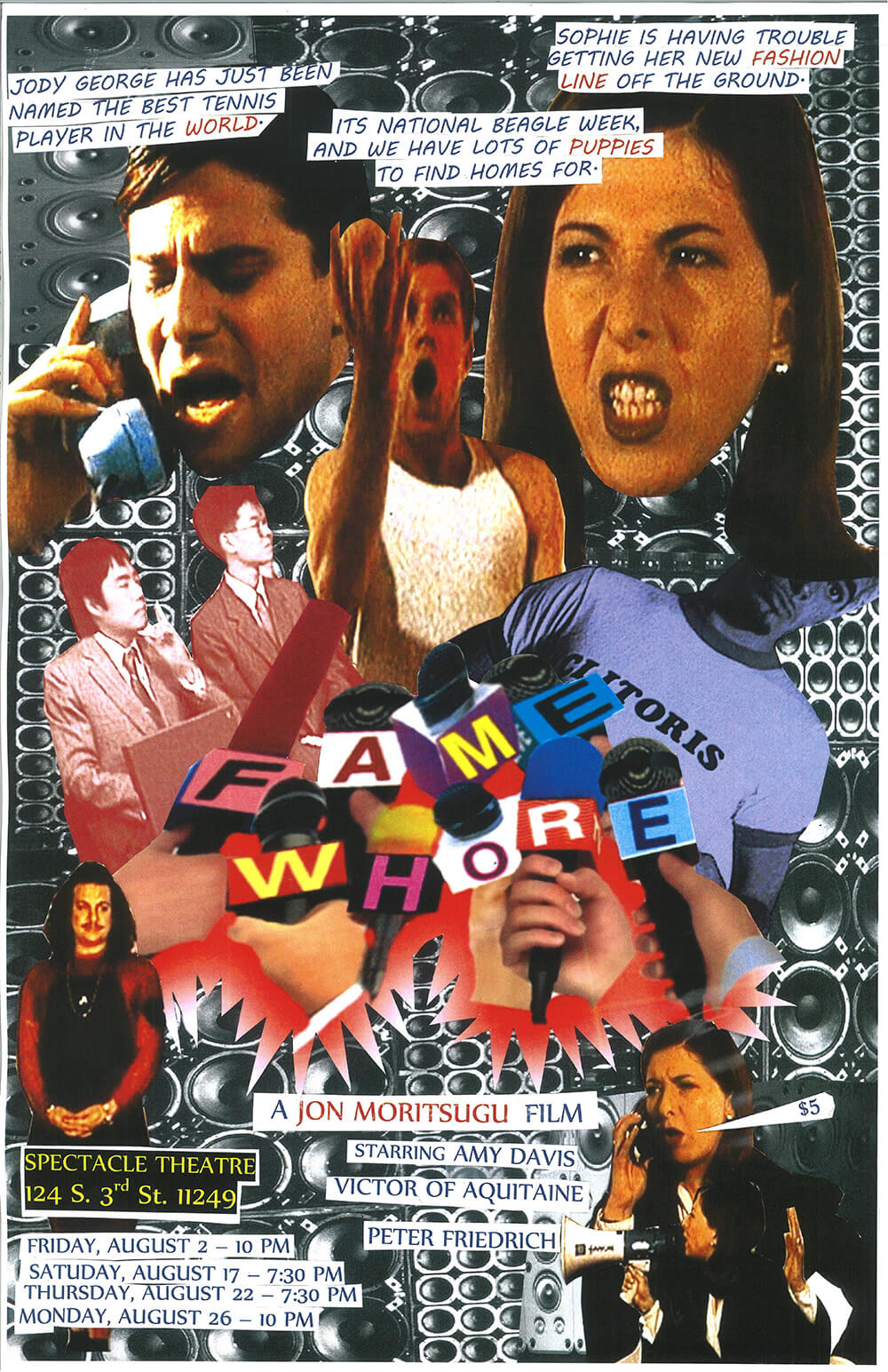 ---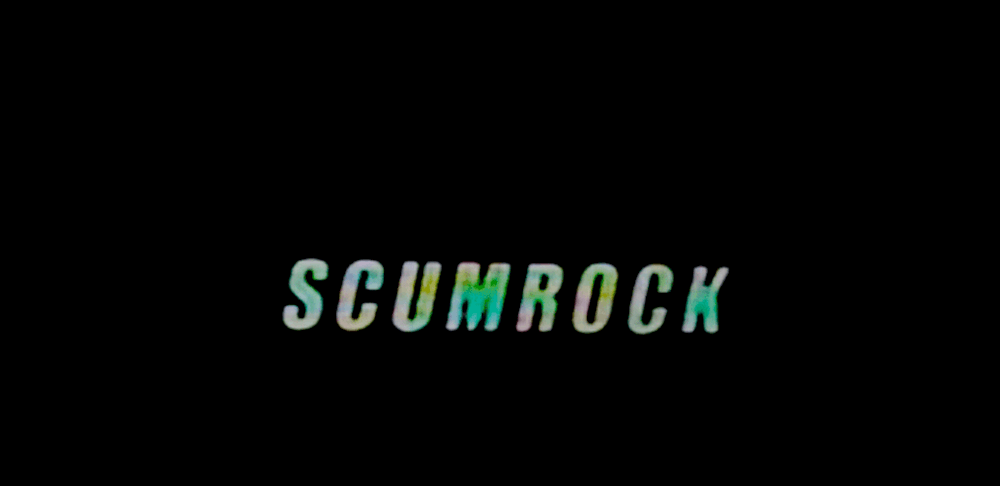 SCUMROCK
dir. Jon Moritsugu, 2002
79 mins. United States.
*Preceded by the shorts CRACK (1999) and SLEAZY RIDER (1988)
TUESDAY, AUGUST 6 – 10 PM
SATURDAY, AUGUST 17 – 10 PM
TUESDAY, AUGUST 20 – 10 PM
Youth is forever fading, but sleaze will never die… In this departure from celluloid, Moritsugu and Davis probe at juvenescence on its deathbed, as a cast of all too familiar drifting personalities tussle with not just the imminent death of their 20s, but the existential perils of preserving creative and offbeat livelihoods in the face of daunting adulthood, chilling reality, and personal failure.
Trashing and thrashing through the streets of a yet to be tech gentri-fried San Franciscan milieu, a no-budget underground filmmaker (sound familiar?) writhes his precarious sanity in order to hopefully yield a cinematic opus, while on a vaguely non-linear beaten course, a pissed miscreant (none other than Amy Davis) fumes and flounders to stubbornly keep her lowly punk band from being swallowed into the abyss of obscurity (and not the cool kind either).
Pressing on the perishability of the proverbial salad days, SCUMROCK is a tenderly relevant meditation for the aging hipster with chronic slacker-depression, which should inspire all of us to ask ourselves "What do I have to show for all my avant-gardness?"
---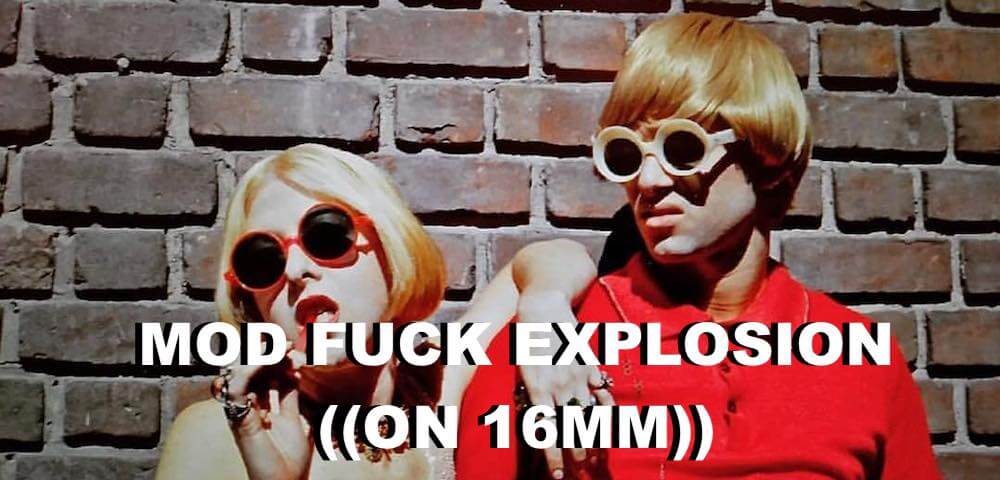 MOD FUCK EXPLOSION
Dir. Jon Moritsugu, 1994
67 min. USA
SUNDAY, AUGUST 25 – 7:30 PM **Q&A WITH DESI DEL VALLE [M16]**
SUNDAY, AUGUST 25 – 10 PM **PHONE Q&A WITH JON MORITSUGU & AMY DAVIS**
SATURDAY, AUGUST 31 – 7:30 PM **Q&A WITH CINEMATOGRAPHER TODD VEROW**
SATURDAY, AUGUST 31 – 10 PM **PHONE Q&A WITH JON MORITSUGU & AMY DAVIS*
ALL SCREENINGS ON 16MM!
*THIS EVENT IS $10*
The Nipponese bikers have leather jackets and London, a broken-family blonde, wants a leather jacket more than anything. Her sister Nasty has one, but she's a post-Quaalude comic artist and won't give it up. London's brother is a dumb wannabe mod, clinging to a style that is just nativism with thick-framed glasses. Top Mod Madball sums up their situation with a joke:
"Why did Hitler kill himself?"
"To get to the other side!"
All London has to do is party with the bikers and tell Kazumi that he has a great bod, but instead she's in love with death-obsessed M-16. Cleopatra, the supernatural succubus and queen of feces, tries to give London some T-R-U-T-H but she won't hear it! Everything is leading in a fucked-up, not-knowing-how-to-fuck direction not to mention the ultimate showdown between the pale mods and a powerful biker gang.