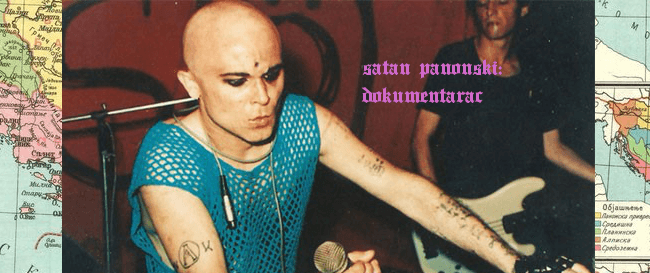 SATAN PANONSKI: DOKUMENTARAC and ZINE RELEASE
Dir. Milorad Milinkovic, 1990.
Yugoslavia, 33 min.
In Serbo-Croatian with English subtitles.
WEDNESDAY, JULY 27 – 7:30 PM
Milorad Milinkovic's student film DOKUMENTARAC depicts Satan Panonski, Yugoslavia's legendary beat poet, punk utopian, performance artist, and war criminal, in all his brutal complexity. Opening with the best known footage of his "Hard Blood Shock" Body Art performance, which mixes self-mutilation, chaotic punk rock, and spoken word, Milinkovic also captures scenes from a radio interview where he outlines his dreams of creating a communal "rock n' roll state", and his return to the mental asylum where he spent the better part of the 80s for murder. Self-identifying as "Punk by nationality, friend by profession," we see his brilliant ugliness and intensity that lead to comparisons with both Marina Abramovic and G.G. Allin. Like his albums and the myths of Panonski's life and death (during the Yugoslav Wars a little more than a year after the film), it has up until now only circulated underground on VHS tapes traded at flea markets across Eastern Europe. If Panonski was Yugoslavia's G.G., then this is their HATED.
DOKUMENTARAC was translated by Bojan Cizmic and A.M. Gittlitz as part of a new fanzine about Panonski, the creative and destructive urges of the punk movement, and their parallels to the collapse of Yugoslavia and Socialism. This special event will feature clips from his performances, readings from a new biography, translated poetry and lyrics by Nikolina Lazetic, and an essay on the relationship between nationalism and punk in Yugoslavia by Patrick Offenheiser. All attendees will receive a free copy!