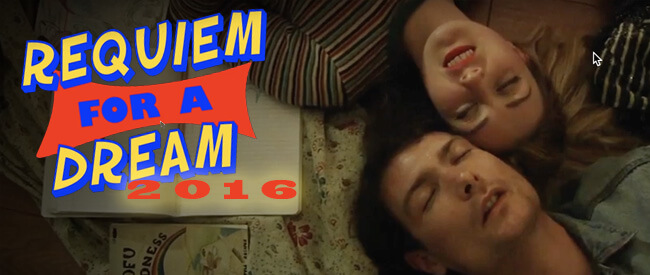 REQUIEM FOR A DREAM (2016)
dir. Taralyn Thomas & Jean-Luc Unger
2016, 93 min.
SUNDAY APRIL 2 – 7:30 PM
CO-DIRECTOR TARALYN THOMAS IN ATTENDANCE
73QU13M 4 4 D734M is a ballz2thewall, no-budget, feature-length "remake" of REQUIEM FOR A DREAM; part crowd-pleasing avant-comedy, part vitriolic attack on hollywood & mainstream american "culture," part mind-bending technical experiment in sound and image! Filmed in 3 days and edited over 2 years, REQUIEM FOR A DREAM (2016) is a farcical, hard-hitting drug drama and genuine DIY meltdown.
REQUIEM has previously screened at Dynasty Center and Memphis Hotel in Los Angeles CA. It will screen at the Echo Park Film Center sometime in April.
Copies of the film will be available at the screening in a limited-run VHS edition published by Vingo Vongo Videos.