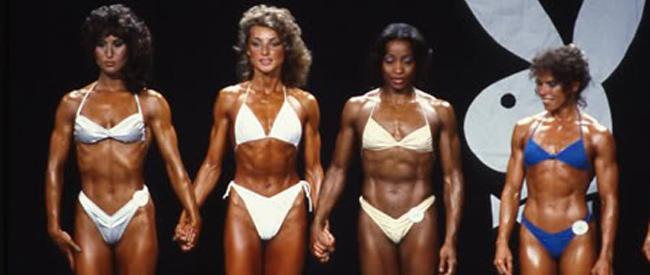 PUMPING IRON II: THE WOMEN
Dir. George Butler, 1985
USA, 107 min.
In 16mm
Screening with MASTER MUSCLES
Dir. Efrén Hernández, 2014
USA, 14 min.
ONE NIGHT ONLY
THURSDAY, FEBRUARY 19 – 8 PM
MASTER MUSCLES
A peek at a most unusual road trip. Like reality television for an alternate universe.
PUMPING IRON II: THE WOMEN
Following Arnold Schwarzenegger's introduction to the world with PUMPING IRON, the sequel focuses on body building as it was for women in 1983. At the time the standard was for femininity to be maintained, even while flexing, but when Bev Francis comes onto the scene rippling to the max, questions arise about what kind of curves are the most desirable. While we can't time-machine back to Cannes in 1985 when this debuted with some of its stars present, wowing the crowd who are used to willowy, pale girls, we can gather to watch what turns out to be certainly more interesting than Arnie's doc. You won't just oggle tan bodies – you'll see into an unusual culture that captures another way that women's bodies are scrutinized.