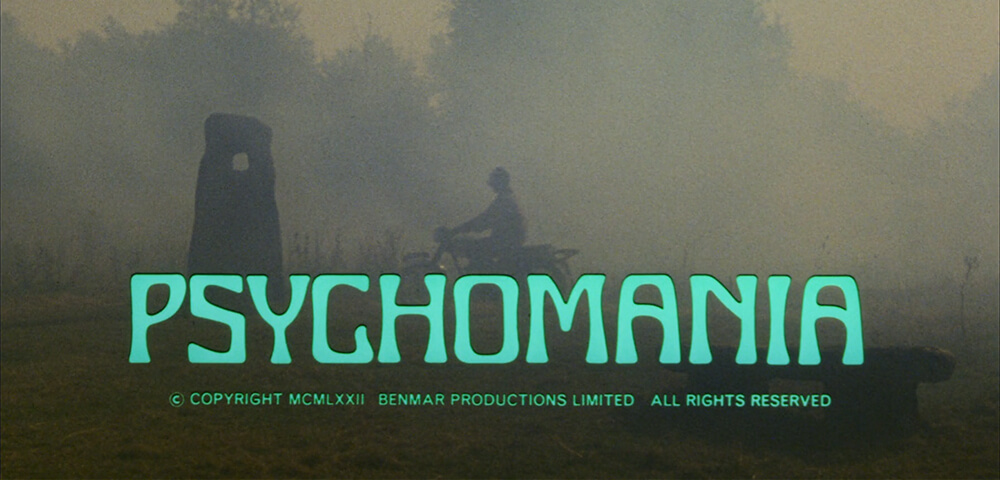 PSYCHOMANIA aka THE DEATH WHEELERS
Dir. by Don Sharp, 1973
USA, 95 min.
FRIDAY, AUGUST 3 – MIDNIGHT
SATURDAY, AUGUST 11 – MIDNIGHT
THURSDAY, AUGUST 26 – 7:30 PM
MONDAY, AUGUST 27 – 10 PM
What do witchcraft, a knock-off Stonehenge, toads, biker gangs, and Satan all have in common? PSYCHOMANIA!
Meet Tom, the leader of biker gang THE LIVING DEAD. Tom has just discovered a loophole around death – if he dies while fully believing he'll come back, he will become immortal.
After sharing his gift with the rest of the gang, they start to reap anarchic chaos on the unsuspecting stooges of the Establishment – mostly by harassing old women (questionable) and destroying shopping centers (rad).
Featuring George Sanders' final performance as Shadwell the sinister butler, not to mention a rip-roaring psychedelic score by John Cameron, insanely groovy sets and outfits, and pure anarchy.
Presented in a crisp new blu-ray remaster from the original print, c/o AGFA.