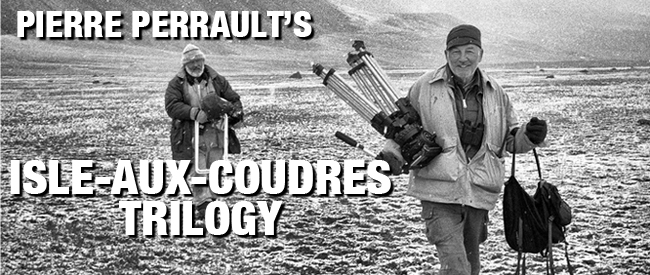 "A man who was equal parts poet and cinéaste, nationalist and naturalist, intellectual and laborer." –D. Totaro
Although Pierre Perrault is a hugely important figure for Québécois cinema, he has remained largely unknown outside of his home province. Developing a unique style of documentary cinema while making use of ever lighter and smaller equipment, Perrault explored Québec and its inhabitants from up close. Shot throughout rural French Canada, his films speak of a time when Québec was still in search of its own identity and voice
Born in 1927, Perrault grew up in Montréal where he repeatedly got kicked out of private schools until he finally graduated as a lawyer from Université de Montréal. He practiced for two years in the 1950s, then started working for Radio Canada and spent several years traveling along the Saint Lawrence River, recording traditional folk songs, interviewing the residents, and meeting many of the people who would later appear in his films. His first radio series Au Pays de Neufve-France (In the Land of New France) was one such exploration of traditional music, which later became a television series. It was through this assignment that Perrault first met the inhabitants of Isle-aux-Coudres.
Exploring the language and culture of the island's inhabitants, which have remained nearly unchanged for three centuries, the Isle-aux-Coudres trilogy follows in the tradition of ethnographic films like Flaherty's Nanook of the North. Sometimes called "cinema of the spoken word," Perrault's films emphasize the role of language and vernacular in passing knowledge and customs between generations. By looking at tradition and history, at Québec's roots in France, and at urban influences on rural societies, Perrault positioned himself politically through his films at a time when separatism was a subject of intense debate. Some called his anthropological films reactionary; some believed they helped the separatists' cause.
After The Isle-aux-Coudres trilogy, Perrault distanced himself from direct cinema and started making films about Québécois nationalism, documenting protests and questioning the feasibility of separatism. He returned to the people of rural Québec in the mid 1970s in his Abitibi cycle, which centered around farmer Hauris Lalancette.
He finally turned to aboriginal issues and topics of wilderness and hunting. LA BÊTE LUMINEUSE (1982), a film about nine Québécois urbanites on a moose hunting trip in the wilderness, was screened at the Cannes Film Festival and ignited a firestorm of debate in France and Canada.
Perrault made feature-length documentaries while continuing to work in radio and television throughout his life, and from 1965 onwards he acted as director of the National Film Board of Canada. He was posthumously awarded the Medal of the Quiet Revolution from the Government of Québec for his contributions to Québecois culture in the 1960s.
Special thanks to the National Film Board of Canada.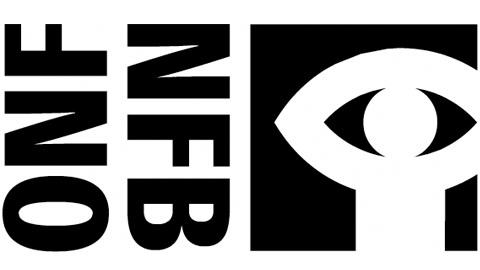 ---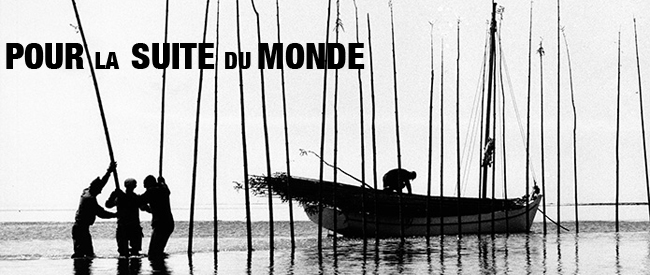 POUR LA SUITE DU MONDE
Dir. Michel Brault and Pierre Perrault, 1963
Canada, 105 min.
In French with English subtitles.
SUNDAY, NOVEMBER 2 – 5 PM
FRIDAY, NOVEMBER 14 – 10 PM
SATURDAY, NOVEMBER 22 – 7:30 PM
Directed in co-operation with Michel Brault (who was later to become another big name of Québécois cinema), POUR LA SUITE DU MONDE follows the lives of the inhabitants of Isle-aux-Coudres, where Perrault had met Alexis Tremblay and Louis Harvey—two of the trilogy's protagonists—while working for Radio Canada.
Alexis's son, Léopold, is trying to get a team together to reinvigorate the island's abandoned tradition of beluga whale trapping. When his father—the only man with any knowledge of the ancient trapping techniques—stubbornly withholds his support for the endeavor, "Grand-Louis" Harvey steps up to offer his help. Ultimately, the film's subject is not the whale that gets caught and sold to an aquarium in New York, but rather the islanders' way of working together to reestablish a custom that has only been transmitted orally.
---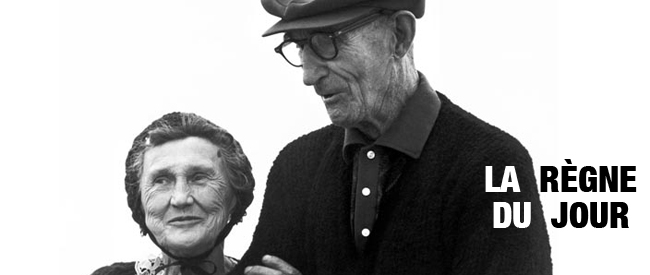 LA RÈGNE DU JOUR
Dir. Pierre Perrault, 1967
Canada, 118 min.
In French with English subtitles.
TUESDAY, NOVEMBER 11 – 7:30 PM
MONDAY, NOVEMBER 17 – 7:30 PM
TUESDAY, NOVEMBER 25 – 10 PM
Four years after POUR LA SUITE DU MONDE, Pierre Perrault invites the Tremblay family to Perche, Normandy, the region in Western France from which the people of Québec are said to originate.
On the way to France, the Tremblay family visits an old friend—the beluga whale they shipped off to New York years ago. By cutting back and forth between documentation of the Tremblay family's experiences in France and the verbal accounts of the trip they give to their friends and neighbors upon their return, Perrault comments on his characters, often refuting them when the camera proves to have a "better memory" than they do.
---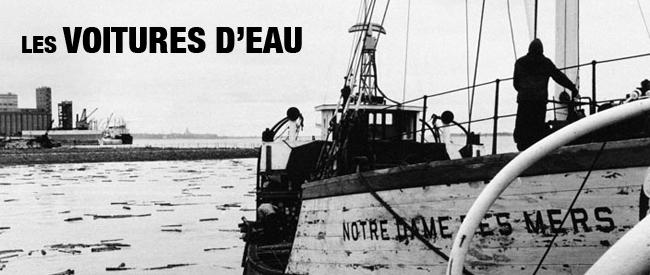 LES VOITURES D'EAU
Dir. Pierre Perrault, 1968
Canada, 110 min.
In French with English subtitles.
TUESDAY, NOVEMBER 11 – 10 PM
TUESDAY, NOVEMBER 18 – 7:30 PM
SATURDAY, NOVEMBER 29 – 10 PM
The first half of LES VOITURES D'EAU alternates between workers building a wooden schooner and shipmen fixing their weather-beaten ships. Like the beluga whale hunt, the building of the boat brings the community together. The men debate the craft of shipbuilding while townsfolk stop by to gossip. The ships, which are used to transport wood to the pulp mills, are an important part of the island's economy. In the second half of the film a longshoremen's strike in the city of Trois-Rivières maroons a handful of Isle-aux-Coudres ships for 39 days, leaving the men with nothing to do—a rare condition for them. They complain about the march toward automation, the inequality between union and non-union workers, the government's bias toward big shipping companies, the competition from off-shore ships, but ultimately they accept their fate with a philosophical attitude.
The film culminates in the burning of a ship no longer deemed sea-worthy. An aesthetic spectacle, for Alexis and Laurent Tremblay it is a painful reminder of a lost tradition.