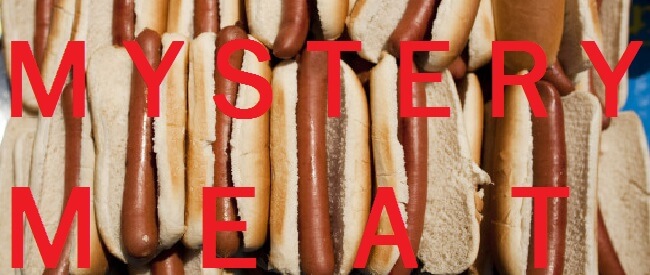 Mystery Meat is a weekly secret screening program handpicked by a different Spectacle volunteer. Each week, follow the clues and see if you can discern what's on the menu. Programming will range from bizarro science fiction jazz westerns and museum installations of grandparents eating fruit off of dead people, to a varied selection of lost television episodes about a kid in the woods with only a jetpack to survive. It could really be anything, but since it's Spectacle, it's probably the most amazing thing you've ever seen.
SATURDAYS @ 5:00 PM
---
???????? ?? ????
Dir. ???? ????????
Featuring set designs by the legendary Annie Sprinkle, this marionette showcase from one of porn's most celebrated auteurs would make even Matt Stone and Trey Parker blush.
SATURDAY, AUGUST 20 – 5:00 PM
---
?????? ?????
Dir. ????? ???????, 198?.
SATURDAY, AUGUST 6 – 5:00 PM
An 80s feminist classics in which a group of repressed women rose up and destroyed patriarchy in silent solidarity.
---
?????? ?????
Dir. ????? ???????, ????.
SATURDAY, AUGUST 13 – 5:00 PM
Directed by a slumming horror maestro and VERY loosely based on a short story from the King of noir adaptations, this made-for-TV thriller's goofy premise alone is worth the price of entry. All hell breaks loose in a college town when a cursed Aztec cape makes its way into undergrad hands. A shy wallflower unwittingly sews it into a dress for a dance, turning all who wear it into violent murder machines. Featuring a belle of 90s oddball TV, a Spaghetti Western staple, and a multifaceted star pigeonholed by his most famous role.
---
??? ???????
Dir. ??????? ????????, 19??.
---
SATURDAY, JULY 16 – 5:00 PM

A string of brutal murders in Washington, DC's Georgetown neighborhood and the sudden appearance of a colleague long thought dead lead a nearly retired detective into a hellish vision of a demonic world within our own in this contemplative, atmospheric yet mostly unpopular sequel to one of the most critically acclaimed movies of all time, directed by the original film's author.
---
?????? ?????
Dir. ????? ???????, 19??.
SATURDAY, JULY 23 – 5:00 PM
---
?????? ?????
Dir. ????? ???????, 19??.
SATURDAY, JULY 30 – 5:00 PM