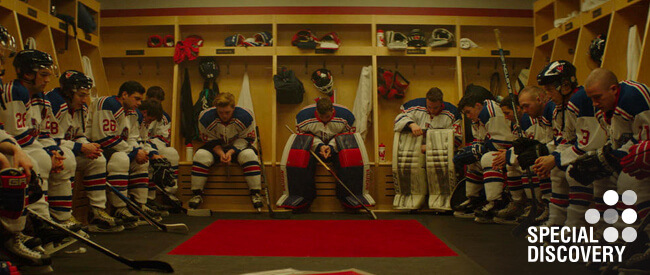 HELLO DESTROYER
dir. Kevan Funk, 2017
112 minutes, Canada
THURSDAY, OCTOBER 5 – 7:30 PM
A young junior hockey player's life is shattered by an in-game act of violence. In an instant his life is abruptly turned upside down; torn from the fraternity of the team and the coinciding position of prominence, he is cast as a pariah and ostracized from the community.
Official Selection: Toronto, Vancouver, Seattle
Canada is amidst a renaissance of refreshing movies by a new wave of directors. Told with a bold disaffected style recalling Michael Haneke, this debut is at the forefront. Hello Destroyer is an intimate portrait of a young hockey player and an incisive reflection on institutionalized violence.
HELLO DESTROYER is currently available to stream exclusively on MUBI. Watch here.
Read more about the film and check out an interview with director Kevan Funk on MUBI's Notebook 
here
.
MUBI is a curated online cinema, streaming hand-picked award-winning, classic, and cult films from around the globe. Every day, MUBI's film experts present a new film and you have 30 days to watch it. Whether it's an acclaimed masterpiece, a gem fresh from the world's greatest film festivals, or a beloved classic, there are always 30 beautiful hand-picked films to discover.