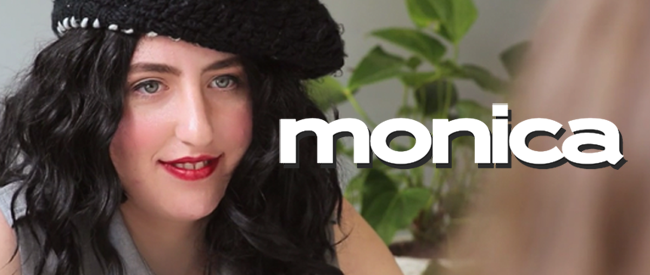 SATURDAY, JUNE 27 – 8PM
ADVANCE TICKETS AVAILABLE HERE!
ONE NIGHT ONLY
For one night only, Spectacle is proud to present the new webseries Monica in full – bookended with stand-up comedy (featuring Jacqueline Novak, John Early, Cole Escola, Erin Markey and Chris Laker) before, and a Q&A with the creators of Monica – writer/director Doron Max Hagay, and star/cowriter Lily Marotta after.
How many puff pieces have pointed to the exhausted trope of the beloved national celebrity poor, downtrodden and wanting nothing more than to be a "normal human being"? Doron Max Hagay's brilliantly high-concept Monica explores not just this question but also what said journey might actually have felt like for one Monica Lewinsky (Lily Marotta), relocating from DC to New York at the age of 27. Inspired by Vanessa Grigoriadis' article "Monica Takes Manhattan", the show centers on Lewinsky's clinching of a deal with HBO to make what would become the 2002 documentary Monica in Black and White.
Alongside pointed jabs about showbiz, fame, and nascent Brooklyn yupsterism, Hagay's approach is both generous and hilarious. It delineates the world of difference between insta-celebrity's place at the end of the 20th century and its position today. In the aftermath of the Clinton Administration, all Monica can do is be herself, one day at a time. Hagay's series brings her image back into the public arena not for a cheap laugh but instead in the service of long-overdue re-normalization, whereby her quotidian triumphs and travails begin to look more and more like anybody's from their mid-to-late twenties.
"Before hitting the show, Monica's design buddy (Steven Phillips-Horst) suggests she swap a black baseball cap in place of the black beret; Monica: "Too Monica?" At the end of the doc pitch, the execs bid her "Welcome to HBO"; in response, her publicist floats: 'Welcome to Monica.' A cautious tale, Monica's, foreboding the modern era of social media, shaming, trolling, deprivacy — like the moon, she belongs to everyone, though just out of reach." – Craig Keller, Cinemasparagus