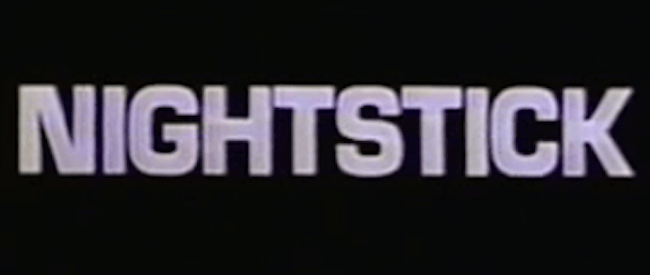 NIGHTSTICK
dir. Joseph L. Scanlan, 1987
USA/Canada, 95 minutes
English.
SATURDAY, FEBRUARY 4 – MIDNIGHT
THURSDAY, FEBRUARY 9 – 10 PM *PRIME TIME!*
FRIDAY, FEBRUARY 17 – MIDNIGHT
A cop tries to prevent a gang of extortionists from blowing up New York City with nitroglycerin in this movie about a cop who tries to prevent a gang of extortionists from BLOWING UP NEW YORK CITY WITH NITROGLYCERIN. This made-for-TV US/Canadian co-production, which is about a cop who tries to prevent a gang of extortionists from blowing up New York City with nitroglycerin, features Robert Vaughan, Leslie Neilsen and John Veron, and is about a cop who tries to prevent a gang of extortionists from blowing up New York City with nitroglycerin.
---


SELF DEFENSE
Dir. Paul Donovan, 1983
Canada, 84 min.
SATURDAY, FEBRUARY 11 – MIDNIGHT
FRIDAY, FEBRUARY 24 – MIDNIGHT
In the Canadian vigilante epic SELF DEFENSE, gang members take advantage of a Halifax police strike to go on a gay bashing rampage, but when they besiege an apartment complex, the residents fight back with booby traps and, yes, self-defense. It's a near-future Nova Scotian bloodbath in the tradition of DEATH WISH 3 and HOME ALONE. From Paul Donovan, director of video store staple DEF-CON 4 and the unpopular sci-fi series LEXX.
---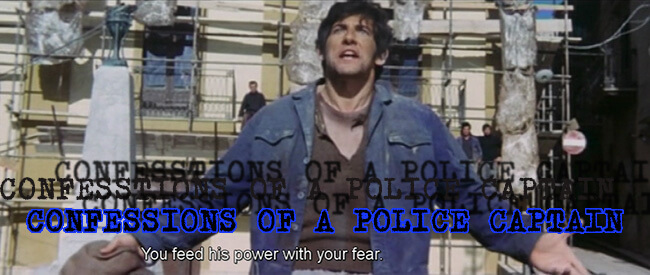 CONFESSIONS OF A POLICE CAPTAIN
(aka CONFESSIONE DI UN COMMISSARIO DI POLIZIA AL PROCURATORE DELLA REPUBBLICA)
Dir. Damiano Damiani
Italy, 101 min.
In Italian with English subtitles
FRIDAY, FEBRUARY 10 – MIDNITE 
"One of these days you'll turn on the tap and blood will run out."
Commissario Bonavia (Martin Balsam, in a role originally planned for Ben Gazarra, which is easy to imagine) is the titular police captain, willing to go outside the law to prosecute those protected by the Mafia, whose presence is everywhere, perverting justice to its ends. This is the mob as a Catholic force of evil, a presence which can kill from a distance, an endless network of paid politicians and crooked cops. At his side is Deputy D.A. Traini, played by the equally great Franco Nero (where do you even start with Nero), with elegance to spare, until Certainly a must for polizioteschi fans, though far more in the vein of INVESTIGATION OF A CITIZEN UNDER SUSPICION than, say, LIVE LIKE A COP DIE LIKE A MAN. Director Damiano Damiani (who brought us the insane LA STREGA IN AMORE, A BULLET FOR THE GENERAL and AMITYVILLE 2: THE POSSESSION!) knows exactly how best to play the corruption in which our antagonists find themselves: inescapable, fundamental, and ultimately victorious.
Featuring a jaw-dropping score by master Riz Ortolani, it's a film perfectly suited to an age where a corrupt politician aided by a diabolical force rewards cronies and lackeys the same as enemies and anyone who stands against them: violent retribution.
---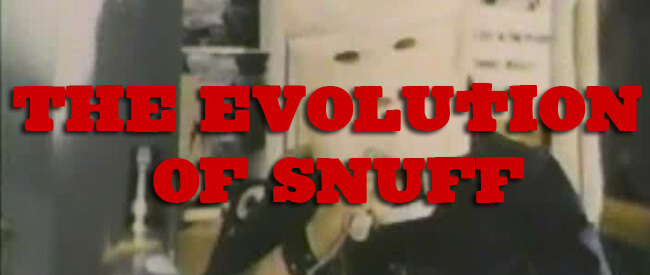 THE EVOLUTION OF SNUFF
Dir. Andrzej Kostenko, Karl Martine, Wes Craven (will explain below), 1979
West Germany, 79 min.
FRIDAY, FEBRUARY 3 – MIDNIGHT
SATURDAY, FEBRUARY 18 – MIDNIGHT
"The death of the soul begins when the human being no longer sees any sense in his existence."
There is a certain type of documentary, often German, that combines public domain footage of lurid crimes interwoven with a lurid if muddled primary story line, then overlaid with deadpan narration to make some sort of existential point about the ruination of society. It's close to a Mondo film, close to underground sleaze, close to a scuzzier Making A Murderer/The Jinx, yet not quite any of those. There must be a German word for it. THE EVOLUTION OF SNUFF is a profoundly confusing example of this genre. Starting with pedophile Roman Polanski, not terribly long after the death of his wife, pontificating on that sad old chestnut: the snuff film. This leads us to believe what we're going to see is a documentary about a film where a person is murdered on camera, right? Wrong! We get a making-of film about a wigged-out pornographic version of Lysistrata, which probably has some of you confused, until you learn the twist is instead of the solidarity of celibacy the women are going to screw the guys so much they have to submit to their whims. From here we go to a mix of William Kleinian absurdity counterbalanced by the relentlessly sardonic narration as things go from bad to weird to worse. Please stay for what might just be the most insane ending of a film ever, built around stolen outtakes from Last House On The Left! Bring a date! We dare you!