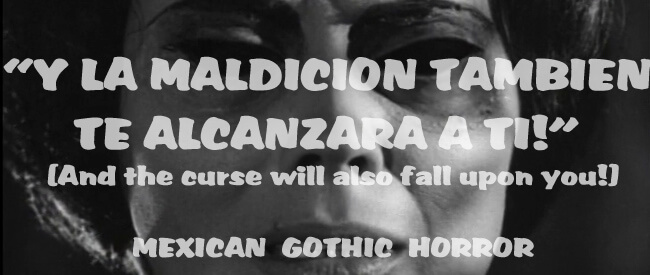 Cinematic gothic horror was a fever dream of the 60s. Gothic horror also known as filone gotico is a sub genre of horror that exploits the atmosphere and many times the story lines of the gothic novels of the 1800s. Gothic horror produced ghosts in every corner of nearly every continent between 1954 and 1969. Gothic horror appeared in the United States in the form of the tv show Dark Shadows and AIP's Edgar Allan Poe epics. In England Hammer Studios was churning out fog laden castles and vampire lovers of every persuasion. Paul Naschy was transforming into the wolf man in some dank crypt in Spain. Canada brought us the exotica infused show Strange Paradise. Mario Bava was burning beautiful witches in Italy. The love of luscious technicolor, spiderwebs, and velvet were the after effects of this strange malady.
This fever dream made its appearance in Mexico with the help of directors like Chano Urueta and screenwriters like Carlos Enrique Taboada. Films like THE WITCH'S MIRROR, THE VAMPIRE, and THE CURSE OF THE CRYING WOMAN are among some of the most beautiful and unique entries made to the gothic horror genre. What makes these films stand out amongst the flood of vampires and glistening velvet lined torture chambers is that they truly embody both the fantastic aspect and the ideas behind the gothic novels that inspired them. Gothic novels had very strong sentiments against church, state, and other oppressive forces. Mexican gothic horror films are replete with atheist and anti-patriarchal sentiments. The series "Y La Maldicion Tambien Te Alcanzara A Ti!" is a small sample of Mexico's greatest entries to the gothic horror genre.
---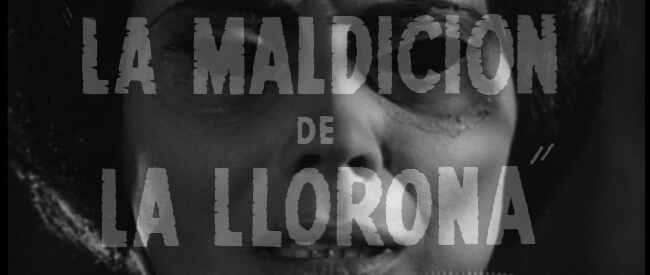 LA MALDICION DE LA LLORNA
Aka The Curse of the Crying Woman
Dir. Rafael Baledón, 1963.
Mexico, 80 min.
In Spanish with English subtitles.
SATURDAY, JUNE 4 – 7:30 PM
THURSDAY, JUNE 9 – 7:30 PM
SATURDAY, JUNE 25 – 10:00 PM
"Soon, the blood will disappear from her veins…she won't need it…"
The easiest way to explain LA MALDICION DE LA LLORNA is a Mexican take on Bava's BLACK SUNDAY, and while that's a bit *too* easy (and does Mexican horror a bit of a disservice), both films are packed with Gothic horror from the first scene. A ghostly woman with black eyes and three flesh-eating hounds sets upon a stagecoach with her knife-throwing thug, murdering everyone on board before we even get to the opening credits! Director Rafael Baledón (MUSEUM OF HORROR, THE SHE-WOLF, SWAMP OF LOST SOULS) gives us everything we could want from a film like this: secret passageways, deformed mutants, a cellar crypt where a dead body waits to rise, voodoo, solarized film, whippings and more, all set on a pitch-perfect decaying hacienda. Our witch, Rita Macedo (A BULLET FOR BILLY THE KID), commands this film, constantly plotting against her niece Rosita Arenas (who we'll also see in EL ESPEJO DE LA BRUJA/THE WITCH'S MIRROR, playing this month!). Add a score filled with musical saws, organ stabs and pounding drums and every piece is in place for a film that deserves a better-known spot at the table of Gothic Horror. Late-night Creature Feature fans might know this film from the K. Gordon Murray dub, but as with every film in this series, we're providing the original full-length cut in Spanish with English subs. Those of a delicate constitution: don't come alone!
---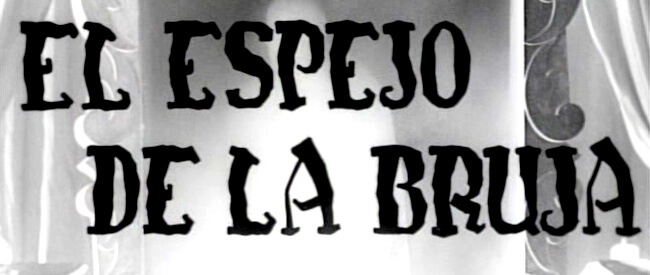 The Witch's Mirror
Dir. Chano Urueta, 1962.
USA. 72 min.
SUNDAY, JUNE 5 – 5:00 PM
THURSDAY, JUNE 16 – 7:30 PM
FRIDAY, JUNE 24 – 5:00 PM
"A melody straight from hell!"
THE WITCH'S MIRROR is one of those films whose imagery will crawl deep into a crevice of your mind and live there forever. Every tempestuous night, billowing night gown and thick swell of fog will remind you of Sara and her goddaughter Elena. The film begins with the plight of Sara who through a pact with the devil has found out that her goddaughter will be murdered by her husband Eduardo. After pleading with the devil to intervene, she is told that destiny must run its course, but that doesn't mean that Sara cannot avenge the death of her goddaughter.
THE WITCH'S MIRROR benefits from the talents of Carlos Enrique Taboada (THE BOOK OF STONE) and Alfredo Ruanova (THE CURSE OF NOSTRADAMUS) who both are prolific horror screenwriters, and the direction of Chano Urueta who is responsible for many other Gothic Horror films such as THE BRAINIAC (1961) and THE WITCH (1954). Their collaboration endues the film with a very soft nightmarish quality that resembles early surrealist film.
What makes THE WITCH'S MIRROR a unique entry into the Mexican Horror genre or for that matter the Horror genre in general is that unlike many other films concerning the occult there is no "rectifying" moral ending. An example is the 1962 film ESPIRITISM which tells the story of a woman who turns to the occult to help her family. By the end of the tale her alliance with the occult has caused the destruction of her family. Right before the end credits begin to roll the camera pans over to a closeup shot of Christ on the cross and a voiceover begins
to say that if this film can turn just one soul away from the occult the makers of the film have done their duty. Taking this into account it is absolutely fantastic that a
film like THE WITCH'S MIRROR exists. Throughout the entire film it is made very
clear that Sara and Elena are dealing with the devil. Whether favorable or unfavorable certain events take place and in the end both Sara and Elena are vindicated. There is absolutely no punishment element except for that individual who should be punished i.e. Elena's husband. Long live the infernal powers!
---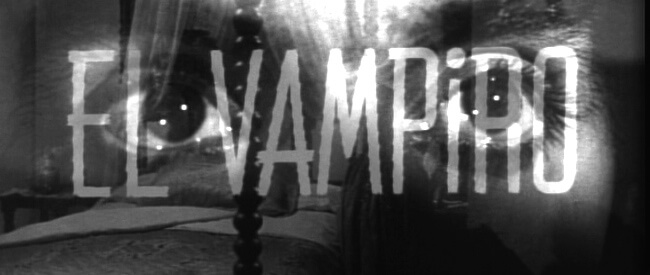 EL VAMPIRO
Aka The Vampire
Dir. Fernando Méndez, 1957.
Mexico, 83 min.
In Spanish with English subtitles.
THURSDAY, JUNE 9 – 10:00 PM
TUESDAY, JUNE 14 – 10:00 PM
TUESDAY, JUNE 28 – 7:30 PM
It is the silent, hypnotic stare that begins EL VAMPIRO, a film that comes a year before Hammer's first take on the vampire tale with HORROR OF DRACULA, two films definitely worth comparison: German Robles is every bit up to par with Christopher Lee in icy cold command. We're no more than a minute and change into this film before our vampire Duval sinks his fangs into a victim through a cloud of trilling strings: we're definitely in high gothic style, and director Fernando Mendez (THE BLACK PIT OF DR. M, THE LIVING COFFIN) brings elements of noir, heavy melodrama and a beautifully decrepit mansion…to tell any more would be to tell too much. Some of you may have seen the K. Gordon Murray versions of this film, but we're showing it uncut, in Spanish with English subs, and for those of you who have never seen it and long to spend these thick summer months walking moonlit corridors and desecrating graves, you're in for a treat.