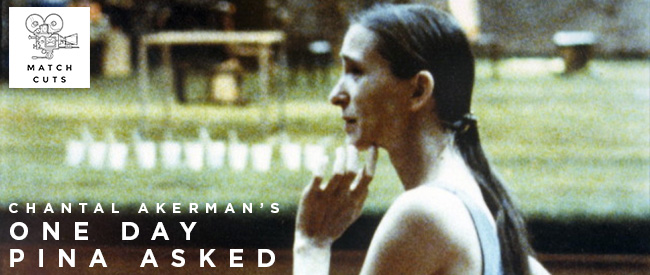 ONE DAY PINA ASKED…
dir. Chantal Akerman, 1983.
USA, 57 min.
In French with English subtitles.
ONE NIGHT ONLY
MONDAY, NOVEMBER 28 – 7:30 PM

PRE-SALES SOLD OUT
Spectacle Theater is excited to collaborate with critical platform Match Cuts on a new series of screenings. Scroll down for more information on Match Cuts.
An encounter between two of the most remarkable women artists of the 20th century, ONE DAY PINA ASKED… is Chantal Akerman's look at the work of choreographer Pina Bausch and her Wuppertal, Germany-based dance company. "This film is more than a documentary on Pina Bausch," a narrator announces at the outset, "it is a journey through her world, through her unwavering quest for love."
Capturing the company's rehearsals and performances over a five-week European tour, Akerman takes us inside their process. She interviews members of the company, who Bausch chose not only for their talents, but for certain intangible personal qualities as well. The dancers describe the development of various dances, and the way that Bausch calls upon them to supply autobiographical details around which the performances were frequently built.
Akerman also shows us excerpts from performances of Bausch dances, including Komm Tanz Mit Mir (Come Dance with Me) (1977), Nelken (Carnations) (1982), Walzer (1982), and 1980 (1980), all recorded with Akerman's singular visual touch.
"When I watched one of Pina's performances for the first time a couple of years ago, I was overcome by an emotion I can't quite define," Akerman says. ONE DAY PINA ASKED… is an attempt to define that emotion by traveling deep into Bausch's world.
"Akerman's film is a work of modestly daring wonder, of exploration and inspiration. With her audacious compositions, decisive cuts, and tightrope-tremulous sense of time-and her stark simplicity-it shares, in a way that Wenders's film doesn't, the immediate exhilaration of the moment of creation. Akerman's film is of a piece with Bausch's dances." — Richard Brody, The New Yorker
Match Cuts is a weekly podcast centered on video, film and the moving image. Match Cuts Presents is dedicated to presenting de-colonialized cinema, LGBTQI films, Marxist diatribes, video art, dance films, sex films, and activist documentaries with a rotating cast of presenters from all spectrums of the performing and plastic arts and surrounding humanities. Match Cuts is hosted by Nick Faust and Kachine Moore, and produced by Meg Murnane.